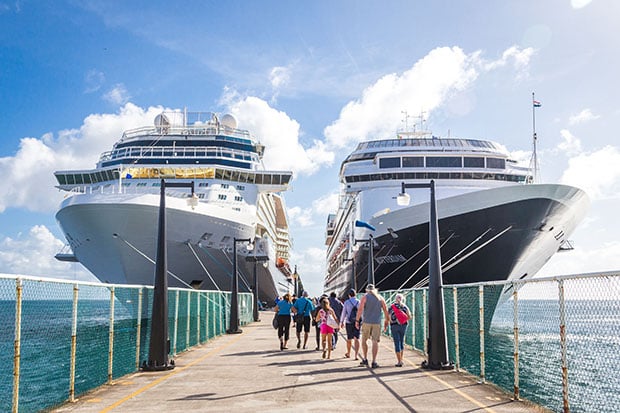 The COVID-19 global pandemic is top of mind for businesses as leaders struggle to determine how to protect employees and customers, rein in risks, slow the spread of the virus ("flatten the curve") — and somehow manage to stay afloat financially. The crisis is leading to unprecedented closings and business interruptions across all industries throughout the United States and worldwide.
The $45-billion cruise ship industry is at the forefront of the crisis, with the U.S. State Department warning Americans not to travel by ship and several cases of quarantined cruise ships — most notably the Grand Princess. Nineteen crew members and two passengers tested positive for the illness.
A negligence suit was filed on March 10 by a Florida couple while they were still quarantined when the ship was docked in Oakland, Calif. The suit seeks more than $1 million in damages from the cruise line, which hadn't informed passengers that people on a previous Grand Princess cruise had tested positive for COVID-19. The couple claims that they would not have boarded the ship if they had been told and would have disembarked in Hawaii if they'd been made aware of the risk.
The lawsuit alleges that the couple's possible exposure to the virus places them at "actual risk of immediate physical injury" and that they are suffering from emotional distress and fear that they will develop COVID-19. The suit adds that the cruise line should have taken more precautionary measures after another ship in its fleet, the Diamond Princess, had an outbreak in February that infected more than 700 people.
This suit is only the tip of the iceberg of legal actions to come, considering the thousands of passengers, crew members, food and hospitality workers, and entertainers populating cruise ships on a daily basis. For the insurance industry, hard questions are being raised:
What are the potential liabilities of cruise ships?
What coverages can protect the cruise lines?
What changes are needed to craft future policies?
Maritime law comes into play
"With the popularity and capacity of cruise ships, it is no wonder that viruses originating in one sliver of a country can spread so rapidly across the world," stated James E. Mercante in "Cruising for a Bruising?" Mercante, who writes the New York Law Journal's Admiralty Law column, is a partner at Rubin, Fiorella, Friedman & Mercante and a retired U.S. Navy captain. He cited the example of Celebrity Cruises v. Essef, in which the jury held in favor of passengers who contracted Legionnaires disease originating from a hot tub aboard a cruise ship.
Under maritime law, the owners and operators of cruise ships owe to their passengers the duty of exercising reasonable care, with the degree of care considered "reasonable," depending upon the extent to which the circumstances surrounding maritime travel are different from those encountered in daily life. "The Second Circuit has stated that where an allegedly defective condition constituting the basis of a plaintiff's complaint is not unique to the maritime context, the ship owner or operator could be held liable 'only when it has actual or constructive notice of the condition,'" he explained in the article.
Is there bodily injury?
PC360 interviewed Mercante to get his take on the COVID-19 suit. "Protection and Indemnity Club policies provide coverage for bodily injury, illnesses and other third-party type claims, but what if there is no physical injury? There are questions as to whether emotional distress is provable, recoverable and insurable," Mercante says. "In the Legionnaire's disease case, there was an actual diagnosis and illness. A claim against a cruise line of failing to warn plaintiffs of risk is probably not recoverable. This will become an interesting coverage issue going forward."
"The fight will be over whether there was real bodily injury," says Lorie Masters, a partner in the insurance coverage group at Hunton Andrews Kurth and a member of the editorial advisory board for Insurance Coverage Law Center. "It's a question mark, and the situation with COVID-19 is still early in the United States."
Ticket contract requirements
Passengers wishing to file suit against cruise lines for COVID-19 claims are going to run into the contract requirements in their ticket purchase, notes Thomas J. Donlon, a business litigation attorney with Robinson & Cole LLP with a background in maritime law; he was an attorney on active duty with the U.S. Coast Guard for two decades.
"The contract requirements may place limitations on recovery and may limit the scope of jurisdictions in which one can recover," Donlon says."They may have mandatory arbitration clauses, and any of those may be contested on the same bases we're used to in other limitation-of-liability cases in which a consumer is buying a product." He notes that there are all kinds of limitations built into the contract.
Ticketing contracts for maritime cases can be extremely limiting, Donlon stresses. The big question is, what risks did passengers accept and what limitations did the contract impose?
It should be recognized that suing a cruise ship is not simply a matter of calling up a lawyer and having them file a lawsuit, says John Woods, partner at Clyde & Co. US LLP, the largest international maritime firm. "Passengers may have to arbitrate. Just because you get sick on a cruise ship doesn't necessarily mean you can sue the ship. It must be proven by a preponderance of the evidence that the ship operator was negligent."
Business interruption can sink ships
Most cruise ship lines have separate policies for business interruption, notes Woods. "Typically, they will reimburse ship owners for loss of passenger revenue when they have to shut down or a ship is involuntarily taken out of service." Business interruption coverage can also come into play when there's a government order or quarantine.
"This would typically be covered under business interruption subject to a deductible. There would be some period of time after the ship was brought out of service, and then the shipowner would be able to begin collecting. It's trickier when a shipowner voluntarily takes a ship out of service — for example, if the market isn't good and bookings are down. It depends on the individual policies. Most cruise lines will have coverage for situations in which a ship is quarantined, there's a government order, or there's a virus, and the ship has to be cleaned," Woods explains.
It's not clear that fear alone could constitute a sufficient triggering event for business interruption insurance to apply, Masters points out. "Emotional distress will be a battleground (as opposed to someone who actually becomes ill). After 9/11, we started seeing more terrorism exclusions. After SARS, we started seeing bacterial infection exclusions. As we go forward, policyholders will be looking at the language and insurers may tweak the provisions."
Related: