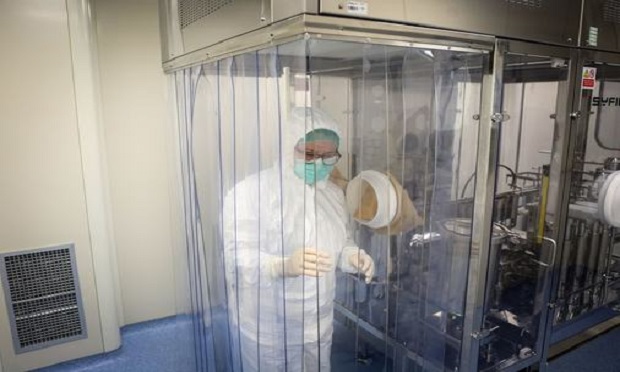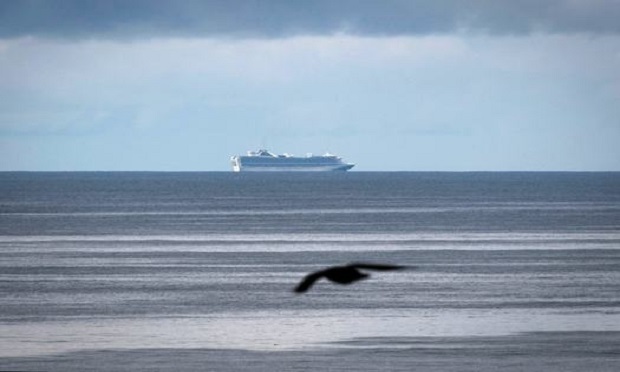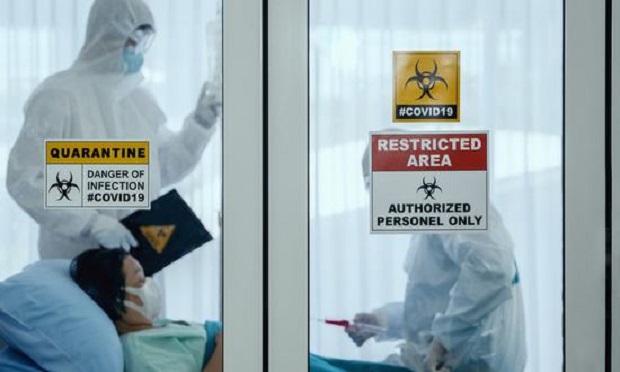 Editor's Note: Here are the latest updates relating to the novel coronavirus (COVID-19) as of March 9, 2020.
In the U.S.
According to the CDC (as of March 9, 2020):
Total cases: 423
Total deaths: 19
The total number of states affected: 35, including the District of Columbia
Over the weekend, Connecticut reported its first case, while confirmed cases in N.Y. increased, including the head of the Port Authority of New York and New Jersey, Rick Cotton.
Washington, New York, California and Oregon declared state emergencies. Oregon Governor Kate Brown said in a statement that the state of emergency will open all resources at the state's disposal to limit the spread of the coronavirus.
Several school districts and universities have canceled classes around the country, including Columbia University, Stanford University and Princeton University. New York Gov. Andrew Cuomo announced a new policy that would require a school to close for an initial 24-hours if a student tested positive for the virus.
After several days at sea, the Grand Princess cruise ship carrying at least 21 people who tested positive for COVID-19 will arrive at California's Port of Oakland on Monday. When the ship docks, passengers will undergo medical screening by the U.S. Department of Health and Human Services and the CDC, according to a statement from Travis Air Force Base.
Several airlines announced new flexible policies in light of the coronavirus. For example, United Airlines issued a statement declaring waived flight change fees over the next 12 months for any ticket, any destination, and any fare booked through March 31, 2020.
New York Gov. Andrew Cuomo announced that travel insurers and agents will begin offering N.Y. residents and businesses the ability to buy 'cancel for any reason' travel insurance policies after consumers complained the coverage was not available to them.
Health officials in a growing number of states, including Washington, Massachusetts, Oregon, Ney York, Vermont and Maryland, have reached agreements with state insurers to offer free novel coronavirus testing to insureds.
Markets are beginning to show signs of the virus's impact on the economy. On Monday afternoon, the Dow Jones Industrial Average tanked 2,000 points.
Around the world
According to the World Health Organization (as of March 8, 2020):
Total cases: 105,586 (3,656 new)
Total deaths: 3,584
The total number of countries and territories affected: 101 (Eight new: Bulgaria, Costa Rica, Faroe Islands, French Guiana, Maldives, Malta, Martinique, and the Republic of Moldova)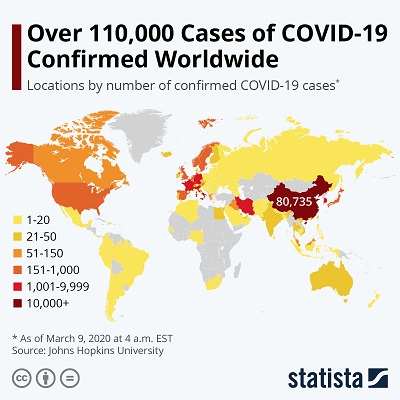 Officials in Ireland are expected to cancel the nation's annual St. Patrick's Day parade in Dublin scheduled for March 17, while events in Cork, Ireland, have already been canceled.
Italy's confirmed coronavirus cases spiked on Saturday to more than 1,200, prompting the Italian Prime Minister Giuseppe Conte to sign a decree placing nearly 16 million people in the northern region on lockdown. Additionally, Italian ski resorts are closing the season early, while sporting events "at all levels" are suspended until April 1.
FIFA, soccer's governing body, and the Asian Football Confederation (AFC) have agreed to postpone upcoming Asian qualifiers for the 2022 World Cup, affecting matches scheduled from March 23-31 and June 1-9.
For more coronavirus news, visit our Instant Insights page, "The coronavirus and its impact."