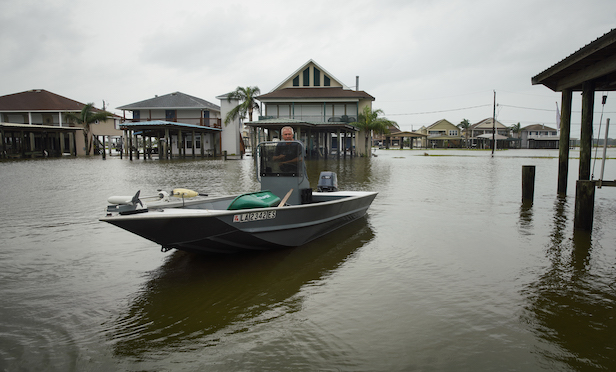 Hurricane Barry made landfall as a Category 1 storm Saturday, bringing heavy rain, wind and flooding to Louisiana, narrowly avoiding high-risk areas in and around New Orleans that were forecasted to be threatened by heavy storm surge.
As Barry approached Louisiana as a tropical storm, state officials expressed concern over Barry's path as it appeared to threaten severe flooding in areas devastated by Katrina, which luckily did not materialize. Other areas of Louisiana, however, did experience flooding as Barry dropped nearly two feet of rain across the state, causing power outages and road closures.
At its worst, more than 153,000 Louisiana residents were without power Sunday morning. At least 16 roads and 24 bridges were closed during the weekend, according to Louisiana Department of Transportation and Development.
Barry was downgraded to a tropical storm after making landfall Saturday, and then again weakened to a tropical depression on Sunday as it continues to move north.
As of Monday morning, flash flood warnings remain in effect through much of Louisiana, Mississippi and Arkansas, as well as parts of the mid-Mississippi Valley.
Flash flood warnings in Louisiana, Arkansas
Barry continues to steadily weaken as it moves northward across the Mississippi Valley, the National Weather Service (NWS) says, but despite this, the system continues to produce very heavy rainfall across this region. The NWS warns the threat for significant, life-threatening flash flooding along Barry's path inland remains possible, especially across portions of south and central Louisiana and portions of Arkansas.
Barry is expected to produce additional rain accumulations of two to four inches, with isolated maximum amounts of eight inches across Arkansas, western Tennessee and Kentucky, southeast Missouri, and northwest Mississippi.
Later this week in Barry's wake, the NWS also forecasts a widespread heatwave to develop across the Central and Eastern states by the middle or end of the week.
Oil platforms affected
With Barry now inland, oil producers have begun to restaff their offshore crude and natural gas platforms.
The Bureau of Safety and Environmental Enforcement issued an update asserting that Barry caused nearly 73% of crude oil production in the Gulf to shut, up from 70% the day before. About 62% of natural gas production was also halted.
Louisiana's oil refineries, which account for about 18% of total U.S. operable refining capacity, were largely spared.
See also: