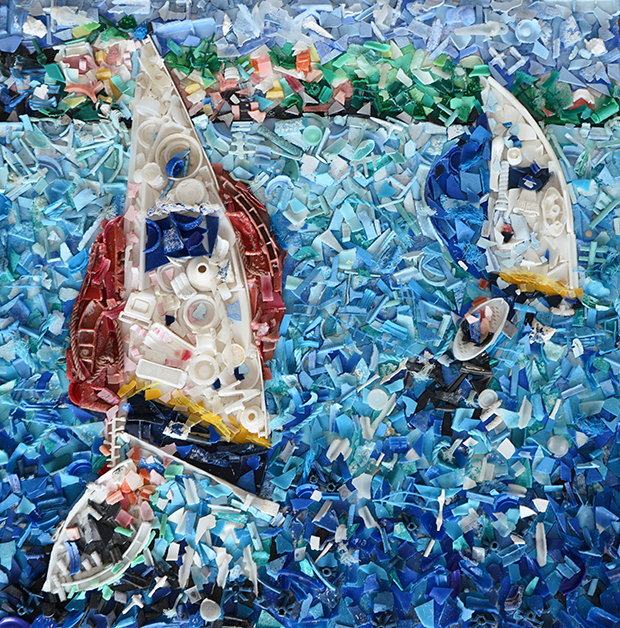 Like many property & casualty insurance companies, Argo Group has been working its way through the sustainability movement says Gary Grose, group producer management leader and president of Colony Specialty, part of Argo. "It takes a lot to move past just recycling plastic," he notes. It's a big issue for Argo's clients as well.
Cleaning up the oceans is part of Argo's commitment to sustainability, he says, noting pollution facts from the Ocean Conservancy: Approximately 17.6 billion pounds of trash enter the ocean each year, increasingly in the form of plastics.
As the title sponsor of the 2019 Argo Group Gold Cup, one of sailing's best-known match races, eliminating trash from the ocean is significant. The company works to minimize the environmental footprint of Argo's operations and sponsors teams and events that share its commitment to sustainability.
"Employees want to be part of something, and it's easy to do in our size," Grose says. Argo Group currently has 1,400 employees over 20 offices worldwide. Employees at Argo surface their ideas through town halls, the company's intranet, Yammer (also used for feedback), employee engagement teams, social media, and feedback from digital channels.
"Cleaning up the beach in Bermuda was an employee initiative," explains Grose. There were different ways to participate in the cleanup, which took place on May 3, just ahead of the regatta. Some employees actively collected trash on the beach, while others helped just by recycling plastic bottles. "It doesn't have to be a big effort," he adds.
At the regatta, Bermuda artist Meredith Andrews created the sculpture shown above from plastics cleaned up from area beaches and waters to help deliver Argo's message on the importance of reducing ocean pollution. "The art project will have a prominent spot in the new office in Bermuda," Grose says.
Supporting local programs
Sponsoring the Gold Cup is only part of the company's commitment to giving back to the local community. The Argo Foundation, which is based in Bermuda, makes donations to great causes that are important to employees and the company, for example, at-risk children. Established in 2009 in Bermuda, home of Argo Group's headquarters, The Argo Foundation invests in programs and services that enrich the lives of Bermuda's youth, preparing them for a productive and rewarding future.
Funding decisions are made at quarterly meetings by an independent allocations committee made up of Argo Group employees living and working in Bermuda as well as a cross-section of Bermudians working in the for- and not-for-profit sectors.
"The best ideas come from employees and the local community," says Grose. For Argo, community involvement is not a top-down, must do initiative. "It comes from within," he says, "and it's more genuine when it happens that way."
Ocean racing is not the only sport that Argo is interested in. The company also sponsors Formula E team GEOX Dragon. Pairing a quick race format with interest in sustainability, all-electric Formula E is one of the world's fastest-growing motorsports.
Related:
Environmental insurance market update 2019
Reducing risk in environmental liability policies
Using corporate social responsibility to attract millennial talent