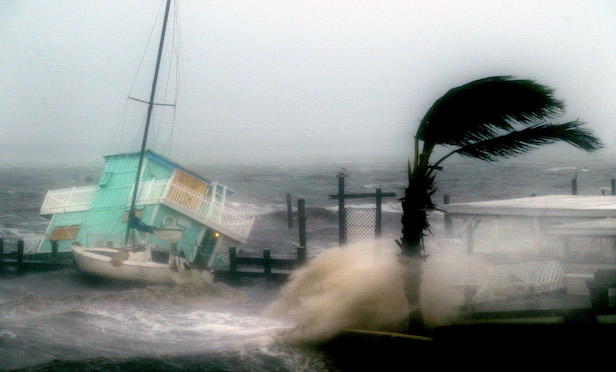 June 1 marked the start of the 2019 hurricane season, and for the next six months, storm activity in the Atlantic will threaten coastal communities in 19 states along the Atlantic and Gulf Coasts. Aside from wind and precipitation, storm surge poses one of the biggest threats to properties in the event of a hurricane, creating devastating inland flooding in affected areas.
Storm surge is defined as the abnormal rise in seawater level during a storm, measured as the height of the water above the normal predicted astronomical tide. The surge is primarily caused by a storm's winds pushing water onshore.
New data from CoreLogic takes a closer look at storm surge risk for this year's hurricane season, presenting their research findings in their recently released 2019 Storm Surge report.
The report found that along the 3,700 miles of coastline, storm surge risk threatens 4.1 million homes along the Atlantic Coast and 3.1 million homes along the Gulf Coast. Together, an estimated $1.8 trillion in reconstruction cost value (RCV) is exposed to coastal storm surge damage this 2019 hurricane season.
Early hurricane forecasts predict a normal to slightly above-average 2019 hurricane season. The National Oceanic and Atmospheric Administration (NOAA) predicts 9 to 15 hurricanes, including as many as 8 Atlantic storms. Of those storms, 4 to 8 will become hurricanes and 2 to 4 will be major systems with winds of 111 miles (179 kilometers) per hour or more.
Regardless of any seasonal forecasts, it only takes one storm to devastate a region, and for the 19 states along the coasts, all 7.2 million homes are at risk.
Related: Lessons that will help home insurers prepare for the 2019 hurricane season
Storm surge risk for 2019 hurricanes
Because homes along the Atlantic are more densely populated, containing 57% of the total homes at risk of storm-surge flooding in the United States, it also contains 62.7% of the total RCV. Conversely, the Gulf contains 43% of the homes at risk and 37.3% of the total RCV.
Of significant importance to insurers, the severity of a storm is not as consequential as the location of where the storm hits, as higher losses are driven by higher property values.
The data collected in the 2019 CoreLogic Storm Surge Report analyzes single-family residential structures less than four stories, including mobile homes, duplexes, manufactured homes and cabins (among other non-traditional home types). New this year, the report also included multifamily structures, which include apartments, condominiums and multi-unit dwellings.
The table below breaks down the storm surge risk by hurricane category for both single-family structures and multifamily structures.

The full CoreLogic 2019 Storm Surge Report is available to download on their website.
Related: Forecasting the 2019 hurricane season: A look back and ahead