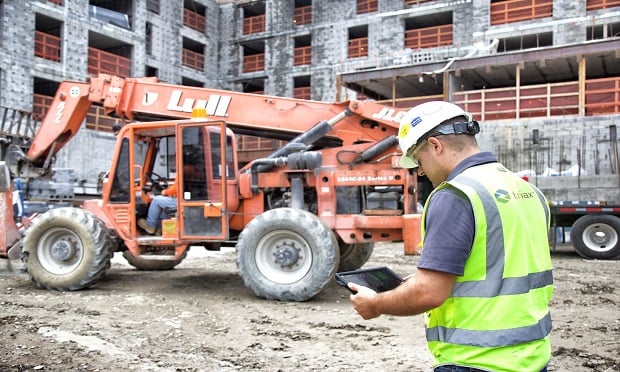 One in five worker deaths a year is in construction. Given this sobering statistic, construction site risk is a critical challenge, and the industry is slowly turning to new technology, specifically the increasing use of sensors on the jobsite, as part of the solution. A new study finds that while contractors continue to struggle with construction site risks, they recognize the benefits of using Internet of Things (IoT) technology to mitigate them.
According to Using Technology to Improve Risk Management in Construction SmartMarket Insight, released by Dodge Data & Analytics in partnership with Triax Technologies, nearly three-quarters of respondents believe such IoT technologies as wearables and sensors will help improve occupational risks, and around half believe they will help address property damage, construction defects, general liability, and financial risks.
The study was released in advance of Construction Safety Week and OSHA's National Stand-Down to Prevent Falls in Construction, occurring May 6 through 10.
The top motivator for adopting IoT technology is the possibility of lowering insurance premiums (67%). This is consistent with previous studies conducted by Dodge on the adoption of safety management practices, in which reduced insurance rates also influence all levels of decision-makers at contractors to invest in safety management practices.
Almost half of contractors (42%) consider improving productivity by recovering lost time away from work another top capability. An even higher percentage (68%) also selected this as a top factor encouraging the adoption of IoT technology, demonstrating the influence of workforce concerns on contractors. Claim frequency is selected in the top three by nearly half (43%) of contractors.
Respondents report that they are actively collecting key data and using the insights to further their safety and risk practices. More than half of the participants report that they digitally gather (54%) or analyze data (59%), while 77% report that they act upon key safety and risk insights.
"These findings are encouraging and confirm what we've suspected: that contractors and insurers alike see the value in leveraging IoT technologies to help collect, analyze, and act on risk management data," says Pete Schermerhorn, president and CEO of Triax Technologies, which provides technology for the connected jobsite.
Monitoring risks
The ability to measure risk is fundamental to risk management, especially on a construction site, where risks are varied in both type and intensity. Yet, fewer than half of contractors interviewed agree that there are clear ways to measure project risk, and nearly one third disagree with this statement. And while most contractors (72%) say that they actively monitor risk practices onsite, more than two thirds of them only "somewhat agree" with the statement. That means that at about one-third of construction jobsites, risk management is neither rigorously adopted nor pursued onsite.
Almost three quarters (73%) of contractors expect IoT technology to improve occupational risks, and the majority of them expect a high level of improvement. Among the risk management uses for IoT technology include the following:
Proximity sensors and wearables help reduce the risk and impact of falls;
Biometric devices reveal worker impairment and help reduce the risk of injury; and
Visual monitoring, combined with sensors and the application of artificial intelligence, provides data on hazardous behaviors and environments.
Two types of technology were frequently mentioned by the participants as having the greatest potential to address project risks:
This category includes several different types, from sensors that track the movement of workers on the project and that can help detect falls or unsafe behaviors, to biometric monitoring devices that can notify supervisors of workers who are impaired, to headsets that augment reality.
Visual auditing. There is enthusiasm for pairing existing video and photo documentation of sites with artificial intelligence that can detect trends, see deviations that create safety violations, and help flag areas most likely to have an issue. Visual auditing can also detect issues with building construction and other potential defects in real time.
These two types of technology, in particular, are seen as critical in addressing occupational risks, including avoiding injuries and workers' compensation claims. One participant sees a jobsite where it will be standard practice to be issued a wearable when you begin work. "[You] go along as you've always done, but there's data being collected that will be used to mitigate risks," he foresees. Another notes that visual auditing can help recognize issues "that everyday workers may not see and recognize."
However, the study revealed budgetary challenges to tech adoption. Only 10% of contractors report a dedicated innovation budget, and when it comes to funding new risk-reducing technologies, most contractors either plan to absorb the costs in anticipation of long-term gains (44%) or pass on the costs (32%).
The insurer perspective
The study notes that insurance carriers and brokers are in a unique position to have a more comprehensive view of contractors' risk management practices than any individual contractor possesses. They have in-depth knowledge of their contractor clients' current ability to gather and analyze data and form strategic insights that help them to reduce project risk.
Few of the insurance industry technology experts expect that carriers will offer reduced rated in the near future due to technology adoption, largely because the area is too new to have sufficient data to support that decision. That prediction was echoed by insurers, who agree that there is not enough actuarial data on the effect of IoT technologies. However, most engage in conversations about technology with their clients, often geared toward the specific challenges each contractor faces. Some also note that contractors with high deductibles should also consider the savings in these areas, along with reduction in their claim frequency, which would ultimately affect the price of premiums.
With the insurance industry not yet offering discounts for use of IoT, what will prevent a stalemate in expanding this promising safety mitigation? A few of the insurers who participated in the confidential interviews did have programs to encourage technology adoptions," says Donna Laquidara-Carr, Ph.D., LEED AP, Industry Insights Research director for Dodge Data & Analytics. "Some are actually partnering with their clients in the initial technology investments. And even if financial support was not provided, several suggested in the interviews that they can offer guidance based on their ability to see impacts across a broader swath of the industry than the individual contractors, which can help contractors make better investments."
Nearly all of the participants made it clear that their goal is to help improve the industry because better-performing clients help their bottom line. A few also suggest that the interest in improving, evidenced by contractors willing to consider IoT technologies, may influence their decision about who to insure.
"Contractors are often a skeptical audience, keeping a close eye on the bottom line," says Steve Jones, senior director of Industry Insights Research at Dodge Data & Analytics. "But when they see something that will improve their projects and their profitability, they embrace it. Their enthusiasm for IoT technologies suggests that we may see the project jobsite become much smarter in the next few years."
See also: