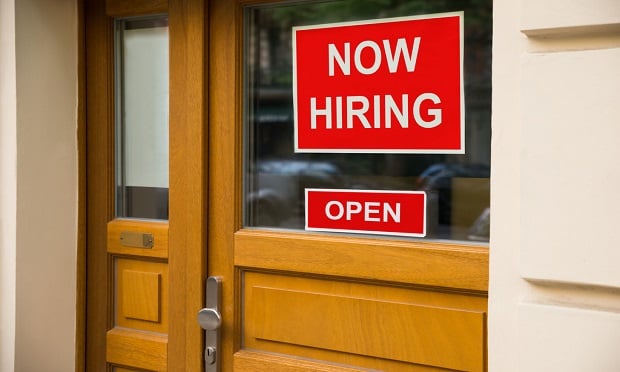 It's no secret that one of the most pressing issues facing insurance companies today is the persistent struggle to attract new, diverse talent to the industry amid an aging workforce.
Insurance may have a challenging and unglamorous reputation among millennials, but young professionals working within the industry find their work fascinating, impactful and lucrative.
In fact, a recent Vertafore study found that a whopping 87% of millennials working in insurance would recommend it to friends as a career option. The same study found that 76% of millennials in insurance stay in the industry for at least three years.
These numbers provide some much-needed relief to those who stay up at night worrying about the insurance talent pipeline. It's increasingly clear that once a young professional is in the industry and begins to fully grasp the inner-workings of insurance, these individuals are satisfied and enthusiastic about their career path.
So the real challenge for insurance companies is how to raise awareness, educate younger professionals about the benefits of working in the industry, and convince them that insurance can offer them the exciting career they desire.
The characteristics of cool
To solve this puzzle, it is first helpful to get a sense of what exactly young professionals are looking for in a career. After interviewing young insurance employees, as well as speaking to insurance agents to gauge their thoughts on recruiting initiatives, one fact stands out above the rest: Young professionals want to work for new, cutting edge technology firms. "Cool" is a buzzword often used to describe these companies, but what gives these companies a "cool-factor?"
Based on our intel, "cool" companies share a number of unique characteristics. For one, they make their employees feel as if the work they are doing is meaningful and impactful to both the individual and community. To put it simply, today's younger generation wants to make a difference in the world, oftentimes pursuing purpose over profit.
Another key characteristic of "cool" is innovation. Prospective employees are increasingly looking for companies that produce game-changing products that transform either the efficiencies of a certain business or the actual lives of individuals.
On the other side, insurance companies desperately need the fresh skills that are going to drive the innovation and digital-driven products of the future as digitization continues to disrupt the industry.
Not only do innovative products attract the top-notch talent that insurers need to thrive in the industry's next era, but they also drive brand recognition and positive reputation. Brands that showcase their innovation with new products witness many benefits including a consumer perception that a company is both an expert in its industry and that shoppers are personally benefiting from a brand's cutting-edge work.
Finally, "cool" companies have a casual, collaborative, and flexible work environment. Having a healthy work-life balance is extremely important to younger generations. The Vertafore study found that 65% of millennials listed it as their top priority when looking for jobs.
Is insurance cool? Yes!
What may come as a surprise to those outside of the insurance industry is that these "cool" characteristics can easily be used to describe insurance companies.
Given the large amounts of data insurance companies collect and use to make thoughtful, preventative decisions, one could argue that insurance companies are essentially tech companies. For example, when a hurricane is barreling towards the Florida coast, property & casualty risk managers will use technology to provide clients with live risk assessments of the expected property damage to the company.
Insurance also provides an essential safety net for businesses when faced with new and emerging risks, and it's what restores companies after a natural disaster or a cyberattack strikes. Yet when young professionals think about working in the insurance industry, they do not immediately think of the inventive and impactful nature of insurance companies, nor do they see that making a positive difference is truly the core of the insurance industry model. Although it's not glaringly apparent to the everyday consumer, insurance companies work with innovative products every day. Insurers are using drone solutions and intelligence tools to assess damage from national disasters. They're adopting wearable devices as a component of health insurance and they're playing a pivotal role in the employment of smart home monitoring devices in households.
This lack of awareness among consumers could partially be due to the way insurance companies, at least those focused on commercial lines, market themselves.
Attacking the awareness gap
Now more than ever, insurance professionals worldwide need to step up as advocates for their industry and showcase insurance careers as modern, impactful and innovative. One way to do this is by marketing products as something consumers want to have instead of need to have.
One challenge in attracting young talent to the field is due to a serious knowledge gap: Most recent college graduates simply do not understand the business of insurance. While most understand the basics at play, many lack a greater understanding of the many nuances of commercial insurance or how insurance touches nearly every facet of business. Additionally, younger professionals do not realize that working in insurance often comes with flexible working hours, autonomy and an unlimited earnings potential in the long-term. The lack of education is a detriment to insurance companies and does not do the industry justice. From terrorism insurance, to policies for rare and expensive art, to maritime trade insurance, the industry impacts every business in every industry.
So, the jury is out: How can insurance companies educate prospective young employees about the exciting career opportunities within the insurance industry? As the statistic in the first paragraph noted, fellow young professionals in insurance are one of the industry's greatest weapons. Insurance companies should encourage their younger staff to attend more career fairs and explain the benefits of working in the industry to peers. Social media can take on a larger form either through educational videos or showcasing some of the cool products that insurance companies produce.
Insurance companies should embrace the idea that they are tech companies. The innovative products they produce aid individuals and are the backbone of every business and community. By positioning insurance companies as cutting-edge tech companies that are passionate about doing meaningful work, insurance companies can get young people interested in the profession and attract the next generation of top talent before the looming talent gap gets even larger.
Shannel Clubb (Shannel.Clubb@rsmus.com) is a principal and leads the national Technology and Management Consulting (TMC) insurance practice at RSM US LLP, a leading provider of audit, tax and consulting services focused on the middle market. These opinions are the author's own.
See also: