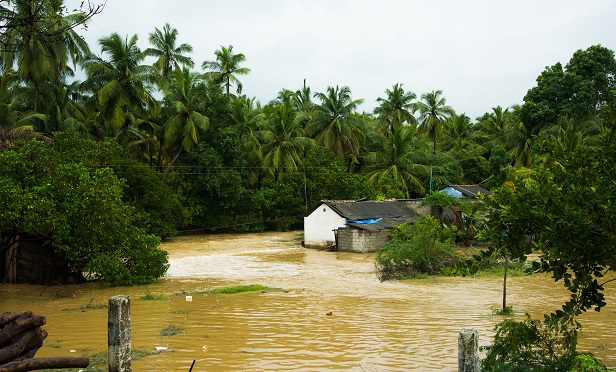 (Bloomberg) — India began evacuating almost 1 million people from the eastern state of Odisha to temporary shelters as the nation braces for its worst cyclonic storm since 2014.
Cyclone Fani is set to hit the country's eastern coast on May 3, with wind speeds likely reaching as high as 124 miles per hour. The Navy and the coast guard have deployed ships and helicopters for relief operations, according to a government statement.
Odisha is battered by cyclonic storms every year with some intense enough to damage crops, plantations, trees, mud houses and communication and electric poles, as well as disrupt road traffic and transportation of essential goods. Severe storms also affect operations at oil and gas fields in the region and threaten the lives of people and animals.
"We are on the job and have sufficient time to evacuate people from the coastal areas," said Bishnupada Sethi, special relief commissioner with the Odisha government. About 150,000 people have already been relocated and contingency plans are in place to deal with heavy flooding, he said.
Related: Cyclone death toll climbs as Comoros struggles to restore power
High alert
Heavy showers are expected in some parts of Andhra Pradesh and Odisha for two days through Friday while rain is seen in West Bengal for two days through Saturday, the weather office said. Sea conditions are likely to be rough along the coast in some parts of these three states in the coming days, it said.
Fishermen have been asked not to venture into deep seas and those who are already there have been recommended to return to the coast.
Neighboring Bangladesh also issued a weather warning. Mongla and Payra ports have been asked to hoist danger signal number seven on a scale of 10, according to the Bangladesh Meteorological Department. The country has suspended river transport on all routes, State Minister for Shipping Khalid Mahmud Chowdhury said in Dhaka.
Cyclone Fani is likely to have a sustained wind speed of 105-112 miles per hour when it hits the coast on Friday. That compares with Hudhud storm's wind speed of 112 miles in 2014, according to data from the weather office. Cyclone Phailin, that battered Odisha and parts of Andhra Pradesh in 2013, saw surface wind speed of about 134 miles per hour.
Related: Catastrophe planning: Ensuring calm during the storm