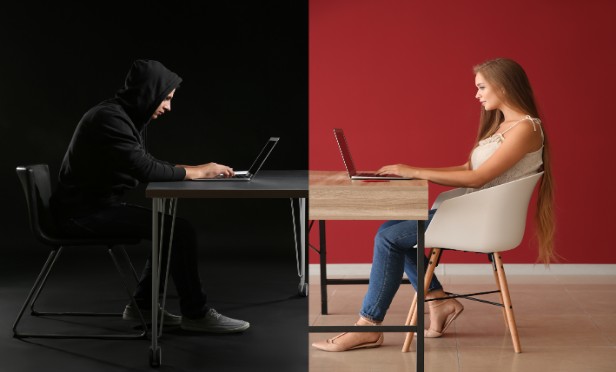 We live in an increasingly digital world, so why should dating be any different?
Online dating services aren't new, but the risks associated with them are amplified these days as cybercriminals look to exploit users on such platforms.
According to the Federal Trade Commission (FTC), the number of romance scams reported to the FTC grew to 21,000 in 2018 from 8,500 in 2015. People reported losing $143 million to these types of scams last year, up from $33 million in 2015. It was the highest total of any type of consumer complaints tracked by the FTC during 2018.
Users are exploited in romance scams when people they meet online ask for money or banking information. Cybercriminals may lurk behind the veil of a fake dating profile, then use the victim's data to steal their identity, apply for credit cards or threaten to expose personal facts or photos unless they're paid.
Related: Top U.S. cybercrimes include more than just data breach, phishing
Users remain apathetic to online dating risks
Despite the possibility of being robbed or defrauded while engaged in online dating, users aren't concerned. A survey of consumers by Hartford Steam Boiler (HSB), part of Munich Re, found 68% of respondents are concerned about virus, hacker or computer attacks in general compared to the 37% who were concerned about exposure through online dating.
The internet is crawling with hackers, leaving few areas free of risk. This is certainly the case when it comes to the search for love. Here are some of Munich Re's tips to help maintain privacy and security:
Be aware that scammers and cybercriminals will be trolling even reputable dating sites.
Strong passwords, passphrases and other basic cybersecurity measures are important. Use multifactor identification when available.
Never visit dating sites on public, unprotected Wi-Fi networks. Install a virtual private network (VPN) and disable GPS tracking when using dating apps to make it more difficult to identify your location.
Don't share personal information through the messaging feature on a dating site, texting or emails. Do it in person if you decide to meet a date.
Use online search engines to check people out. Search for the person's name, together with the word "scam" and do an image search for photos they share. Fraudsters are clever, but often lazy, using the same messages and images.
Don't send money to anyone you meet through an online dating site or app. Don't share your banking information, purchase tickets or make travel arrangements for dates.
Beware a "match" who avoids meeting in person.
Don't share intimate images through an online dating site. Remember, anything shared electronically is stored indefinitely, long after a relationship may end.
"Online dating risks can include fraud, blackmail and invasion of privacy," Timothy Zeilman, vice president at HSB, said in a statement. "Yet, many people reveal their personal and even intimate information without thinking about digital security."
Related: The principles of cyber risk management: What does good security look like?