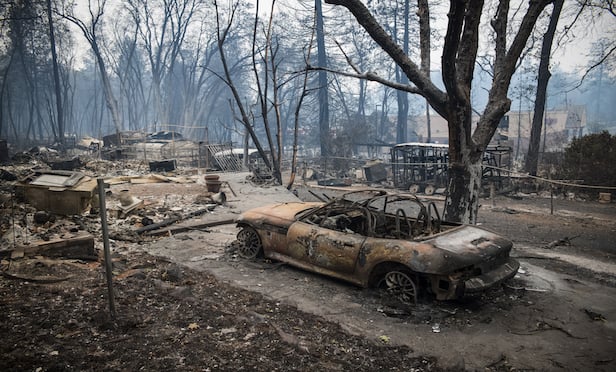 Updated Friday, Nov. 16 at 3:30 p.m.
As of Thursday morning, California's Camp Fire — now the state's largest and deadliest in history — has left 66 dead, over 600 missing and has destroyed more than 7,600 homes after burning through 138,000 acres. In Southern California, the Woolsey Fire has burned nearly 100,000 acres and destroyed 435 structures.
According to the latest information from CoreLogic, 23,044 homes are at high or extreme risk within the perimeter, with a total reconstruction cost value of $8.6 billion.
In wake of these two ongoing catastrophic events, California Insurance Commissioner Dave Jones has officially declared an emergency situation, which will allow insurance companies to use out-of-state adjusters to help handle the large volume of claims that will result from the Camp and Woolsey Fires.
The state Department of Insurance has issued a formal notice to insurers, licensed public adjusters and admitted carriers to ensure all claims adjusters assigned to wildfire claims are properly trained on the California Unfair Practices Act, Fair Claims Settlement Practices Regulations, and all laws relating to property and casualty insurance claims handling.
Related: California's Camp wildfire largest, deadliest in history [photos]
New insurance laws
In the notice, Jones reminds insurers of several new laws that were enacted in the last legislative session. These "urgency bills" are effective for all claims related to the Camp and Woolsey wildfires.
In the first new law, policyholders now have 36 months after a declared disaster to collect full replacement cost to rebuild, replace at another location, or purchase an already built home at a new location. Secondly, additional living expense coverage is available for 36 months but is subject to policy provisions.
Emergency claims handling guidelines
Breaking down the emergency expedited claims handling guidelines, here is a basic summary Commissioner Jones has issued. Insurers has outlined the following for insurers, licensed public adjusters and admitted carriers who must:
Issue advanced Additional Living Expense funds of at least four months for a total loss upon request. Insurers should make additional funds available upon proper documentation received after the advance period.
Provide standard contents advance payment of at least 25% of policy limits for a total loss of a primary residence due to a wildfire disaster. Additional contents to be paid upon receipt of proper proof and upon request.
Insurers should expedite vehicles claims for property damage due to wildfires under comprehensive coverage. No timeframe is given.
Give 30 days leniency regarding billing for any type of coverage, including home, auto, life, and health should be provided to customers living in designated wildfire disaster areas.
Debris removal is to be handled rapidly; insurers should cooperate with city, county and state agencies with master debris removal contracts unless the insurer can provide faster removal outside of government coordinated efforts.
Insurers should provide payment and policy information to the county responsible in order for the county to fulfill its requirements. It is not required that the insurer disclose personal information of the insureds without the permission of the insured.
Insurers should accept home inventory software or paper documents that are available to the public through IINC (Insurance Information Network of California), CDI (California Department of Insurance) or other reasonable forms without requiring insureds to use company-specific forms. Insurers are not required to waive the right to request additional information upon receipt of inventory forms.
Insurers should agree to accept reduced itemization of contents from insureds total losses due to wildfires. In some cases grouping of categories should be allowed, such as "100 CDs" instead of individually listing each title.
Policyholders should contact their insurance company and insurance agent to begin the claims process. They may also contact the Department of Insurance Consumer hotline at 800-927-HELP (4357) to seek assistance or visit the Department's website for tips and advice.