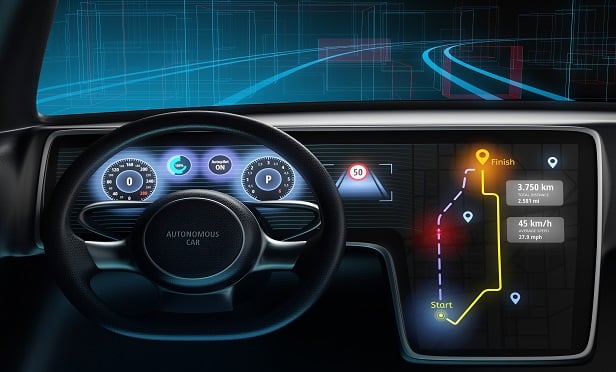 Currently, the insurance industry is rife with conversations about how autonomous vehicles will eliminate commercial auto insurance. How much of this is true and how much is merely hype?
To better understand the impact autonomous fleets will have on the commercial auto market in the near and distant future, there are four key factors to consider.
The first priority: Advancing technology
Before driverless vehicles can hit the market, there are some advances needed in sensor technologies, data processing needs, and the framework for human-machine interactions. So far, the companies testing these technologies have been somewhat successful. The technology is able to respond well to the exit-to-exit self-driving concept on highways.
The current focus of many companies working in this space is not the total elimination of human drivers, but finding ways to augment them with artificial intelligence to get more miles traveled at lower costs. While dedicated short range communications (DSRC) evolves, disparate state regulations relating to product liability might create uncertainty for both third-party claimants, and the insurance industry.
Changes to commercial, consumer vehicle ownership
It is unlikely that personal accountability will be eliminated, even for autonomous vehicles. There is also rising concern that commercial vehicle ownership patterns will change. Consolidation among vehicle manufacturers, automation software developers, repair facilities, and other transportation entities, is likely to come with heavier regulation to retain adequate competition and oversight.
While driverless trucks could be a regular presence on many roads within the next 10 years, consumer adoption is likely to take longer. Using the adoption of seat belts or DUI regulation as models, the mainstreaming of driverless vehicles could take up to 40 years.
Autonomous vehicles also require on-board hardware and software. The cost of the requisite sensors and technology will be incredibly high during the early phases of adoption. Existing auto insurance will be necessary for businesses that cannot afford driverless commercial vehicles. Policy changes that reflect the consequences of an accident between human and autonomous commercial drivers will also be needed.
Lasting insurance industry impacts
This is not an all or none issue, but a progression of industry impacts due to sophistication in automation and pace of adoption. The insurance industry needs to actively participate in the design of policy and regulation of this evolution, because the trajectory of risk might take a path that is not as linear as the evolution of technology.
Currently, over 4,000 Americans die each year in accidents involving large trucks. The frequency of accidents is likely to drop as a result of increased safety features that come built into newer vehicles. Being able to reach full autonomy is not a prerequisite for the transportation industry to realize potentially significant safety improvements. Fuel reductions and labor savings are also benefits to transportation groups.
While frequency may decrease, risk severity could worsen. Despite safety features, embedded sensors, and partial automation, talent to enhance these features may be harder to find — and the opportunity for distracted driving will grow. Commercial auto insurance premiums could rise to meet loss costs in the short to medium term.
Case law to assign fault and appropriation across automakers, autonomous vehicle equipment manufacturers, software providers, owners, and drivers will need to develop. As greater limits become available across multiple dependents, there may be a tendency towards inflation in awards.
Insurance industry response
As a result of the drastic, upcoming changes in the automotive industry, insurance carriers are responding with data driven underwriting and pricing. They've also tailored loss-sensitive products to be more attractive and accessible to fleets and buying groups.
Speed to market with both product enhancement, and pricing accuracy, will be critical for profitability. Moreover, new technical expertise will be needed for fleet risk management and claims adjusting. Carriers should continue exploring partner ecosystems to leverage both safety technology and InsureTech solutions that leverage AI and cognitive automation to improve specificity of risk selection and pricing.
To best position itself for the future, the insurance industry should also take an active role in the design of policy and regulatory framework of autonomous vehicles.
Jayashree Ishwar is the Chief Underwriting Officer for Amerisure Mutual Insurance Company. She can be reached by sending email to [email protected].
These opinions are her own.