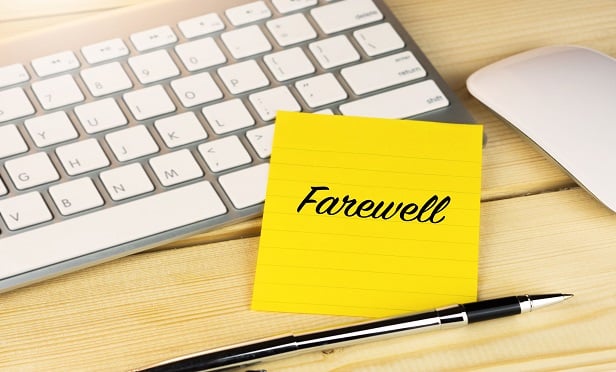 As far as seasons go, I hated Autumn for a good long time.
Perhaps "hate" is too strong a word. Living in New York, I disliked it for years, though, from my twenties until my early forties. To me, it always represented the end of the bright, sunny days of summer and the arrival of the type of weather to which you turn your collar. Other than the holidays, which I've loved since I was a kid, there wasn't much to look forward to in the near future, post-Labor Day.
As I got older, though — not old, mind you, just older — I started to gain more of an appreciation for the change of seasons. I'm not certain how or why it happened, but I guess I finally became comfortable with the life-death-rebirth cycle that defines all things. To ignore that would be to deny life of its beauty, its balance.
All things live, die and are born again. Perpetual energy, as my grandfather used to drill into my head when I was little.
This is my last column for National Underwriter Property & Casualty and PC360. That's a hard sentence for me to write. I started writing this column under orders from Bill Coffin, who was then overseeing our division and was an early supporter of my work. Bill is one of those people with whom you instantly become friends — aided in no small part by the fact that we're both card-carrying Star Wars geeks — and he's been an unyielding source of encouragement from the first day I walked into the NU offices with only scant knowledge of the insurance business. ("You'll pick it up," they told me.)
I remember walking with Bill by the waterfront in Hoboken, where our offices were once located, and telling him how I came up with my column's title: It was taken from a quote from Victor Parker, risk manager for the City of Los Angeles, about whom I'd recently written my first feature-length profile.
"The main thing we never forget in risk management is that we're trying to save money," Victor told me as we drove out to Venice Beach. "If we spend less on claims, we can put that money toward vital things for taxpayers. Libraries. Parks. Recreational areas. The things that matter."
Victor was the first of several people I've profiled with whom I've been fortunate to form some genuine friendships: Nahua Maunakea, executive director of Global Risk Management for IHS Markit in Denver, and Richie Clements, principal of Clements Insurance Services in Chalmette, La., came into my professional and personal life in the years that followed. I'm a better person for what I've learned from them.
Building relationships, in fact, is what I'm most proud of having accomplished at NU, for that is the foundation upon which great things are built. We strengthened our ties and expanded our partnerships with industry organizations like WSIA and the Workers' Compensation Institute, among others, and delivered a comprehensive new annual study of agents through a collective effort with NMG | Flaspohler and our friends at PIA. We also got involved with Give Kids the World in Florida — one of the greatest gifts of my life — and the Insurance Industry Charitable Foundation.
As I write this column, we are closing the November issue of National Underwriter Property & Casualty. After that, I'll have to say goodbye to my wonderful staff who have made this job such a joy. Rosalie Donlon, my straight-shooting, steadfast managing editor, my right hand and work conscience, who I'm proud to reveal will be NU's editorial lead going forward; Elana Jefferson, an ink-stained wretch like me (that's journo-speak for "newspaper veteran") whose work continues to amaze; Jayleen Heft, who continues to make PropertyCasualty360.com a success story; Danielle Ling, associate editor for online features & multimedia, who shares my vision for telling personal stories and will help expand NU's offerings to include more video on PC360; and Denny Jacob, who joined us as an intern, proved his immense value almost overnight and who I was so proud to bring onto my team full time as a staff writer.
The most important of all: my brother-in-arms, Tim Schafer — my Art Director. Tim and I have worked very closely together to bring you the best-looking magazine possible, and his dedication to excellence has been as inspiring to me every day as it is awe-inducing. It's not surprising that Tim was recently honored once again by his industry peers — this time, with a Folio Award — for his outstanding work. You may not know this, but in journalism it's quite common for the editor-in-chief and the art director to clash regularly and maintain a mostly tumultuous relationship. With Tim and myself, it's been a dream partnership that I will always treasure. Murtaugh & Riggs we shall forever be.
All things have their time — and I believe that the best you can do is seize the opportunities given to you, treat everyone you meet with dignity and respect, do work that you're proud of and forge some lasting relationships along the way. I've done that in my time here, and I'm deeply thankful for the opportunity to lead this brand and consistently tell stories that are worth your time.
As The Boss would say, I'll meet you further on up the road.
Your Friend,
Shawn
Read more columns and coverage by Shawn Moynihan: