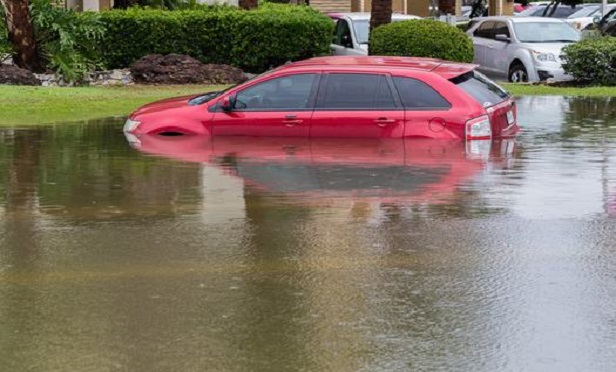 Initial estimates of the damage caused by Hurricane Florence are expected to total approximately $20 billion, as residents of the Carolinas and Virginia are now faced with cleanup and recovery. The Carolinas in particular faced historic flood levels, according to Moody's Analytics, and Mark Zandi, chief economist for the firm said the flooding was more extensive than they had anticipated because it was such a slow-moving system.
The analyst firm also said Florence will end up being one of the 10 costliest hurricanes America has ever seen.
Evaluating flood-damaged vehicles
While homes and businesses face their own cleanup from the flooding, personal transportation causes great headaches as well. Early estimates from Black Book show that roughly 20,000 vehicles will be either damaged or destroyed by the floods. This pales in comparison to the more than 1 million vehicles affected by last year's hurricanes in Texas (Harvey) and Florida (Irma), where the flooding occurred in heavier populated metropolitan areas.
Water from a hurricane, especially one that causes major flooding, can render a vehicle useless. The modern electronic equipment can be short-circuited when water breaches in, while salt water is extremely corrosive and destroys a car's engine and internal parts.
When insurance companies need to calculate payouts, the most critical aspect of the entire process is having access to the most accurate valuation on each vehicle in the portfolio. However, not all valuation services are created equal, and leveraging the wrong value, multiplied over several thousand vehicles with payouts, can be financially devastating to an insurer.
Today's advanced appraisals include data analytics to provide valuations that are more precise. These VIN-specific value resources take into account each individual vehicle's unique history footprint, helping insurance professionals determine the impact a vehicle's past has on its value. Even with the use of vehicle history reports, insurance professionals still rely on automotive values based on an unscientific, educated guess as to the impact a vehicle's history has on its value, which often leads to mistakes in the valuation and payout process.
History matters
Vehicle values that take into account a VIN-specific history can be as much as 31% more precise when compared to the auction transaction price than valuations without a history adjustment included. This is possible since today's analytics process leverages data that can help professionals quickly pinpoint a more precise valuation on two individual vehicles of the same year, make and model based on data inputs that take specific vehicle history events into account. Making an inaccurate estimation on appraisal values can decrease margins for a dealer, as well as increase losses for insurance companies and auto lenders.
History-adjusted vehicle valuations analyze multiple factors and events in a vehicle's history such as the number of owners, vehicle usage, accidents and accident severity, title issues, flood/hail/fire damage, certified pre-owned history, and other variables that are not obvious when physically inspecting a vehicle.
Insurers have long relied on vehicle valuation data in order to help determine the right payout for each vehicle damaged or destroyed in an accident or natural disaster such as a hurricane. Over the last few years, these natural disasters have destroyed large numbers, and there is a good chance this pattern will continue in the years to come.
Jared Kalfus ([email protected]) is executive vice president, revenue, for Black Book, a division of Hearst that provides industry-leading used vehicle valuation and residual value forecast solutions. Black Book works with automotive insurers to provide accurate, timely, independent vehicle valuation data for clients and portfolios. For more information visit www.BlackBook.com.