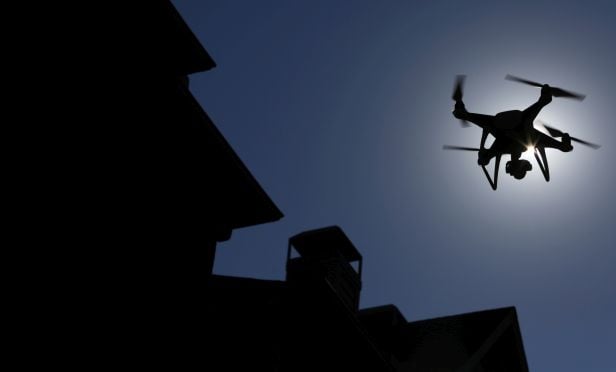 (Bloomberg) – After Hurricane Florence deluged the southeastern U.S., a small army of drones is being deployed to identify and fix damage caused by flooding.
At least 53 drone teams have been recruited to help with damage assessment, said Brian Reil, a spokesman for Edison Electric Institute, the Washington-based industry group coordinating utility recovery efforts. Each team usually brings more than one drone and the force collectively includes about 100 to 160 operators, he said.
Related: Flying high after catastrophes — drones provide critical 'eyes' to assess property damage
While the storm has weakened into a tropical depression, Florence continued to dump record rainfall while areas of North Carolina are experiencing unprecedented flooding. Hundreds of roads have been shut in the region, making it dangerous or difficult to access areas to restore power.
Drones being used where wind & rain have diminished
"Drones are being used in the communities where the wind and rain have died down," Reil said in an email Monday morning. "In many cases, crews are not able to gain access to the most heavily damaged and flooded areas until the storm clears and it is deemed safe for them to enter."
Their numbers may seem small compared with the roughly 40,000 utility workers mobilized to provide assistance, but drones can provide faster access to flooded or otherwise dangerous areas. Local providers including Duke Energy Corp. and Southern Co. are deploying aerial equipment fitted with infrared and high-zoom sensors that can inspect substations, locate malfunctioning solar panels and even help to restring power lines.
Related: 5 secrets to improving customer service after a catastrophe
Take Hurricane Harvey last year: When it flooded Houston, CenterPoint Energy Inc. used drones to assess a substation, determined it was seriously damaged and then quickly built a back-up in a church parking lot, said Chris Behme, an energy and utilities partner at IBM.
IBM worked with the Texas utility during recovery efforts and expects drones to do similar work in the wake of Florence, he said. They can also be used to check hospital generators or alert residents if the local hardware store is open to get supplies, Behme said via telephone.
Enthusiasts told to keep their crafts on the ground
While utility drones may be pivotal, there's a concern those owned by other companies or curious individuals could interfere with rescue and recovery. In a news conference Friday, North Carolina Governor Roy Cooper told enthusiasts to keep their craft on the ground.
"We don't want people to fly these drones and put people's lives and properties at risk," he said.
It's unclear how many drones are in the southeast right now, said EEI's Reil. To keep them from hindering efforts by government and utilities, the Federal Aviation Administration is limiting personal drone flights in the disaster area.
The agency warned this week of "significant fines" for hampering emergency operations. By noon local time on Monday, 14 drones were approved to operate in the area, FAA spokesman Les Dorr said in an email. Most of them were for news gathering, while the rest were for search and rescue or utility inspections, he said.
Related: Seeing your way to better Harvey insurance claims management
Duke, based in Charlotte, North Carolina, started using drones in 2015. The company had about 30 drone operators in June with plans to double the number by year's end, according to its website.
Duke, Atlanta-based Southern and the New York Power Authority were among utilities that sent drones to aid recovery efforts after Hurricane Maria ravaged Puerto Rico last year.
For Florence, the New York Power Authority has offered as many as six drones with two crew members apiece, spokesman Paul DeMichele said. They are on standby along with transmission and generation experts, he said.
Travelers & USAA plans to use drones in the area
Insurers including Travelers Cos. and United Services Automobile Association (USAA) say they'll also use the technology to inspect properties and collect evidence for claims after the storm has passed. Travelers has almost 600 trained drone pilots, said Jim Wucherpfennig, the company's vice-president for property claims.
"Certainly that will be a key piece of our response here for Florence," he said.
Related: Hurricane season drives mass adoption of insurance drones
Got photos to share? We'd like to see them. PropertyCasualty360.com readers who have images of Florence's path can send them via e-mail to [email protected], for inclusion in our coverage.