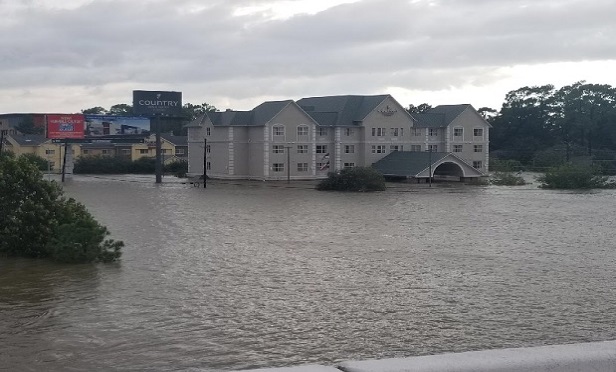 As the East Coast prepares for the arrival of Hurricane Florence, governors of several states have already declared a state of emergency, enabling them to obtain the resources they need to evacuate residents and make other preparations in anticipation of the storm, which recently doubled in intensity.
Mandatory evacuation orders were issued for Dare County and Hatteras Island on Monday. The governor of South Carolina ordered mandatory evacuations of all zones along the coast, affecting almost 1 million people on Tuesday. To aid in the evacuation, all travel lanes into the coastal regions were reversed to allow westbound travel out of the area on two major roadways.
A preliminary analysis from CoreLogic shows that nearly 759,000 homes in the Carolinas and Virginia could suffer damage from the storm surge. Florence, a Category 4 hurricane with sustained winds of 140 mph, is expected to strengthen to almost a Category 5 before it makes landfall. In addition, a foot of rain or more is forecasted for areas from the Outer Banks of North Carolina to Virginia. Depending on which way the storm tracks, storm surges of 15 to 20 feet are also predicted for North and South Carolina.
Too many homeowners are unprepared
According to a disaster preparedness survey commissioned by BELFOR Property Restoration, a global disaster recovery and property restoration firm, two-thirds of U.S. homeowners do not feel that they are prepared for a disaster. The survey found that 60% of respondents did not have a disaster preparedness plan, and 45% did not know what sorts of items to have on hand if there was an emergency. Despite last year's extremely active hurricane season, the survey also found that only 8% of respondents were concerned about flooding and 7% were concerned about hurricanes.
As forecasters track the impending hurricane, residents will have some time to make preparations ahead of the storm or evacuate as necessary. They should also check their insurance policies to see what may or may not be covered in the event of a hurricane or flooding, and take appropriate precautions to mitigate the damage.
Determining coverage
While a homeowners insurance policy will cover a number of specific perils, a standard policy will not provide coverage for flood damage. It may provide some coverage for rain or wind, but flooding from overflowing rivers and streets will not be covered.
Flood coverage is usually purchased through an additional policy from either a private insurer or from the NFIP. The Consumer Federation of America (CFA) "believes that Hurricane Harvey could result in as many as 50,000 claims for wind damage by homeowners" and two to three times that number in flood claims according to a press release. CFA also estimates that less than 20% of homeowners sustaining flood damage will have insurance protection, leaving many responsible for their flood-related losses.
According to the Federal Emergency Management Agency (FEMA), the average flood claim from 2008 to 2012 was $42,000. In 2012, the average flood insurance policy cost $650 per year. In 2014, average claims paid ranged from a low of $10,476 to a high of $42,275. For the first five months of 2017, the average claim payment for a flood loss was $24,698.
Homeowners and renters impacted by Hurricane Florence should document any losses and file a claim with their insurer or the NFIP, if they have the appropriate coverage. Here are some things to consider:
What does flood insurance cover?
Flood insurance covers both the building and contents inside, but it doesn't cover the land the dwelling is located on. There may be limited coverage for basements, crawlspaces, lower floors and enclosed floors of elevated buildings.
Dwelling coverage will cover property up to $250,000 and contents coverage insures up to $100,000 of personal property. Flood insurance is not a valued policy and does not pay more than the policy limit for any losses.
Building coverage includes:
The building and its foundation
The electrical and plumbing systems
Major systems like central air conditioning equipment, furnaces and the hot water heater
Some appliances such as refrigerators, cooking stoves and built-in appliances like dishwashers
Permanently installed carpeting over an unfinished floor (e.g., wood, cement)
Window blinds
Permanently installed paneling, wallboard, bookcases and cabinets
A detached garage (up to 10% of building property coverage)
Coverage for contents includes:
Clothing, furniture and electronic equipment
Curtains
Portable and window air conditioners
Portable appliances such as microwaves and dishwashers
Carpeting that is not covered under the building coverage
Clothes washers and dryers
Food freezers and the food in them
Certain valuable items such as original artwork and furs (up to $2,500)
Related: 3 strategies for recovering from flood losses
What it doesn't cover
There are a number of damages and expenses a flood insurance policy will not cover. These include:
Currency, precious metals and valuable papers like stock certificates
Damage caused by moisture, mildew or mold that could have been prevented by the homeowner or renter
Property and items outside of the dwelling such as trees, plants, wells, septic systems, walkways, decks, patios, fences, hot tubs, seawalls and swimming pools
Financial losses due to business interruption or loss of use of the insured property
Most self-propelled vehicles – e.g., cars, motorcycles, four-wheelers, etc.
Damage from sewer backups
Related: Here's why some water damage claims aren't covered
Residents with a flood insurance policy should file a claim as quickly as possible if they sustain flood damage. If there is an official Presidential Disaster Declaration, homeowners may be eligible for assistance from other sources such as FEMA, the U.S. Small Business Administration or even some state or private organizations.
Residents who register for disaster assistance may be eligible for help with temporary housing, funding for home repairs, and help with home replacement or permanent housing construction.
When contacting the insurer, make sure you have the name of the insurance company for the broker or agent, your policy number, and a phone number or email address where you can be reached regarding the claim. Once you have filed your claim, keep careful notes about who you spoke to, when and what was discussed in case any questions arise later on in the process.
Related: Leasing temporary space after a casualty
Documentation matters
A thorough record of what was lost or damaged will be one of the most important aspects of your insurance claim. Once allowed back into your home or business, take photographs of all damaged property — both personal contents and structural damage, standing floodwater, or visible flood levels on walls or furniture.
Create a list of items that were lost or damaged, including when they were purchased and the price paid. Online vendors may be able to provide receipts for items purchased in the last few months. If you have photos of items before the storm, include those with the claim too.
Also document any items that are discarded, need to be disposed of or placed outside of the home or office. Use caution when taking photos, since parts of the structure may be loose and items may have shifted during the flooding.
Keep copies of all contractors' estimates, any experts' reports or other documentation related to the cost of the claim. If your claim is denied or there are questions about coverage, having a record of what was lost or the cost to repair the damage will be helpful in appealing the decision.
Take photos of large ticket replacement items that are purchased such as televisions or appliances, as well as the receipts as proof of purchase for the claim. The more documentation you have, the easier it will be to substantiate the claim.
Related: Water, water everywhere: Flood claim questions answered
Beware of fly-by-night contractors
Before engaging any contractors, ensure that they have good references and are insured in case there are any errors or injuries while they are on your property. References can be obtained from the Better Business Bureau, insurance companies and previous clients, or online from various referral services.
Related: 6 tips for flood survivors on avoiding fraud and other scams
Filing a claim takes time and is a process. Many insurers may be able to provide some assistance for immediate living expenses when the claim is initially filed. Make sure to track all expenses related to your insurance claim – housing expenses, meals, replacement items, medications, clothing and the like. If you have questions, ask your insurance representative or check some of the resources below.
Resources:
National Flood Insurance Claims Handbook
Federal Emergency Management Agency – Disaster Declaration