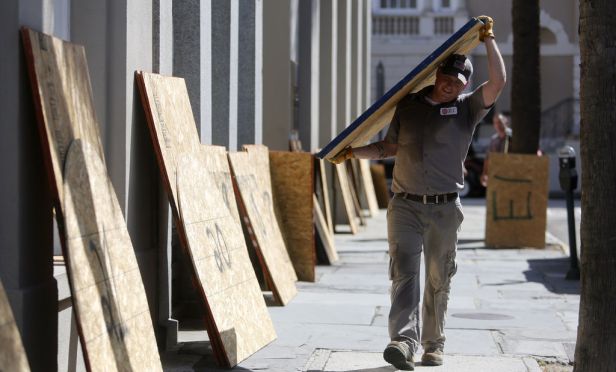 (Bloomberg) – Corporations are preparing for the arrival of Hurricane Florence on the East Coast of the U.S. by shuttering factories and encouraging workers to keep their homes and families safe from the Category 4 storm.
Here are some of the latest developments:
Cargill idles meat plants as ports close (10:44 a.m. ET)
Cargill, the agricultural giant and biggest closely held company in the U.S., will close meat-processing plants in South Carolina and Dayton, Virginia, on Sept. 14, spokeswoman April Nelson said in an emailed statement.
Related: 6 tips for staying connected this severe weather & hurricane season
The Port of Norfolk, Virginia, Hampton Roads plans to close to all traffic starting at noon Sept. 12. The Port of Baltimore is already a step ahead, with no containers inbound or outbound at this time, Minneapolis-based Cargill said. Maryland Governor Larry Hogan has declared a state of emergency.
Daimler Shutters just-opened van factory (9:54 a.m. ET)
Daimler AG suspended operations at its new Mercedes-Benz van factory in South Carolina after Hurricane Florence prompted orders to evacuate areas in the path of the storm. The plant in North Charleston, which Daimler just opened last week, has been contracted to produce 20,000 Sprinter vans for Amazon.com Inc.'s package-delivery service.
"Mercedes-Benz Vans Charleston plant has suspended operations for September 11 until further notice in anticipation of potential impacts from Hurricane Florence," the company said in a statement. "We urge our team members, their families and all those in the path of Hurricane Florence to take this time to prepare and stay safe during the storm."
Boeing closes 787 Plant in South Carolina (6:42 p.m. ET Monday)
Boeing Co. plans to shut its South Carolina operations, including a North Charleston plant where 787 Dreamliners are manufactured. Evacuations have been ordered for coastal areas and operations will resume "once it is safe to do so," the planemaker said in an emailed statement.
Chicago-based Boeing said its leaders are monitoring the storm and working with state and federal officials.
Volvo Car Group idles first U.S. factory (5:07 p.m. ET Monday)
Volvo Car Group, the Swedish carmaker owned by China's Zhejiang Geely Holding Group Co., said Monday it idled operations starting Tuesday at its new plant near Charleston. The factory is its first in the U.S. and makes S60 midsize sedans. The decision was prompted by an evacuation order in place for Charleston, Dorchester and Berkeley Counties in South Carolina.
Pfizer suspending ops at two facilities
Pfizer Inc. is suspending operations on Thursday at two facilities in North Carolina ahead of the possible landfall of Hurricane Florence.
The drugmaker's sterile injectibles division, Hospira, has a manufacturing facility in Rocky Mount. That business, which supplies hospital drugs, has been under pressure due to product shortages. The New York-based drugmaker said it was working to ensure that the pharmaceutical supply wouldn't be affected by the impending storm.
Related: How HR can help following disaster
"Pfizer has contingency plans in place to ensure the continuity of supply, and mitigate interruptions during natural disasters," spokesman Steven Danehy said in an emailed statement.
Erin Fox, an expert on drug-supply issues at the University of Utah, said that Hospira's Rocky Mount facility is a key source of injected hospital drugs in the U.S. and that a prolonged disruption in its operations would worsen longstanding supply squeezes for such medications.
The company experienced what it described as a 17% operational decline in its sterile injectibles business in the most recent quarter, weighing on Pfizer's financial results. The drugmaker is working to return the division to growth.
"We continue with our comprehensive remediation plan to upgrade and modernize these facilities," Chief Executive Officer Ian Read said in May, though he didn't specifically mention the facility in Rocky Mount.
Hotels and tourism heavily impacted
Even before warnings that Hurricane Florence would tear through South Carolina, hotel rooms were hard to come by, thanks to a college football game in the center of the state and a major equestrian competition just across the border in North Carolina.
Now residents planning to flee the coast ahead of the storm are grappling with tight vacancies and an ever-shifting availability of rooms.
The situation is fluid, with rooms opening up as the weather causes some guests to cancel reservations and the storm's path comes into focus. South Carolina Governor Henry McMaster lifted mandatory evacuation orders for three counties in the south of the state, which may increase the supply of rooms.
Even so, with the coinciding events, "people may have to go farther inland," said Katie Montgomery, spokeswoman for the South Carolina Restaurant and Lodging Association.
Rooms could still open up as the weather prevents fans from attending the World Equestrian Games, which runs Sept. 11 through Sept. 23 in Tryon, North Carolina, or the University of South Carolina versus Marshall University football game in Columbia, South Carolina, on Sept. 15.
Cancellations started coming into the King Charles Inn in downtown Charleston, South Carolina, as guests changed plans to stay out of the path of the hurricane. Away from the coast, the staff at the Sheraton Imperial Hotel in Durham, North Carolina, fielded calls from meeting planners wondering what happens if the gathering storm forces them to call off their conferences.
For the hospitality business, such abrupt swings are practically routine during hurricane season along the U.S. East Coast, with one set of travelers canceling reservations ahead of the storm and another — including displaced residents, along with insurance and construction workers — making new bookings immediately afterward.
To help guests track vacancies, the Economic Development Partnership of North Carolina maintains a spreadsheet of hotels with available rooms and a toll-free number to help residents get up-to-date information. Keeping information current is difficult, given that hotels are juggling new demand for rooms and cancellations.
Some hotels are relaxing policies on accepting pets and changing bookings to accommodate customers dealing with the hurricane.
"You have existing business on your books that cancels because they can't get here," said Mike Martino, general manager of the Sheraton in Durham. "And then you have people from the coast attempting to book rooms. It's a crazy time period."
Tourism impact
Florence could be especially devastating for the tourism business in the Carolinas because of its unusual westward path. Landfall is expected late Thursday or early Friday, and on its current path the eye of the storm will pass near Wilmington, North Carolina. Total damages could reach $27 billion, said Chuck Watson, a disaster modeler with Enki Research in Savannah, Georgia. That would make it the eighth-costliest storm in U.S. history.
On Monday night, President Donald Trump declared an emergency in North Carolina.
With everything from vacation rentals in the Outer Banks of North Carolina to the luxury hotels in historic Charleston affected, the storm would wreak havoc on an industry that employs about 10 percent of all workers across the two states.
South Carolina's tourism business generates more than $21 billion in annual sales, according to the state's department of Parks, Recreation and Tourism. In North Carolina, the industry brings in about $24 billion, according to that state's Restaurant & Lodging Association.
Implementing emergency plans
At the King Charles Inn in Charleston, Maureen Sheridan, the hotel's general manager, skipped a planned day off to start implementing emergency plans, making sure her managers had accurate contact information for employees and beginning the process of moving computer hard drives and perishable goods away from the ground floor. Then she'll hunker down in the hotel to weather the storm and make sure that her staff is ready to take in guests escaping lower-lying parts of the city.
While the staff is telling guests that the city is still in the "cone of uncertainty" with respect to the storm's impact, it's likely that the hotel will remain open.
"I've been here 11 years," Sheridan said, "and we've never closed because of a hurricane."
Cruise industry routes disrupted
Hurricane Florence and Tropical Storm Isaac are disrupting the cruise industry as they head straight for key routes in the Atlantic and Caribbean.
Isaac is projected by NOAA to be at or near hurricane intensity by the time it reaches the Lesser Antilles in the eastern Caribbean on Thursday. Swells up to 18 feet are expected Wednesday night in the seas west of Antigua and Barbuda, while the Bahamas are projected to be unscathed. Scattered showers and isolated thunderstorms are expected today for cruises re-routing to the Yucatan Basin and the western Caribbean.
Hurricane Florence, already listed as a life threatening category 4 hurricane by NOAA, is stirring up swells of 37 feet in the Atlantic, impacting any travel to Bermuda. Cruise routes south from U.S. terminals in Baltimore, Boston, Charleston and New York have been affected and returning cruise liners will likely face delays.
Thanksgiving turkey industry
Hurricane Florence is barreling toward the No. 1 turkey state just a couple months before Thanksgiving. But thanks can be given to frozen stockpiles that will likely help prevent a shortage of holiday birds.
The storm is heading straight for North Carolina, threatening the turkey industry as coastal residents flee what may be the most powerful hurricane to hit the area in 64 years. The state is also a leading producer of hogs and chicken. While most animals are raised in indoor barns, high winds and heavy rain can risk losses and processing slowdowns, according to Will Sawyer, an economist at CoBank.
Poultry farms are already working to prevent potential damage. Most of Butterball LLC's North Carolina processing plants, hatcheries and feed mills are in the storm's projected path, and the company began hurricane preparations last week, according to a statement from Jay Jandrain, chief operations officer at the top U.S. turkey company. Feed mills ran through the weekend to make sure there is sufficient inventory, he said.
Butterball's whole birds, a staple of Thanksgiving feasts, are produced and stored at facilities in the Midwest, while the company's North Carolina plants produce items such as ground turkey, turkey bacon and turkey breast.
"National Turkey Federation members have extensive plans in place to address scenarios of this nature, and they are taking the appropriate steps now to best protect the safety of their employees and flocks," Beth Breeding, a spokeswoman for the Washington-based group, said by email.
For Thanksgiving, ample frozen inventories will help to offset any possible birds losses, said Tom Elam, president of consultant FarmEcon. The industry stockpiles turkeys throughout the year before a rapid drawdown near Thanksgiving and Christmas. Supplies of whole, frozen turkeys at the end of July were slightly below 2017, while above the five-year average. Still, lost animals may impact the supply of fresh birds for the holiday, he said.
Whole-turkey prices have been weak this year and reached the lowest since 2010, the U.S. Department of Agriculture said in an August report. The large supplies in cold storage are evidence that production has outpaced demand, the agency said.
There's another Thanksgiving staple in the storm's path: sweet potatoes. North Carolina is the nation's top grower and produces more than half of the country's supply. If soils are saturated or flooding occurs, the tubers may rot, and low-lying areas of fields may not be harvestable, said Normal Harrell, North Carolina Cooperative Extension director in Wilson County, a major producing region. Most of the state's crop has yet to be gathered.
Tobacco plants face risk of rot
Tobacco crops in North Carolina, the top U.S. producer, are right in the projected path for Hurricane Florence, which threatens to cause plants to rot, whether they're still in the fields or have already been harvested.
Florence's Category 4 winds are approaching the state at 130 miles per hour, strong enough for farmers to grow concerned that leaves will blow away and stunt the region's harvest, Matthew Vann, a tobacco extension specialist at North Carolina State University in Raleigh, said in an interview. Flooding is another potential risk, as a deluge could leave plants sitting soaked in fields.
Crop losses could reach as high as $300 million, "assuming a 100 percent loss of what's still in the field," Vann said. "That would be a very sizable blow to the tobacco-grower base as a whole."
North Carolina is forecast to harvest 158,800 acres this year, according to the U.S. Department of Agriculture. While some of the most valuable leaves are still in the field, about two-thirds of the crop has already been gathered, said Andrea Ashby, a spokeswoman for the state's department of agriculture. But for tobacco plants, harvest doesn't guarantee leaves are safe from the storm.
Once picked, tobacco leaves are tightly packed and stored indoors, where the plants are cured for seven to eight days with fans that distribute and regulate heat. If a power outage occurs, the leaves could overheat, spoil and no longer be marketable.
Growers in the region — largely along the Interstate 95 corridor in the eastern part of North Carolina — have been buying backup generators to prepare. They can only help so much.
"Most growers are basically prepared to lose power at some point," Vann said. Even if the storm causes the weather to cool down, "that leaf is packed so tightly that ambient temperature outside doesn't matter," leaving it vulnerable to rot, he said.
Altria Group Inc., which owns brands including Marlboro cigarettes and Skoal smokeless tobacco, has a plant in North Carolina and said it's monitoring affects of the storm.
"If Florence stays on the current path and stalls over North Carolina with massive rainfall, it will definitely be devastating," Charlotte Vick of Vick Family Farms, which produces tobacco and other crops in Wilson, said in an email. "We are taking measures today to harvest as much as possible before the storm and prepare with generators for our curing facilities and our housing for our employees."
Gasoline supply
rude rose the most in a week as Hurricane Florence threatened U.S. East Coast gasoline markets and sanctions began crimping Iranian oil exports.
Futures in New York climbed as much as 1.5% on Tuesday. East Coast motorists may see "dramatic" spikes in gasoline prices, according to AAA, as mass evacuations stretch supplies and Florence's heavy rains imperil major fuel pipelines. Meanwhile, France and South Korea are shunning Iranian crude, forcing the Islamic Republic to effectively remove some oil from global markets.
"There is some in the market who believe we are going to see a significant jump in gasoline prices," said John Kilduff, a partner at New York-based hedge fund Again Capital LLC. "The supportive factors in this market still remain."
London-traded Brent, which is more sensitive to global supply disruptions, traded at a more than $10-a-barrel premium to the U.S. benchmark crude. As Florence moves closer to the southeastern coast of the U.S., the storm appears likely to strengthen, forecasters said. The hurricane is poised to be the strongest to slam the Carolinas in almost 30 years, according to the U.S. Hurricane Center.
Gasoline futures jumped as much as 2.2% to $2.0021 a gallon on the New York Mercantile Exchange.
West Texas Intermediate for October delivery climbed $1.12 to $68.66 a barrel at 10:40 a.m. on the Nymex.
Brent for November settlement advanced $1.12 to $78.49 on the ICE Futures Europe exchange. The global benchmark crude's premium to WTI for the same month was at $10.03.
U.S. nationwide crude inventories probably fell 2 million barrels last week, according to a Bloomberg survey of analysts. Supplies at the key storage hub Cushing, Oklahoma, rose by an estimated 900,000 barrels last week, according to a Bloomberg forecast.
The American Petroleum Institute is scheduled to release its weekly count of stockpiles later Tuesday, followed by the U.S. government's tally on Wednesday.
Related: Hurricane season drives mass adoption of insurance drones
Contributing authors: Patrick Clark, Gabrielle Coppola, Kevin Varley, Justina Vasquez, Megan Durisin, Cynthia Koons and Jessica Summers.