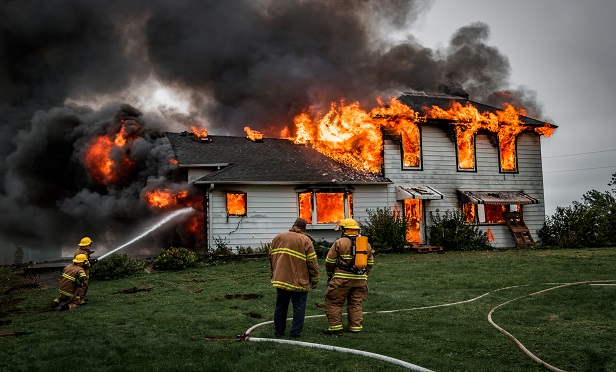 Tyler and Kim Chen were arraigned in the Santa Clara County Superior Court following their arrest on multiple felony counts of insurance fraud and arson for their role in an alleged fraud scheme that scammed five insurance companies out of $4 million. The co-conspirators, Trang Huynh, Suong (Sandy) Ngo and Duyen Pham were arrested as well for their involvement.
Related: N.Y. construction company schemed $1.8M from workers, investigation finds
The timeline
In January 2014, the California Department of Insurance received a tip through its consumer hotline about a connection in a string of home, business and warehouse fires that occurred between December 2011 to September 2013.
After the tipster gave the exact address of where the next fire would occur, the department launched a joint investigation with the San Jose Fire Department and the Santa Clara and San Joaquin County District Attorney's offices, which revealed two fires occurred at a business owned by the Chens. Their homes in San Jose and Stockton met a similar fate shortly after.
Related: $12 million workers' comp fraud scheme busted in San Jose
If you can't take the heat, get out of the kitchen
The residential fires were all reported to have started when chicken being fried was left unattended on the stove. The Chens allegedly orchestrated the entire situation to make it appear as though the fire was the result of a careless cooking incident and then planted many of the same smoke damaged items, which they had already claimed from other alleged fires in homes, warehouses and businesses.
Tyler Chen and his business associate, Ha Nguyen, rented a number of warehouses for an import and export business they owned. According to investigators, the business partners used smoke-damaged belongings to also claim damage from fires in their warehouse or neighboring units. The investigation also found that goods claimed to be damaged in the fire had been purchased, but not yet been received, which led the detectives to arrest Nguyen for his role in the fraud scheme.
"Excellent investigative work by our detectives and insurance investigators led to unraveling this crime," says Commissioner Jones in a statement. "We are committed to working with our law enforcement partners to bring justice to those who defraud Californians."
Related: Arsonist finds crime doesn't pay, receives 23 years to life