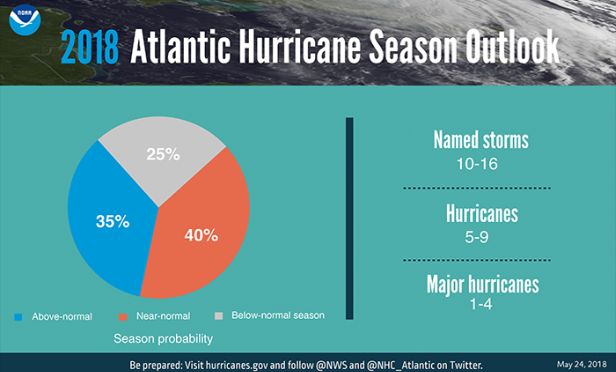 (Bloomberg) – On the heels of the costliest hurricane year on record, the Atlantic is expected to produce five to nine of the mighty storms during the six-month season that starts June 1, the National Oceanic and Atmospheric Administration (NOAA) said.
A total of 10 to 16 named storms, tropical-strength or stronger, will likely cross the basin, threatening people, real estate, crops and energy resources in the U.S., Mexico and the Caribbean, according to the agency's annual forecast Thursday. Of those, one to four may become major hurricanes with winds of 111 miles (179 kilometers) per hour or more.
Over 80 million people can be affected
"Regardless of the seasonal prediction, Atlantic and Gulf coast residents need to prepare every year," Gerry Bell, a forecaster with the Climate Prediction Center, said during a conference call. "There are over 80 million people between Atlantic coast and Gulf coast that can be affected by a hurricane."
Related: After a historic 2017 hurricane season, some experts predict a more average 2018
Hurricane season is closely watched by markets because about 5% of U.S. natural gas and 17% of crude comes out of the Gulf of Mexico, according to the Energy Information Administration. In addition, the hurricane-vulnerable coastline also accounts for 45% of U.S. refining capacity and 51% of gas processing.
Florida is the world's second-largest producer of orange juice. Along the Atlantic and Gulf coasts there are more than 6.6 million homes with an estimated reconstruction cost of $1.5 trillion, according to the Insurance Information Institute in New York.
Costliest year
Last year the U.S. was hit by three major hurricanes — Harvey, Irma and Maria — that helped drive total losses to more than $215 billion, according to Munich Re. It was the most costly season on record, surpassing 2005 which produced Katrina. Overall, 17 named storms formed in 2017, which fell in line with NOAA's prediction of 11 to 17.
Related: Harvey's 5 feet of rain make it second-costliest U.S.. hurricane
The forecast is influenced by conditions across the equatorial Pacific. Earlier this year La Nina collapsed and the ocean returned to its neutral state with the possibility of an El Nino forming later this year. El Nino, when the Pacific warms and the atmosphere reacts, increases wind shear across the Atlantic that can tear apart hurricanes and tropical storms, reducing the overall numbers.
Watching system in Gulf of Mexico
Conditions in the Atlantic will also play a role. Hurricanes need warm water to fuel growth and the basin is currently running colder than normal. Forecasters are currently watching a system in the Gulf of Mexico that may become a tropical depression by Saturday.
An average to above-average season means there is a greater chance the U.S. coastline and Caribbean islands are at risk, said Bell.
"When you have a more active season you have more storms forming in the tropical Atlantic and those storms track further westward," Bell said. "Certain areas have been compromised from last year's storms that makes hurricane preparedness ever more important this year."
Related:
Hurricane season is starting, and critics ask if FEMA is ready
Lessons and consequences of the record-setting 2017 hurricane season