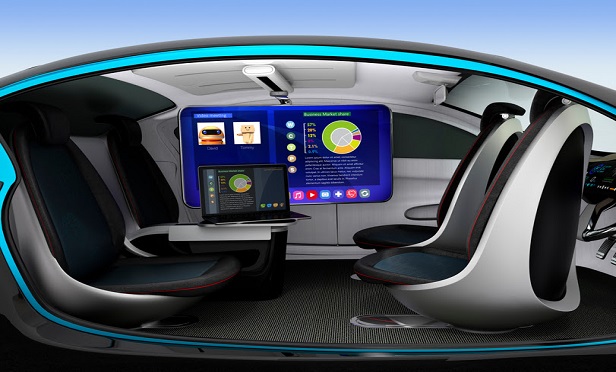 There are estimates that suggest there will be 10 million driverless cars on the road by 2020 (still a relatively small percentage when compared with the 1.4 billion cars currently on the road, which is an important thing to bear in mind).
Yet two key questions arise: Will insurers be able to sort out the issues of liability around vehicles not fully controlled by humans (in order to create truly effective coverage solutions), and will consumers be comfortable putting their lives in the hands of self-driving technology in the short term?
According to the findings of a new study by J.D. Power and Michigan-based law firm Miller Canfield, right now the answer to the latter question is: not really.
The report, titled "Automated Vehicles: Liability Crash Course," is the result of a research project led by Miller Canfield and J.D. Power in collaboration with Mcity, a premier connected- and automated-vehicle research and testing center located at the University of Michigan in Ann Arbor.
The report centers on liability issues affecting Automated Driving Systems (ADS), with a particular focus on how ADS product liability claims may be resolved, as well as which data can be most useful in reconstructing ADS accidents. All of that data will help underwriters craft what will eventually become standard coverage for driverless vehicles.
J.D. Power surveyed more than 1,500 drivers who provided feedback regarding automated vehicle technology and their willingness to participate in alternative dispute-resolution programs (as opposed to pursuing their claims through litigation). What they learned in the process is that the public's wider adoption of driverless vehicles isn't nearly as much of a given as some might assume.
Kristin Kolodge, executive director of Human Machine Interface at J.D. Power and co-author of the report, explained that consumers are equally split if they would ride in a fully automated, self-driving vehicle, with 14% saying they "definitely would," and 33% saying they "probably would," compared with 29% saying they "probably would not" and 17% saying they "definitely would not."
Perhaps not surprisingly, younger generations are more trusting and more interested in driverless vehicles; older generations, not so much. Generations Y and Z like the idea; Baby Boomers and pre-Boomers are less trusting of the new tech. Generation X is in the middle, equally split.
"There's a high degree of skepticism that comes through loud & clear," Kolodge says about what those findings reveal about the public's general attitude toward ADS. She noted that J.D. Power's research has observed a similarly high degree of skepticism among drivers when it comes to trusting things like lane-keeping technology, that drivers don't always trust the vehicle to "come through" in keeping them safe. "We're seeing a direct parallel between trust and interest in automated vehicles."
When we talk about driverless vehicles, it's helpful to understand that there are five distinct "levels" of automation that can be employed. Those are:
Level 1: Driver Assistance, in which the vehicle is controlled by the driver but some driver-assist features may be employed in the vehicle's design. (This is the lowest level of automation.)
Level 2: Partial Automation, in which the vehicle has combined automated functions, such as acceleration and steering, but the driver must remain engaged with the task of driving and monitor the environment at all times.
Level 3: Conditional Automation, in which the driver is a necessity, but is not required to monitor the environment. The driver must be ready to take control of the vehicle at all times if needed.
Level 4: High Automation, in which the vehicle is capable of performing all driving functions under certain conditions; the driver may have the option to control the vehicle.
Level 5: Full Automation, in which the vehicle is capable of performing all driving functions under all conditions. Again, the driver may have the option to control the vehicle.
Having said that, not all automakers are employing the same level of automation in their vehicles – and Kolodge said that managing consumer expectations is going to be a critical part of the process in achieving wider adoption.
She noted that one surprise in the study's results, for instance, was that at Level 5 automation, there was a consumer sentiment that no accidents should occur. "They're expecting a level of perfection at a higher safety standard than other vehicles on the road," said Kolodge. "Where is that thought coming from, and what can we do to set expectations appropriately?"
Part of the issue is that various automakers are skipping from, for instance, a Level 2 to a Level 5, she said, while others believe in taking customers through all five steps to establish that level of trust in the technology over time. Executing this process consistently and safely becomes the challenge. Kolodge added that there's a great deal of discussion around what the driver's level of responsibility behind the wheel should be – and once that's established, those expectations will have to be communicated to consumers.
"There's going to be a transition in next few years of the 'role of the driver' and what they're expected to do," said Kolodge. "That will vary among automakers."
Other key findings from the report:
One-third of drivers said they would be willing to take additional training for an ADS driver's license designation.
More than half (51%) of consumers would pursue litigation for a Level 5 fully automated vehicle if it was involved in a collision and caused an injury. For lower levels of automation, most consumers are unsure about pursuing litigation.
Claims resolved in an out-of-court, private proceeding with a one-time lump sum settlement represent an optimal consumer resolution method for ADS, regardless of injury type.
Nearly three-fourths (74%) of consumers are willing to share ADS vehicle data after a collision.
That last revelation was one that Kolodge was pleased to discover. Autonomous vehicles will yield a wealth and richness of driver data, with more sensors, cameras and other recording tools that are going to capture what's going on in the vehicle at all times.
"The purpose behind why they would be willing to share that was surprising," she told me. "They wanted to share that for the greater good. There was a strong sentiment that they wanted to see the technology improve for others. I thought that was inspiring."
Meanwhile, a lot more testing is needed before the rubber hits the road, so to speak. At the moment, it's difficult to say when driverless cars will become a common sight on our way to pick up the kids from school.
"The forecasts for time frame of introduction are based on production and tech feasibility timelines, and aren't in line with what consumers are ready for," Kolodge added. "You could have the best technology available, but if people don't want to ride in one, that's going to affect overall production."