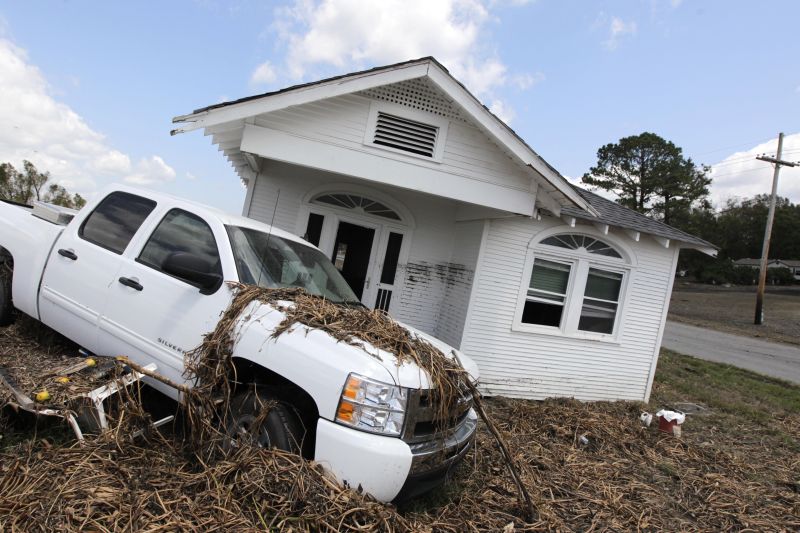 (Bloomberg View) – You could drive a shrimp boat 1,300 miles along the Gulf Coast from Corpus Christi to Fort Myers and not pass a single county or parish that voted against Donald Trump.
The cities and towns along that shoreline had better hope he remembers their support: Without increasing levels of federal spending, climate change could push parts of them out of existence.
FEMA payments to live in vulnerable areas
So far this year, the Federal Emergency Management Agency has spent $1.1 billion on what are called Individual Assistance payments, which help households recover from natural disasters. There are no limits on the number of times a household can apply, so the program isn't just a safety net; for some people, it's effectively a subsidy to live in areas that are especially vulnerable to hurricanes, floods and storm surges.
That hasn't gone unnoticed in Washington. In 1999, a Nebraska congressman introduced a bill preventing some properties with multiple claims from getting help — not just disaster relief, but also subsidized flood insurance. Two years later, the George W. Bush administration's first budget proposed denying aid to the "worst offending repetitive loss properties." Under President Barack Obama, FEMA proposed reducing disaster aid for public buildings damaged more than once in the previous decade if local governments hadn't done anything to protect them.
Rethinking government support
None of those proposals took effect. But as extreme weather gets worse, those federal subsidies will only become more expensive — increasing the need to rethink government support for those who choose to live in harm's way.
"Climate change is real and will lead to even more frequent and costly disasters," Rafael Lemaitre, FEMA's director of public affairs, told me. "We must continue to work with states to implement longer-term projects and strategies that mitigate against climate change."
That means it's time to consider an impolitic question: If federal support gets rolled back, which areas will people have the greatest incentive to leave?
1.3M households request multiple aid
To answer that, I asked FEMA which parts of the country have the most households that repeatedly get Individual Assistance payments, which are a useful proxy for exposure to all types of extreme weather. The agency gave me a list of 1,930 counties where at least one address had requested such aid more than once since 1998 — 1.3 million households in total.
Unsurprisingly, the areas where households are most likely to repeatedly request aid are generally along coasts. The surprise is how they're distributed: Rather than being spread uniformly along shorelines, a small number of counties account for the most repeat claims — one more reminder that the burden of climate change will not fall evenly.
Texas, Louisiana, Alabama, Florida
At the easternmost edge of the Texas coast, Jefferson County has almost 57,000 addresses with multiple requests for FEMA aid since 1998 — about 1 address for every 5 of the county's 250,000 residents. Households around Port Arthur are the most likely to make repeated requests for assistance, along with the area around Bridge City in adjacent Orange County, as well as the sparsely populated coastal areas of Louisiana's Cameron Parish on either side of Calcasieu Lake.
Households in the eastern part of Louisiana, from New Orleans to the bayou towns to the south and east, are just as likely to make repeated requests for federal help. It's hard to imagine the federal government not doing whatever it can to protect New Orleans. But some smaller towns, especially in Plaquemines Parish and St. Bernard Parish, could struggle to convince federal and state officials that they should survive.
Related: 12 ways the U.S. is using nature to protect against natural disasters
Alabama has 67 counties, and every one of them has households that have sought federal disaster aid multiple times since 1998. But Mobile County has the greatest number of such properties, even accounting for population — almost 40,000 households, 1 for every 10 residents.
Those households are clustered to the north and south of downtown Mobile, as well as at the mouth of Mobile Bay and on Dauphin Island — a spot Orrin H. Pilkey, a geology professor at Duke University, calls "the worst development site on any American barrier island," owing to its residents' tendency to repeatedly request disaster aid.
For all the attention it gets because of rising sea levels and nuisance flooding, Florida's exposure to climate change isn't that bad, at least measured by the share of households that repeatedly seek aid. And the most vulnerable counties are midway along the Atlantic coast — including Indian River County, home to Vero Beach, and the southern part of Brevard County just across the Saint Sebastian River.
Extreme weather will only get worse
Of course, federal funding isn't fate. In some cases, restricting FEMA payments (whether disaster relief or flood insurance payments) for repetitive-loss households will spur local governments to come up with their own solutions: spending more money on storm-water management, sea walls or elevating homes. And if sea levels start rising more quickly, then inundation, not repeated storm damage, could determine which communities have to be abandoned first.
What's certain is that extreme weather will only get worse, inflicting disproportionate pain on a relatively small share of the country. It's already possible to make intelligent guesses about which areas those will be. The question for policy makers is whether to keep sheltering those people from the inevitable. Then, when sheltering no longer makes sense, an even harder question: how to help them leave.
Related: What will flood insurance look like after 2017?
This column does not necessarily reflect the opinion of the editorial board or Bloomberg LP and its owners.