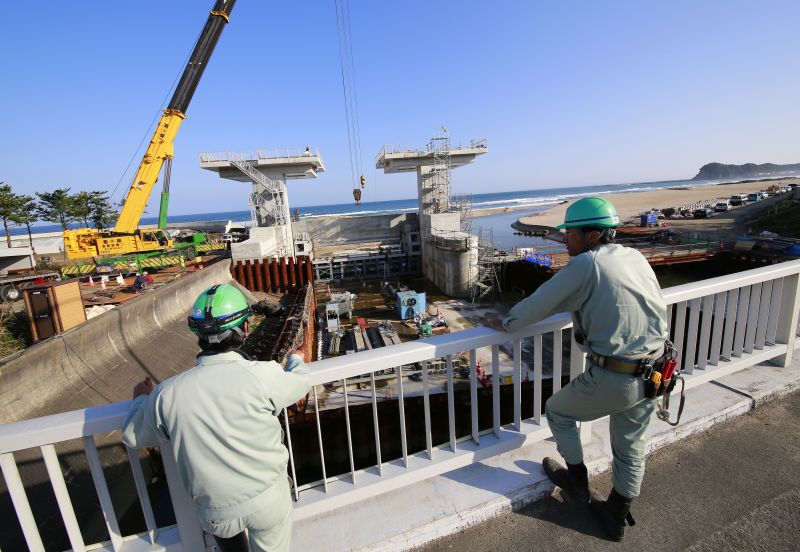 (Bloomberg Gadfly) – Tuesday's magnitude-7.4 earthquake off the coast of Japan's Fukushima prefecture could hardly have come at a worse time for the nation's insurers.
April's Kumamoto tremor is already the country's second-most costly on record. Some 329 billion yen ($3 billion) in claims had been paid by late June, a figure likely to rise further as more cases are resolved. Such disasters have a long tail of costs: Five years after the country's most expensive temblor, Japan Earthquake Reinsurance Co. paid some 5.25 billion yen of claims last fiscal year related to the 2011 Tohoku earthquake.
Affected households limited
Along with the natural worry about loss of life and property, that's led to aftershocks in the market. Sompo Holdings Inc. fell as much as 2.2 percent in Tokyo morning trading, while Tokio Marine Holdings Inc. dropped 0.6 percent. MS&AD Insurance Group Holdings Inc., which gets about a quarter of its revenue from life insurance, was the only gainer, with a 0.2 percent advance as of 10:30 a.m. local time.
Investors shouldn't worry overly about the impact. For one thing, the quake struck so close to the Fukushima Daiichi nuclear reactor that the number of affected households is seriously limited. The main city exposed, according to the U.S. Geological Survey, is likely to be Namie, a town lying within the Fukushima exclusion zone that has been evacuated since the 2011 disaster.
Only about 222,000 people live in areas where they're likely to feel strong tremors, according to the U.S. Geological Survey. Contrast that to this April, which exposed the entire city of Kumamoto to violent shaking, with 4.6 million people living in areas that suffered jolts rated at least as "strong."
Meanwhile, the threat of a tsunami — which caused the overwhelming number of fatalities in 2011 — has now "largely passed," according to the Pacific Tsunami Warning Center.
Japan's insurers in 'pretty good shape'
Japan's insurers are in pretty good shape. Despite the impact of Kumamoto, loss ratios — claims paid out as a percentage of premiums received — came out in the high fifties in the latest filings by the nation's big three property and casualty insurers. That puts them in a stronger position than larger peers in South Korea, Canada, the U.S. and China.
Thanks to a spate of recent overseas takeovers, they're also less exposed to the domestic market, helping to limit the impact of any Japan-specific disasters.
It's tempting when trouble strikes to worry that the insurance industry, as the first line of defense, will take the brunt of the blow. But Japan's earthquake-reinsurance plan has seen it survive bigger disasters than this one. The country's insurers are built on strong foundations. They're not going to topple just yet.
Related: Disasters cost insurers $37B in 2015, according to Swiss Re
This column does not necessarily reflect the opinion of Bloomberg LP and its owners.