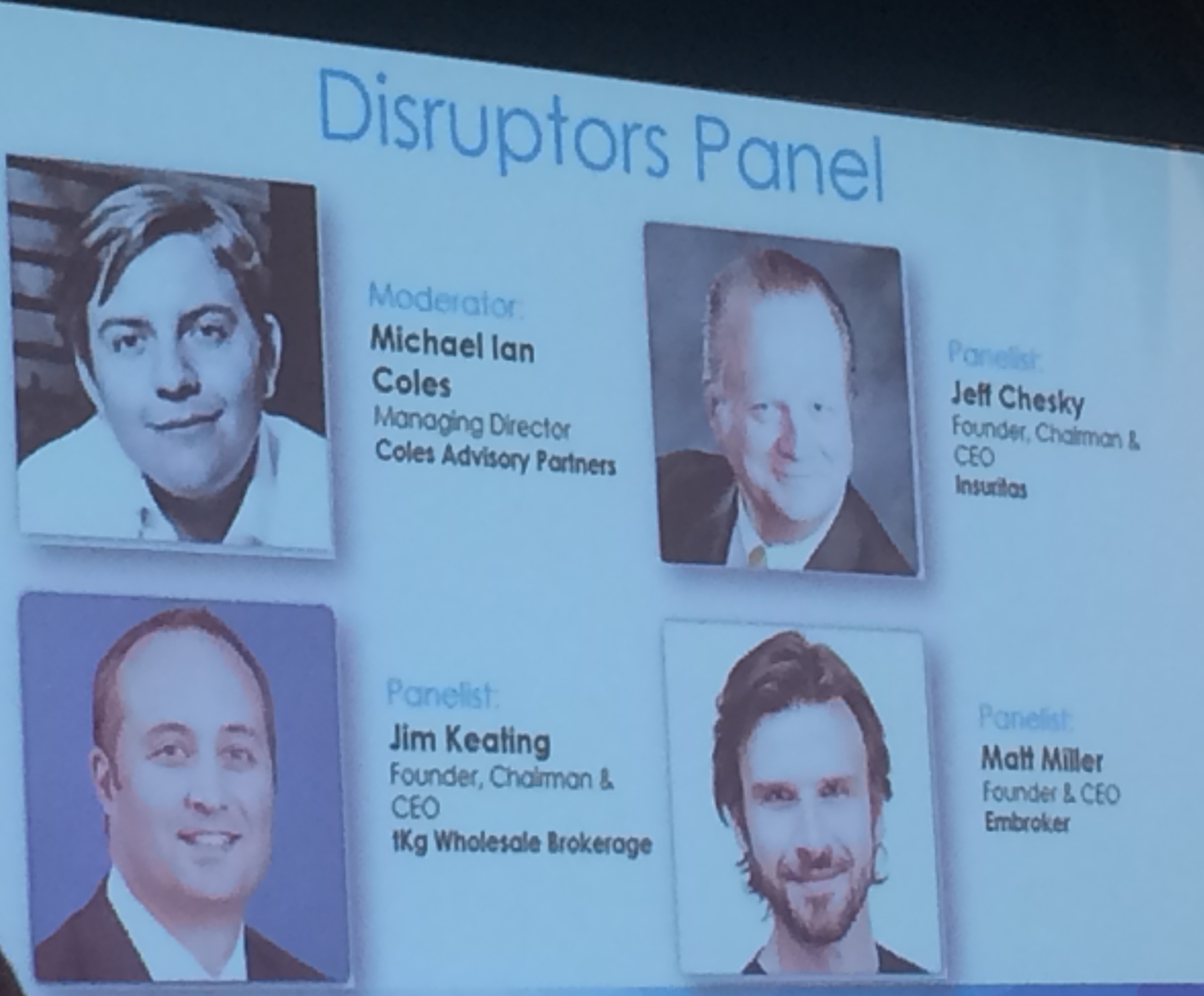 According to James Keating, founder, CEO and chairman of Phoenix-based TKG Wholesale Brokerage (formerly known as the Keating Group), there are two kinds of disruption the insurance industry is facing: displacement and innovation.
Keating was part of a panel called "Disruptors" at the 10th annual Entrepreneurial Insurance Symposium, in Dallas, Texas, Sept. 7.
Another panelist, Matt Miller, founder and CEO of San Francisco-based Embroker, said that disruption in this case means technological change and improvement. "Insurance has been protected by the complexity of its products, but that's changing."
Embroker is an insurance industry start-up that is selling commercial insurance to small and midsize businesses online. Miller said he believes that there is a need for tools to help insurance professionals, especially agents and brokers, do their jobs more efficiently and better.
The moderator, Michael Ian Coles, managing director, Coles Advisory Partners, a Bermuda-based insurance advisory firm, asked about the effect of technology on agents and brokers. Jeff Chesky, founder and CEO of East Windsor, Connecticut-based Insuritas, a provider of software and technology to insurance agencies, said he believes that the traditional independent agents and brokers system is "dead," but there is still a need for the product. "Insurance has now become a distribution exercise, not a sales exercise," he said.
It's all in the data
Chesky said regional, niche insurance companies are far more nimble than large national carriers.
With the proliferation of available data without going through a middleman, the days of the underwriter are gone, he says.
"We don't need individuals now that we have artificial intelligence," Chesky explained, describing how artificial intelligence could be used to underwrite car insurance. The computer model could compare accident rates and claims costs for a particular model car against one your client is buying, add in your client's personal claims history, and then determine the premium based on the level of risk.
The panel was a lively one, drawing reactions from the audience, many of whom disagreed with Chesky's view. Several audience members commented that their clients are still looking to their agents for insurance coverage, not buying online.
Keating also disagreed with Chesky. "I believe that people still want to deal with people," he argued, to a round of applause. "We should keep it simple, but still provide customer service," he said. "As a business gets more complicated, there is more need for an individual to help, not less."
Miller said that clients have certain expectations about their insurance providers and they trust technology generally. "Regardless of the sales channel, you need a good technology experience to build trust," he said.
Miller said he doesn't want to tell his commercial insurance clients how to run their business; he wants to provide the tech tools to help.
Invest in R&D
A strong subject for debate by the panel was the effect of disruption on insurance industry employees.
The industry is recruiting talent as baby boomers retire, but the jobs they're doing are going to change and evolve, the panel agreed.
Miller noted that technology will reallocate people from tasks that can be automated to those that can't. Primarily, he said, technology allows insurance agents to eliminate much of the paper-pushing, concentrating their efforts on what their clients need.
When comparing the insurance industry delivery system to Amazon, Miller explained that Amazon's biggest advantage is that it continually invests in research and development, something that the insurance companies don't always do.
Keating agreed with Miller: "Are you putting money back into R&D? If not, you won't be here in 10 years." If the industry doesn't adapt and improve, he added, "We won't survive."
Miller and Keating also agreed that the insurance professional of the future will need solid insurance industry knowledge combined with an understanding of technology. At Miller's start-up, the IT and insurance teams work together. He's hiring people who are passionate about insurance and ultimately understand risk management.
Chesky repeated his belief that the classic role of independent insurance agents as the "finder of sales leads" is dead. But the agent's role as a licensed, trusted advisor won't go away. "Agents need to be available 24/7, and technology can help them do that." He also agreed with his fellow panelist that buyers with complex needs still want to speak with an agent, and "the higher end buyer will still expect personalized service."