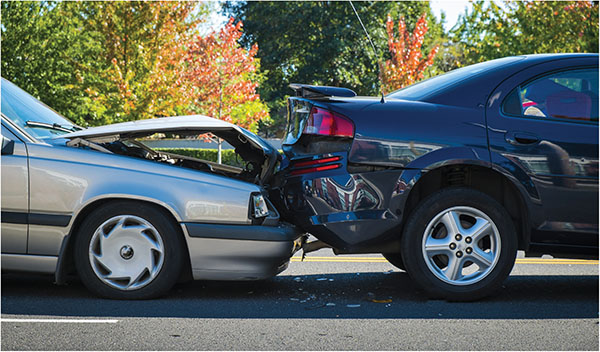 A few short years ago many people were proclaiming that America's love affair with cars and driving was over. However, U.S. auto sales in 2016 are on pace to beat the record 17.5 million vehicles sold just last year. Additionally, Americans logged more than 3.1 trillion miles in 2015, eclipsing the record set in 2007.
It appears the old flame is still burning bright and, as we move into the summer driving season with relatively low gas prices, possibly the lowest since 2004, many more people may take to the roads.
The U.S. Energy Information Administration expects the retail price of regular-grade gas will average $2.04 a gallon during the 2016 summer driving season, down from an average of $2.63 last summer. These lower gas prices create a powerful economic incentive to drive more, but the result is higher levels of traffic congestion, which often leads to fender benders.
Risky behaviors
This is particularly true in the summer months when people are traveling in unfamiliar areas. Travel to and from fun social activities such as festivals, vacations, the beach or just hanging out with friends and family too often creates a temptation to stay connected through a cell phone or by texting while driving. Although texting and cell phone use get a lot of media attention, distractions can also include operating car navigation systems, eating while driving and disciplining kids in the back seat.
According to the National Highway Traffic Safety Administration, distracted driving was reported in crashes that killed 3,179 people, approximately 10% of all fatalities and 18% of all injuries in 2014. The numbers are clear: This is a major safety concern that is compounded by the congestion during the summer driving season.
Recent research by the AAA Foundation for Traffic Safety demonstrates that about 87% of drivers have engaged in at least one risky behavior such as driving while distracted or impaired, speeding; running red lights, and not wearing a seat belt within the past month.
Its survey also found that nearly half of all drivers (48%) had driven 15 mph over the speed limit on a freeway in the past month, while 15% admitted doing so fairly often or regularly. Speeding-related crashes, which account for 28% of all fatalities, are another significant cause of accidents during the summer months. Many states have raised their speed limits, and 17 states have speed limits of 75 mph or more in some areas. This year, Wyoming passed a bill raising the speed limit to 70 mph for non-interstate highways, and Kansas lawmakers approved raising more rural highways to 70 mph.
With an increasing number of states raising speed limits, the potential for crashes increases. The Insurance Institute for Highway Safety says that increases in speed limits over the past two decades have cost 33,000 lives in the U.S.
Drunk driving
Another significant summer hazard involves drunk driving. Holidays, such as the Fourth of July, see a sharp increase in the number of crashes involving the use of alcohol. In 2014, over the Fourth of July holiday, crashes in which at least one driver or motorcycle operator had a blood alcohol concentration of 0.08 or higher accounted for 41% of the people killed in crashes. This compares to the overall yearly total of 31% of driving fatalities in 2014.
Related: 10 states with the biggest increase in auto accident costs

To combat drunk driving this year Maryland enacted a law that requires ignition interlock devices for anyone convicted of drunk driving. New Mexico continued its crack down on drunk drivers and increased penalties on the worst repeat offenders and drunk drivers who kill someone on the road. Tennessee passed a law that requires a judge to order an ignition interlock device for all convicted DUI [driving under the influence] offenders. Wisconsin enacted a bill creating tougher drunk-driving penalties that make a fourth drunk-driving offense a felony. Oklahoma is closing a loophole in existing law that allows drunk drivers to accumulate multiple convictions because they were not being uniformly track by various courts.
Traffic congestion, along with unsafe driving behaviors such as distracted driving, speeding and drunk driving, is contributing to a spike in the number of auto accidents that could be impacting insurance costs. The Property Casualty Insurers Association of America's analysis of industry data has found that starting in 2014, the country has experienced increases for both the number of accident claims (frequency) and the cost of those claims (severity).
We are working with lawmakers and regulators to focus on strategies to make roadways safer by enacting sound distracted-driving and other proven highway safety laws, and exploring tougher impaired-driving laws for drugs and alcohol. Together, these steps can make our roads safer and lower our insurance costs.
Robert Passmore is the assistant vice president, personal lines policy of the Property Casualty Insurers Association of America. Opinions expressed in this article are the author's own.