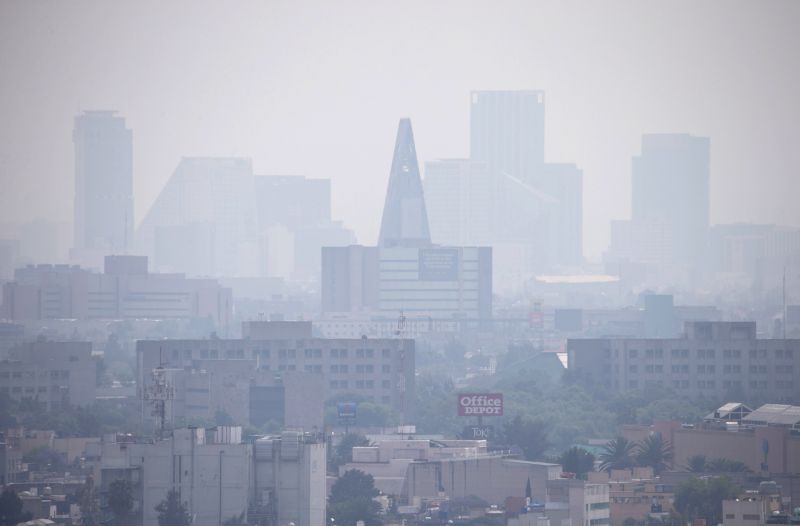 (Bloomberg) – Mexico City residents and local industry struggled to cope after a spike in smog levels forced authorities to ban 40% of cars from the roads Wednesday and imposed new restrictions on industry.
Cement, electricity and other industrial plants were told to reduce emissions by as much as 40%, while trucks with federal license plates were barred from entering the city, causing a backup of cargo vehicles on highways.
Ozone levels highest in 14 years
Just as Mexico was receiving plaudits for reducing smog, ozone levels have climbed to their highest in 14 years, forcing authorities to impose the emergency restrictions. The authorities say rising temperatures and a high-pressure system are bottling contaminants inside the city, while environmentalists say rolling back part of a ban on old cars from the streets last year has also caused emissions to rise. The traffic restrictions put additional strains on the city's bus and subway system.
"The public transportation system is not prepared for so many people," city resident Javana Martinez, 25, said after taking the subway to work Wednesday. "I had to wait for the third train, I would have been late for work except that I left a half an hour earlier than normal because I knew it would be packed."
The city's restrictions "clearly" add a downside risk to economic growth in the short term, said Alonso Cervera, chief Latin America economist at Credit Suisse Group AG. The measures could reduce production in some industries by as much as 60%, according to Mexico's industrial chamber, known as Concamin.
Consequences for production lines and jobs
They "represent serious consequences for production lines and jobs generated by these companies," Manuel Herrera, who heads Concamin, told reporters. "It runs the risk of creating a supply shortage."
The city has said the duration of the measures will depend on how long the poor air quality lasts. Similar restrictions imposed in March lasted three days.