Bloomberg) — Munich Re, the world's second-biggest reinsurer, named Joachim Wenning to succeed Chief Executive Officer Nikolaus von Bomhard as the industry struggles to maintain earnings amid low interest rates and falling prices.
Wenning, 51, will take over the top post on April 27 next year, the Munich-based company said in a statement Tuesday. Von Bomhard, who turns 60 in July, will step down as CEO and a member of the management board the day before. Wenning is currently a board member with responsibility for life reinsurance and human resources.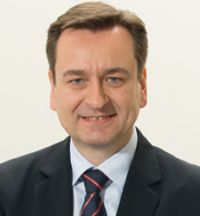 Wenning will assume leadership after prices for reinsurance declined in eight of the past 10 years, according to the Guy Carpenter World Property Catastrophe Rate on Line Index. While losses from natural catastrophes were the lowest since 2009 last year, earnings are being squeezed by record-low interest rates as well as declining reserve releases from potential claims payments set aside in the past.
Photo: Joachim Wenning, currently a Munich Re board member with responsibility for life reinsurance and HR, will take over as CEO in 2017.
Under von Bomhard's reign, Munich Re pulled through the financial crisis while main competitor Swiss Re AG, based in Zurich, needed 3 billion francs ($3.03 billion) from Warren Buffett's Berkshire Hathaway Inc. following record losses.
"Wenning's appointment basically is a choice of continuity and will be welcomed by investors viewing Munich Re as a defensive stock," said Thomas Seidl, an analyst at Sanford C. Bernstein in London.
Related: Munich Re's John Vasturia named chairman of IICF Board of Governors
Wenning joined Munich Re in 1991 as a treaty specialist with technical responsibility for life reinsurance clients in Germany. In 2005 he was appointed CEO of subsidiary New Re in Geneva. In 2009 he became a member of the management board.
Leaving now would allow von Bomhard to meet a German corporate governance standard of a two-year "cooling off period" and succeed Bernd Pischetsrieder, 68, as chairman of the supervisory board when Pischetsrieder turns 70. Allianz SE, Europe's biggest insurer, followed the same principle when Michael Diekmann last year handed the CEO post over to Oliver Baete.
Please give us a Like on Facebook!