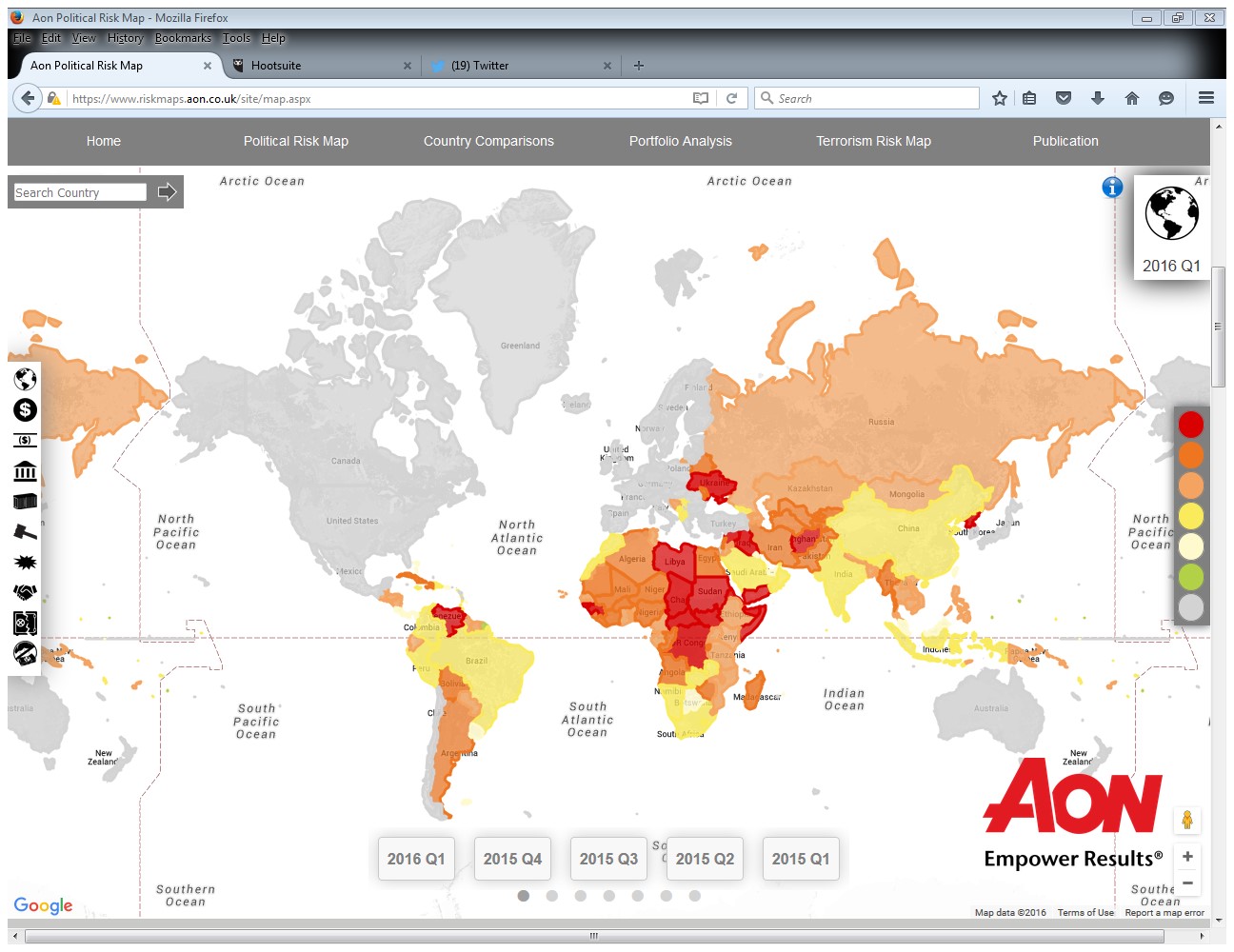 Established businesses seeking alternative areas of growth are looking to expand into emerging markets.
But those doing business in those markets have to factor in the adverse effects of government action or inaction.
To manage and mitigate the risk of establishing a presence in an emerging market, organizations are looking for comprehensive high-level overviews of their exposure to political risks in the region.
One source that businesses can use to assist them in measuring the risk they face is London-based insurance giant Aon's interactive Political Risk Map, now accessible through the company's upgraded portal, which is free, with registration.
By using the interactive map, businesses can plot trends, measure their exposures and review the potential risks they may face as they look to invest, grow and diversify.
Produced in partnership with New York City research firm Roubini Global Economics, the interactive tool shows the political risk landscape in countries of interest. Through the risk icons, users can see the political risks in 162 countries and territories in nine categories:
Exchange transfer.
Legal and regulatory risk.
Political interference.
Political violence.
Sovereign nonpayment.
Supply chain disruption.
Risk of doing business.
Banking sector vulnerability.
Risk to fiscal stimulus.
Aon's political risk outlook for 2016
According to Aon's political risk assessment, 2016 will be defined by weak global growth, shifting trade patterns, monetary policy divergence and slow interest rate normalization.
Some emerging markets are likely to maintain strong rates of growth, whereas China will see growth rates decline further.
Russia's economy will likely stabilize as it recovers from recession. Brazil and Venezuela are expected to suffer further painful contractions in their economies.
The assessment also notes the following global and regional themes:
Greater use of capital controls. Countries such as Angola, Ghana and Nigeria are expected to keep existing capital account restrictions. China will most probably tighten controls to manage capital outflows, which could discourage foreign investment
Oil-producing nations' requirements to find substitutes for lost revenues will put pressure on their corporate sectors; at minimums through tax regime adjustments and at extremes through initial public offerings of state-owned enterprises. Producers such as the Gulf Cooperation Council countries, Colombia, Malaysia, Kazakhstan and now Russia that have more resilient institutions and greater foreign currency reserves will be better positioned to survive this cycle. Angola, Ecuador, Ghana and Venezuela are not so fortunate. In the current climate investors should prepare for increases in defaults and arrears from state owned enterprises.
Liquidity support. Certain countries will require financial support from the International Monetary Fund and other multilateral financial institutions to assist their adjustment to the commodity price shock.
Levels of political violence will remain high. ISIS, despite losing territory, is gaining influence and providing cover to other radical extremists. These trends will also increase refugee flows.
Economic challenges and border disputes in Asia will encourage nationalism. In some cases, there will be increased defense spending and military shows of strength
Greater government intervention and populist pressure in the Commonwealth of Independent State countries will further undermine policy implementation. Ukraine could put its IMF program at risk.
Positive trends will include the progressive lifting of sanctions on Cuba and Iran, and a more pro-business policy stance in Argentina following the election of President Mauricio Macri.
To check out the interactive maps and obtain a copy of the most recent political and terrorism risk reports, visit Aon's risk maps portal.
Related: 10 P&C lines likely to see rate decreases in 2016
Are you following us on Facebook?