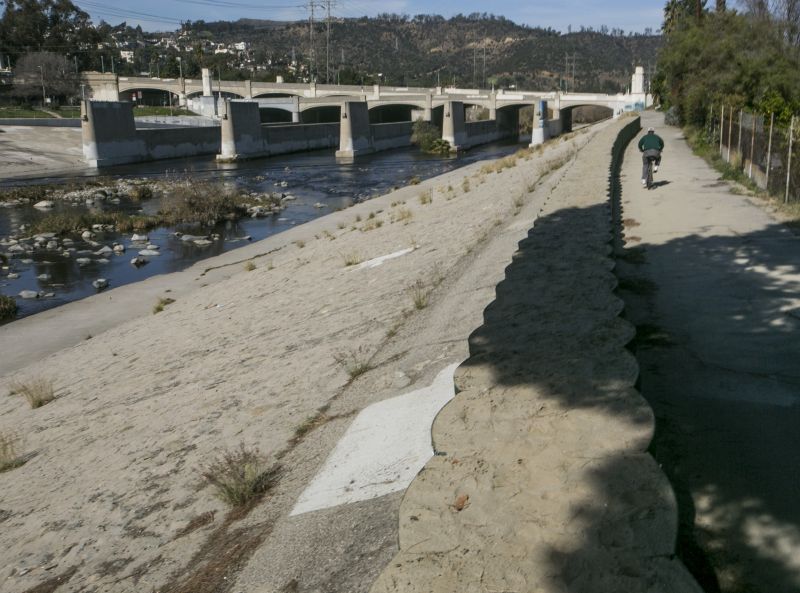 (Bloomberg) – The conventional wisdom was that California, especially the southern part of the state, would be awash this winter with rain in the valleys and deep snow in the mountains. El Nino was on the way to save the day. There were voices of caution: State Climatologist Mike Anderson had been telling people since last year that the Pacific Ocean warming wasn't a guaranteed drought cure.
So with February winding down, along with the peak of the California rainy season, how did the state fare?
"It has been extremely disappointing," said Rob Hartman, hydrologist in charge at the California Nevada River Forecast Center in Sacramento. "January was quite good to us, February was not. Our water supply forecast for the spring period is falling like a stone."
Through last week, 99.57% of California was abnormally dry or in some form of drought, according to the U.S. Drought Monitor in Lincoln, Nebraska. That's a micro-step up from Jan. 1, when the entire state met those conditions.
San Diego, Los Angeles and San Francisco have had lower-than-normal rainfall since October, National Weather Service data show. All but one of the state's 12 big reservoirs are below their historical average depths for this time of year, the California Department of Water Resources said on its website.
Reservoirs dry
"It is going to be difficult to fill Oroville and Shasta; they're just too far behind," Hartman said.
The few bright spots include Eureka, in northern California, and Fresno, in the San Joaquin Valley, which got more than the 30-year average. Folsom Lake, one of the smaller reservoirs, is at its flood control capacity, Hartman said.
Through Thursday, about 40.1% of the Sierra Nevada region was covered with snow to an average depth of 17.2 inches, according to the National Operational Hydrologic Remote Sensing Center in Chanhassen, Minnesota. In 2010, the last time there was an El Nino in the Pacific, 57.8% of the area was covered to a depth of 32.7 inches on Feb. 25.
The state's in better shape than during last year's wet season, "but we're still below average," Hartman said. "That doesn't help to overcome an extended period of drought."
Losing ground?
Since last fall, when the season started in California, Hartman has been saying that at least, "we're not losing ground."
"I can't say that anymore," he said.
So what happened to El Nino?
Related: What homeowners and insurance agents need to understand about El Niño
"It's still there," Michelle L'Heureux, a forecaster with the U.S. Climate Prediction Center in College Park, Maryland, wrote in a blog post Thursday. "Based on measurements of sea surface temperatures in the tropical Pacific, this El Nino is the biggest event we've seen in almost twenty years."
Hartman said making predictions based on past events is dangerous because there is a relatively small sample size. There have only been about two dozen El Ninos since 1950.
Some flops
On top of that, not every El Nino has delivered. One in n 1965-66 did nothing to quench California's thirst and there have been others that also didn't bring rain.
There's still a chance for some rain in March and April, and the snow in the Sierra will eventually melt, so Hartman said his mood is "guarded."
Even so, California probably will have a fifth year of drought.
"Though this year's impacts do not perfectly mirror the typical pattern, we're already seeing El Nino's thumbprints," L'Heureux said in her post, called "Is El Nino AWOL?" "But he's like a temperamental kid in art class who can't quite stay between the lines with his finger paints."
Related: A white-hot Christmas wraps up Earth's hottest year on record
Join us on Facebook and give us a Like!