Organic revenue growth for large and mid-size agent-brokers slowed to 4.6% in 2015, according to Atlanta-based Reagan Consulting's quarterly survey of the topic.
Organic growth had been 6.2% each year from 2012 through 2014, Reagan Consulting said.
Profit margins declined to 20.1%, a year after reaching record profitability in 2014. That median profitability, measured by earnings before interest, taxes, depreciation and amortization, was 21% in 2014, according to the survey.
"The results show a downward tick. But they are still fairly solid from a historical perspective," said Kevin Stipe, president of Reagan Consulting, which is a management consulting and merger-and-acquisition advisory firm for insurance distributors. "In the past eight years of the … survey, the organic growth rate of 4.6% ranks fourth best, while the EBITDA margin of 20.1% ranks second best."
Reagan Consulting said its study also found that the pace of growth had slowed in all three major lines of business: commercial property-casualty, personal property-casualty and employee benefits. Three key factors affected growth and profitability: a soft market for commercial property and casualty premiums, continued slow growth in the U.S. economy of only 2.4%, and a sharp decline in crude oil prices, Reagan Consulting said.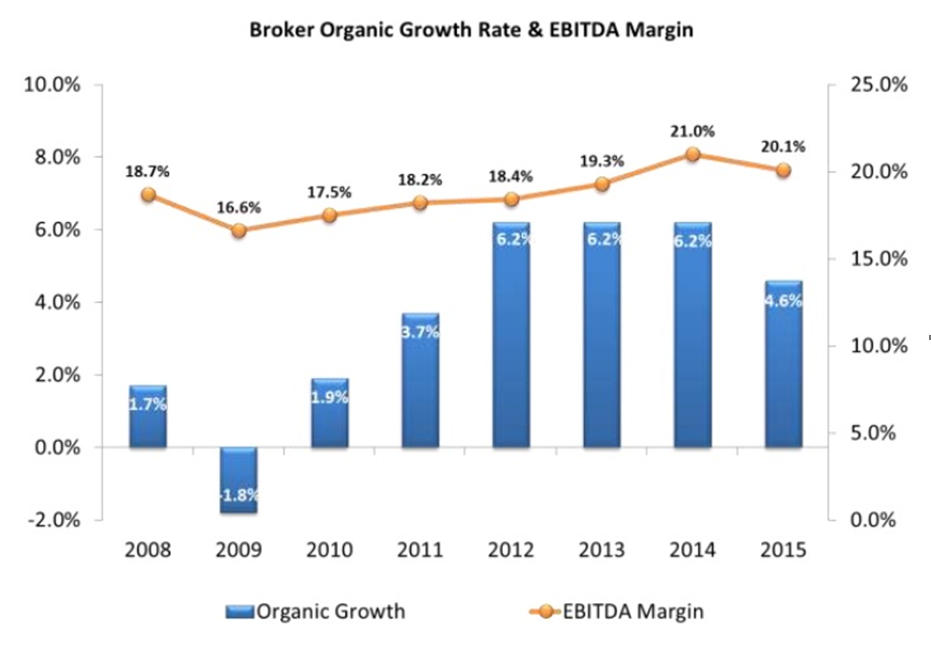 EBITDA: Earnings before interest, taxes, depreciation and amortization.
Source: Reagan Consulting Organic Growth and Profitability Survey.
"The boom that drove oil prices to more than $100 per barrel in 2013 turned into an oil bust in 2015 with prices reaching the high-$30s range," said Stipe. "Insurance brokers in oil-producing states once benefited from economic activity stimulated by high oil prices, and outpaced peers in other states. That has flipped: Oil-state firms grew at only a 2.5% rate in 2015, 2.3 percentage points slower than other … firms."
Reagan Consulting said it has conducted its quarterly survey of agency growth and profitability since 2008, using submissions from approximately 140 mid-size and large agencies and brokerages, with aroud half of the industry's 100 largest firms participating in the most recent survey. Median revenue of the firms completing the survey is approximately $17 million, Reagan Consulting said.
Related: Agent, broker organic growth reaches 5.9% in Q2 2015
Have you Liked us on Facebook?