From the North Pole suburbs of Minneapolis-St. Paul to the sub-tropical paradise of the Rio Grande Valley in Texas, local insurance agencies are filled with the holiday spirit.
December is packed full of religious and cultural holidays, so there's plenty to celebrate — especially the national holidays of Christmas and New Years.
Last week, we asked our insurance agency readers to send us photos of how they are celebrating the season. And they didn't disappoint.
Whether it was decorating their offices, or holding toy drives, or wearing ugly sweaters, or getting together for an office party, the folks at local agencies know how to have a good time.
And now we share their good times with you: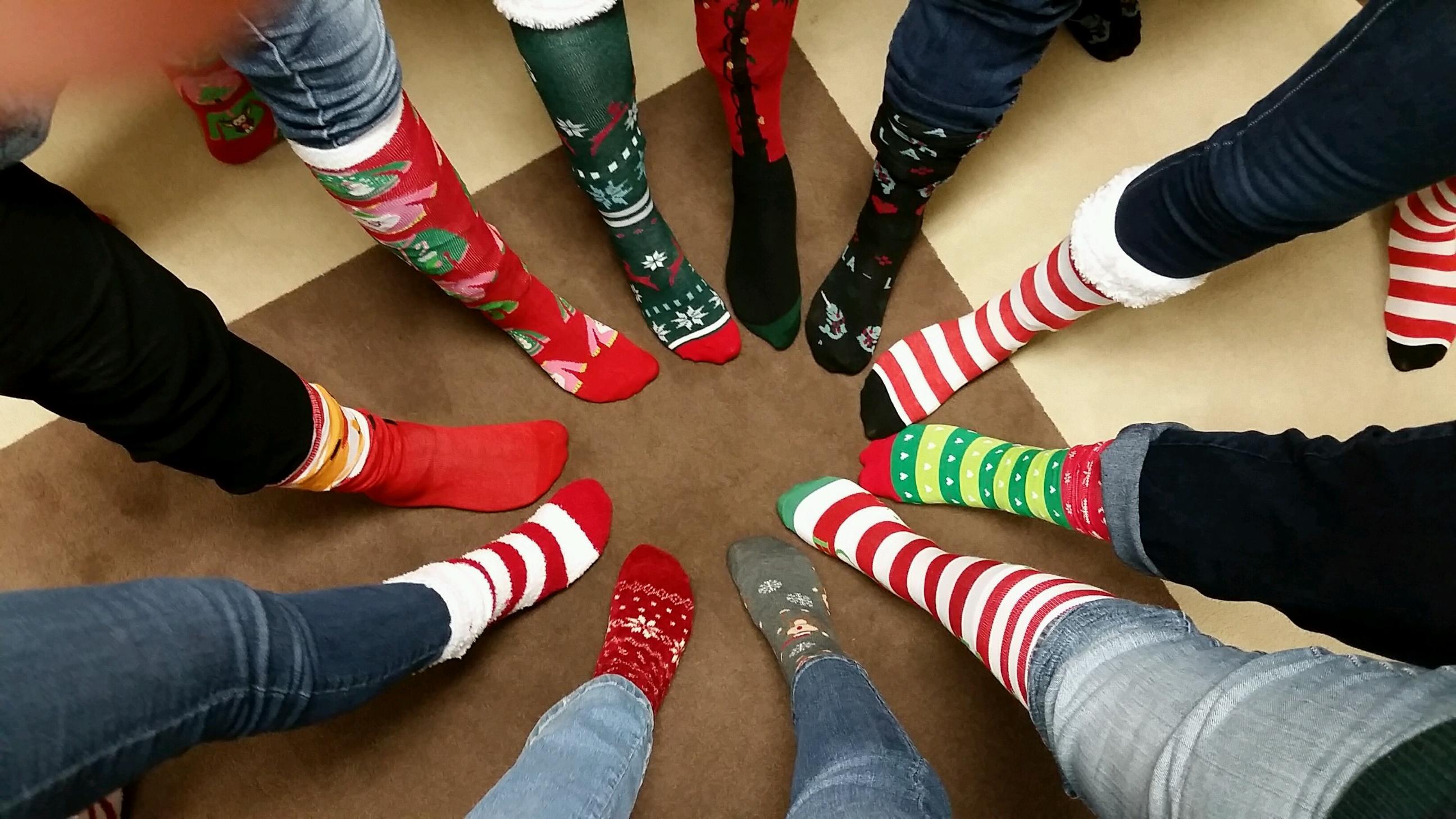 Chas. H. Bilz Insurance, Covington, Ky.
Tammy Schneider, commercial lines manager, writes to tell us: "This year for Christmas, instead of the Ugly Sweater Contest, we decided to do an Ugly/Christmas sock exchange. All of the customer service representatives in the personal lines and commercial lines departments participated."
"We all brought our socks into the office on Friday (Dec. 18), filled with small 'gifts' like $5 gift cards to Starbucks, McDonalds, etc., or chapstick, hand lotion, Christmas candy, etc. We numbered the socks 1 through 11, and then pulled numbers to see what sock we had 'won.' We liked it so much that we have already decided we'll do it again next year," she wrote.
Schneider said the staff's Christmas gift to the owners was a donation to the Point Arc of Northern Kentucky, a nonprofit that helps those with special needs. "We are also collecting personal care items this year for the local Cold Shelter, and will be making up 'Blessing Bags' that they can distribute to those in need. They include toothbrushes, toothpaste, deodorant, socks, gloves, protein bars, trail mix, etc.," she said.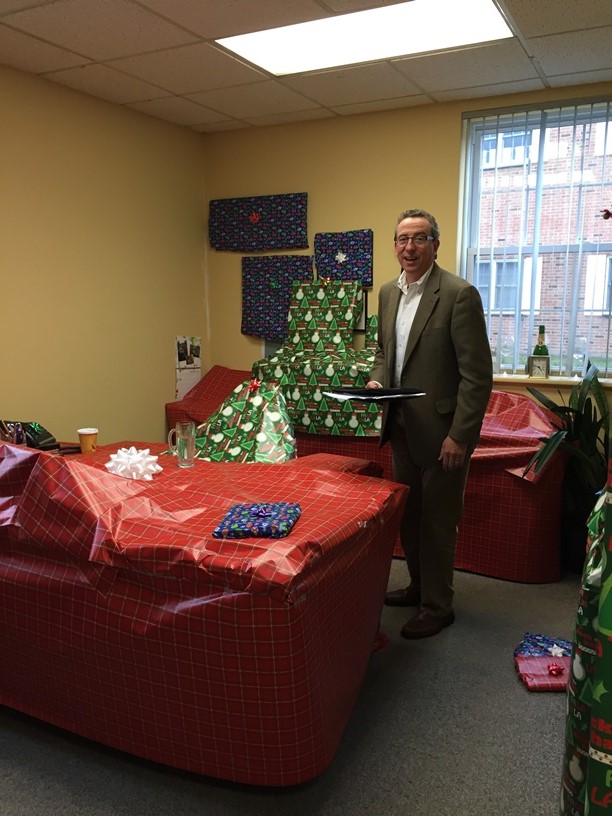 Ryan & Ryan Insurance Brokers Inc., Kingston, N.Y.
Kerri Letersky, an associate at Ryan & Ryan, writes to tell us that the staff decided to decorate the boss's office while he was out on an appointment in order to "get him in the Holiday Spirit!"
And it apparently worked. Here we see Bob Ryan, president of Ryan & Ryan, pleased with the results — even if it meant having to unwrap his desk in order to get his work done!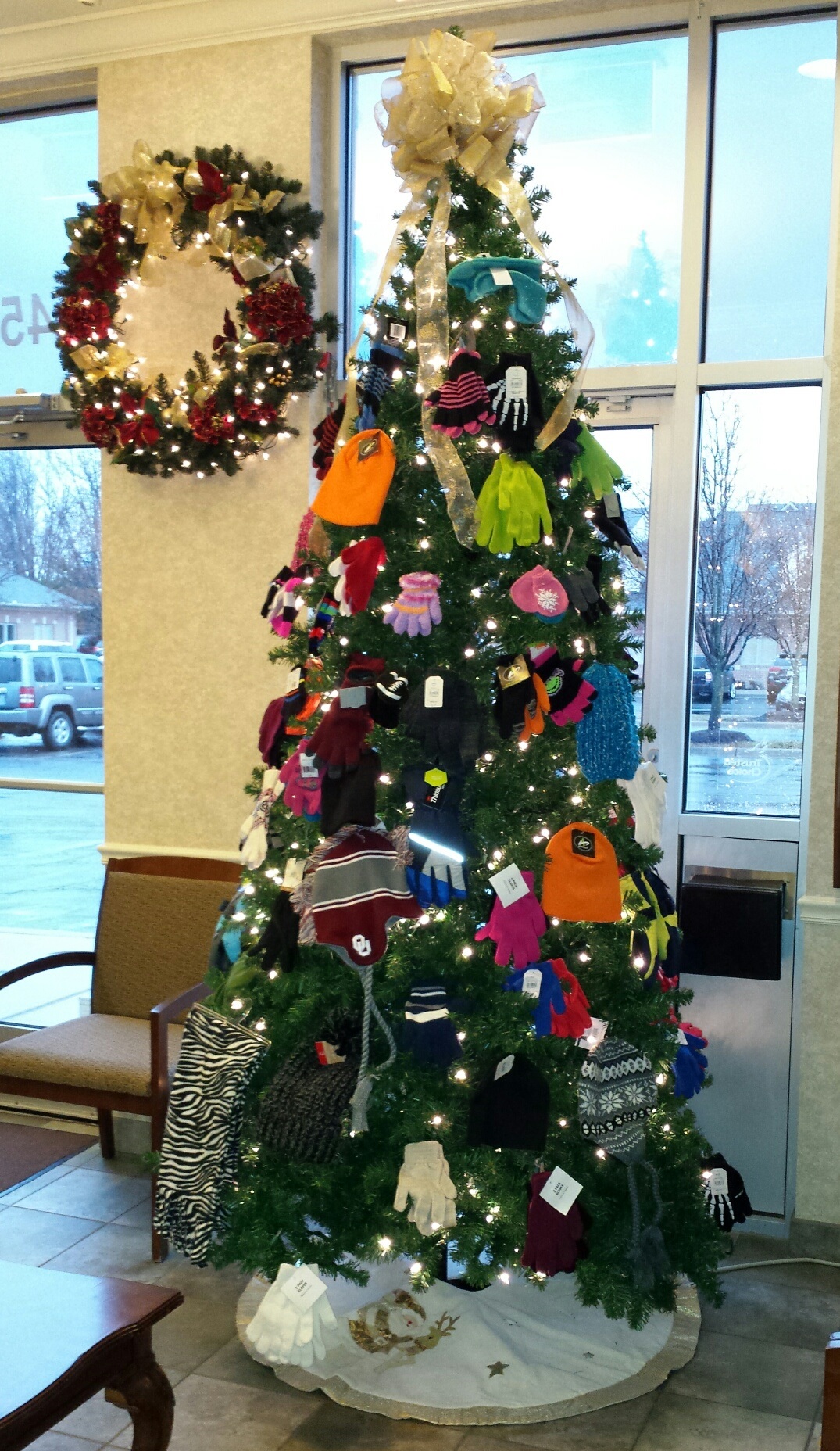 CIA Financial Group, Shelby Twp., Mich.
Michelle Carley, marketing coordinator, explains: "Each year, we decorate our lobby with a Mitten & Hat Tree. Our clients and staff donate hats, mittens, scarves and gloves, and place them on the tree. We then donate them to our county health and human services department, which gives them to children and families in need during the cold, wintery weather here in Michigan!"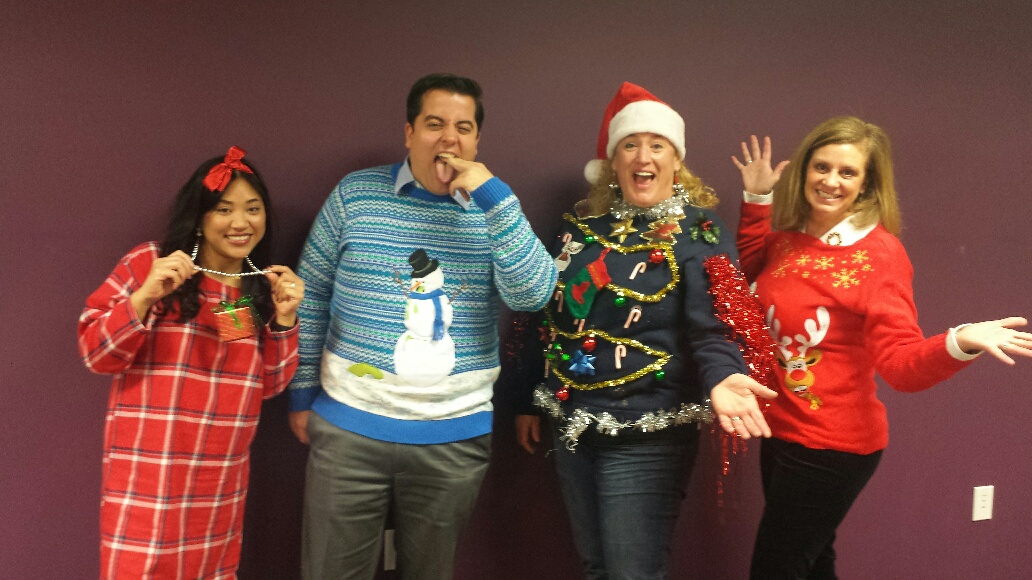 VW Brown Insurance Service, Columbia, Md.
Ugly Sweater Contest: Sally Ong (from left), administrative assistant; Mark Kokosko, life financial agent; Denise Deal (winner), new business producer for personal lines; and Angela Ripley, president.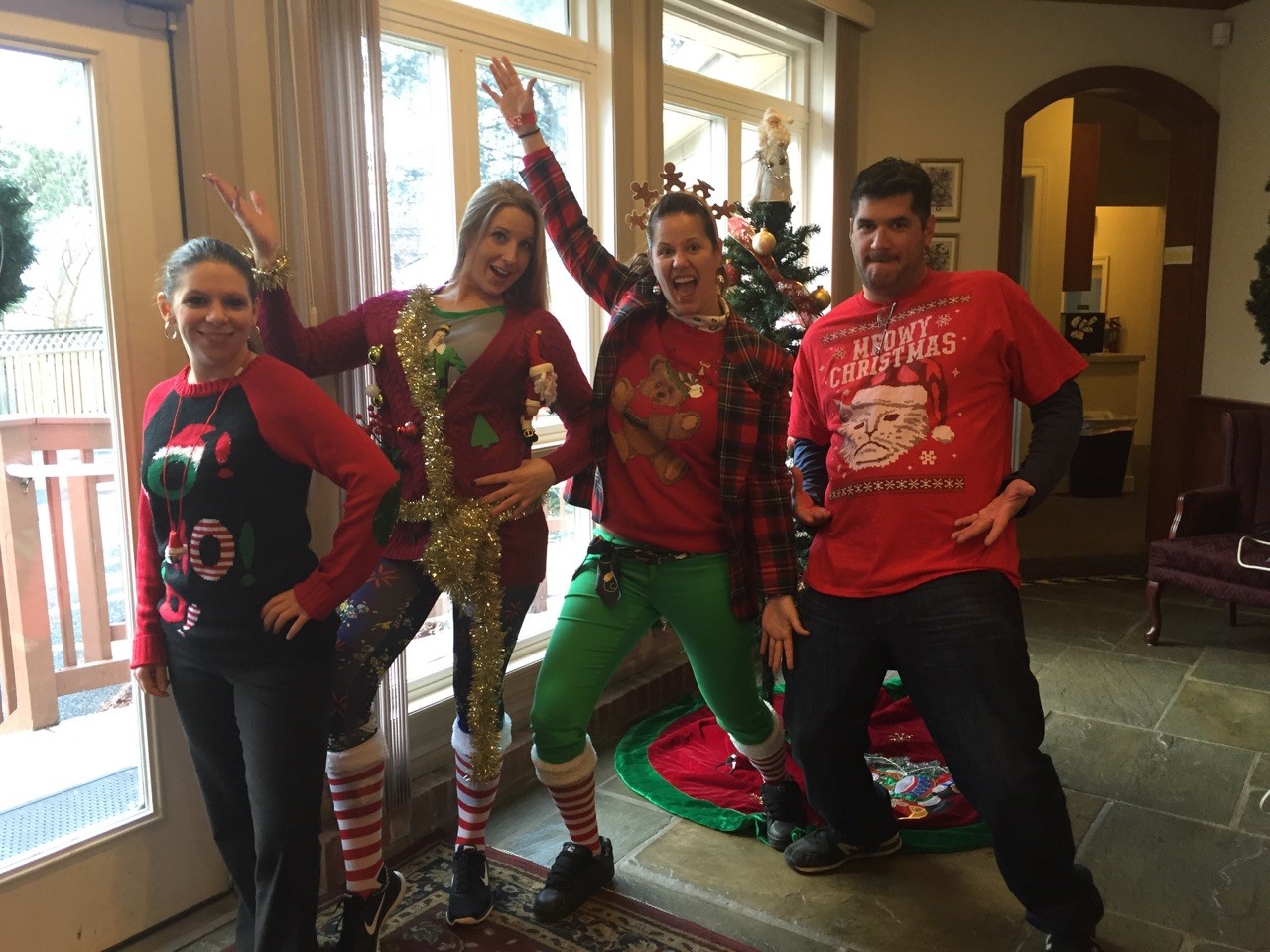 VW Brown Insurance Service, Frederick, Md.
Ugly Sweater Contest: Jackie Sanders (from left), account manager assistant commercial lines; Cindy Cooley (third place), account manager assistant commercial lines; Jill Barbe (second place), commercial account manager; and Chris Hulver, commercial marketing representative.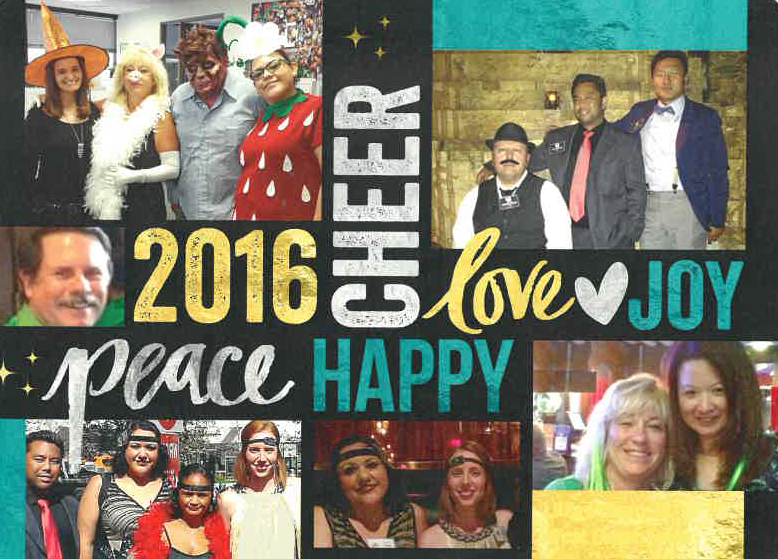 LIU Specialty Insurance Agency, Los Angeles
Ruben Ramirez, an underwriter in the General Liability Division at LIU Specialty, shared with us LIU's holiday card, above, and photo from their holiday party last week, at left.
In the photo are Underwriters: Lindsey Wingerning, underwriter; Ruben Ramirez, underwriter; Anita Paulos-Barker, underwriter; and CJ Johnson, vice president.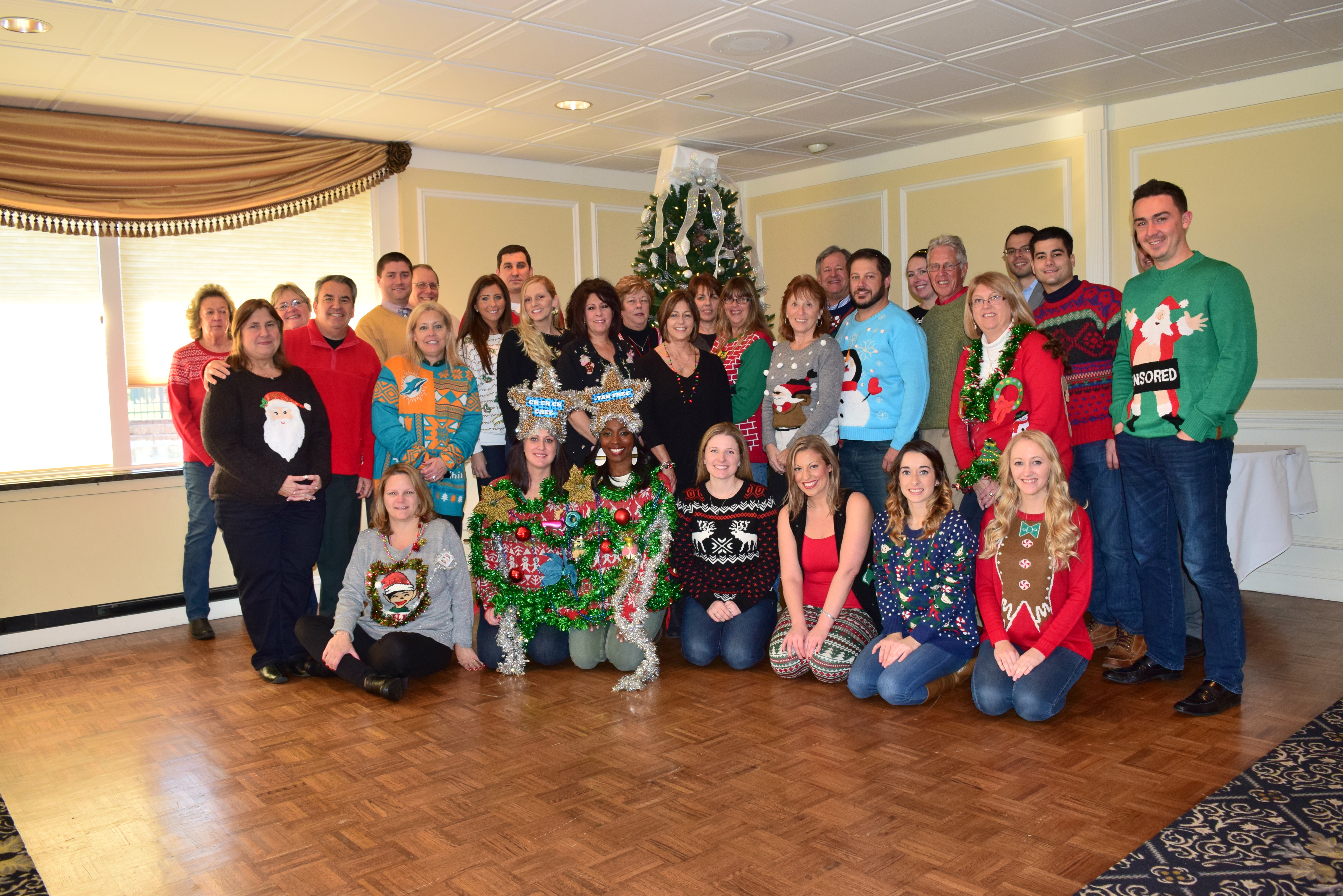 Brown & Brown Metro Inc., Mount Laurel, N.J.
Insurance & Risk Management Advisor Charlee DeFebbo shared with us a photo of the Brown & Brown staff at the company's annual Christmas Party, which was held this year on Dec. 4.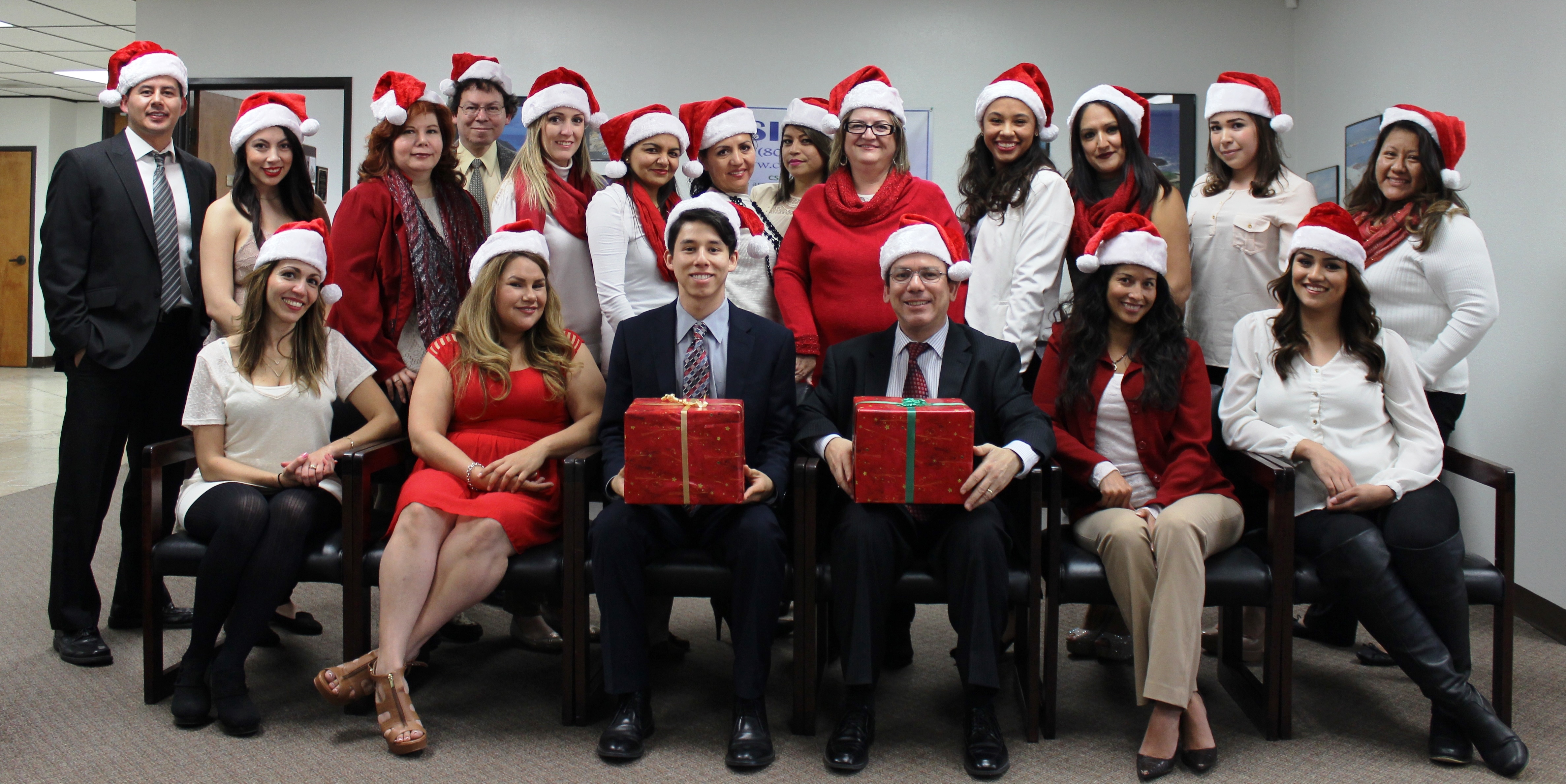 CSIS Insurance, Garden Grove, Calif.
Joe Jimenez, president of CSIS Insurance, passed along his company's holiday photo.
Standing, from left to right: Raul Perez, Adeline Rodriguez, Sylvia Jimenez, Oscar Jimenez, Jennifer Martin, Mayra Diaz, Jaime Salas, Blanca Trejo, Cecilia Gutierrez, Erika Garcia, Diana Lopez, Griselda Garcia and Lupe Rojas. Sitting, from left to right: Adriana Donoso, Maria Ramirez, Joseph Jimenez, Joe Jimenez, Jenny Lopez and Sarah Zambrano.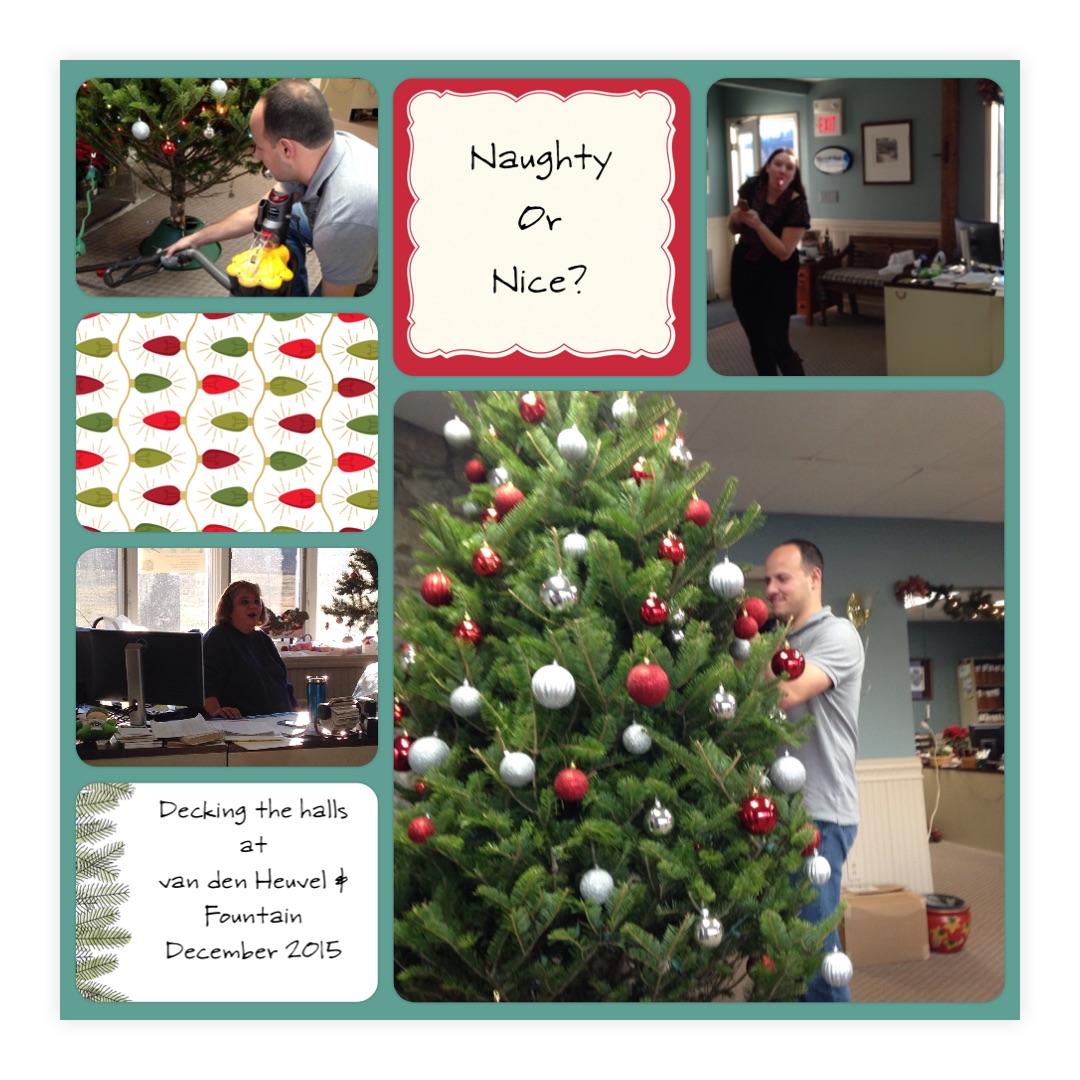 Van den Heuvel & Fountain Inc., Augusta, N.J.
Personal Lines Coordinator Dawn Johnson shared with us a page of holiday images from her scrapbook. Clockwise from top left, Michael Monacelli, Rachael Yerkes, Michael Monacelli and Pat McMickle take part in decorating the agency for December.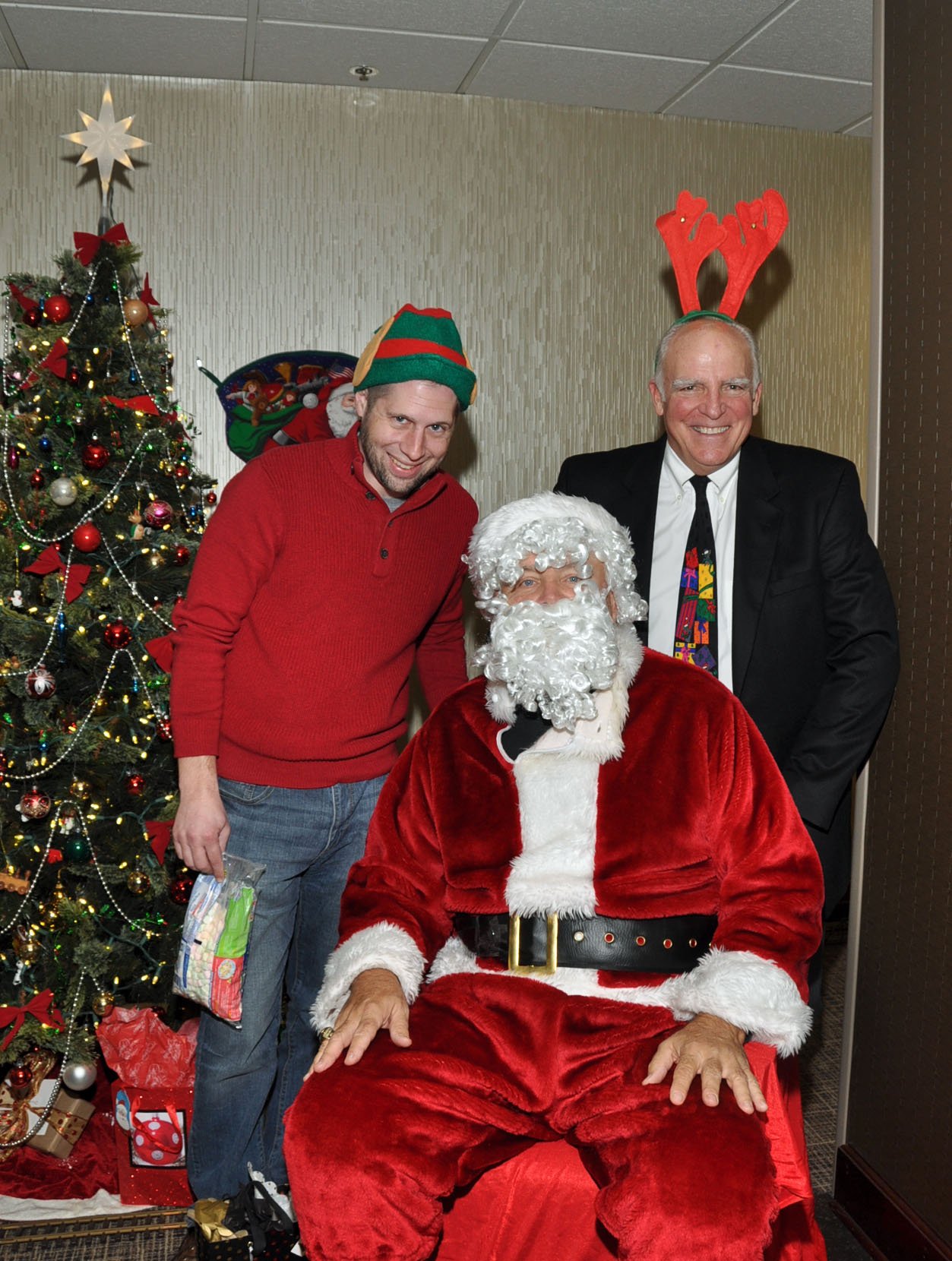 Robertson Ryan & Associates Inc., Milwaukee
From left, Elf Jared Day, personal lines customer service representative; Santa Terry Maloney, vice president; and Reindeer Terry Maloney, vice president.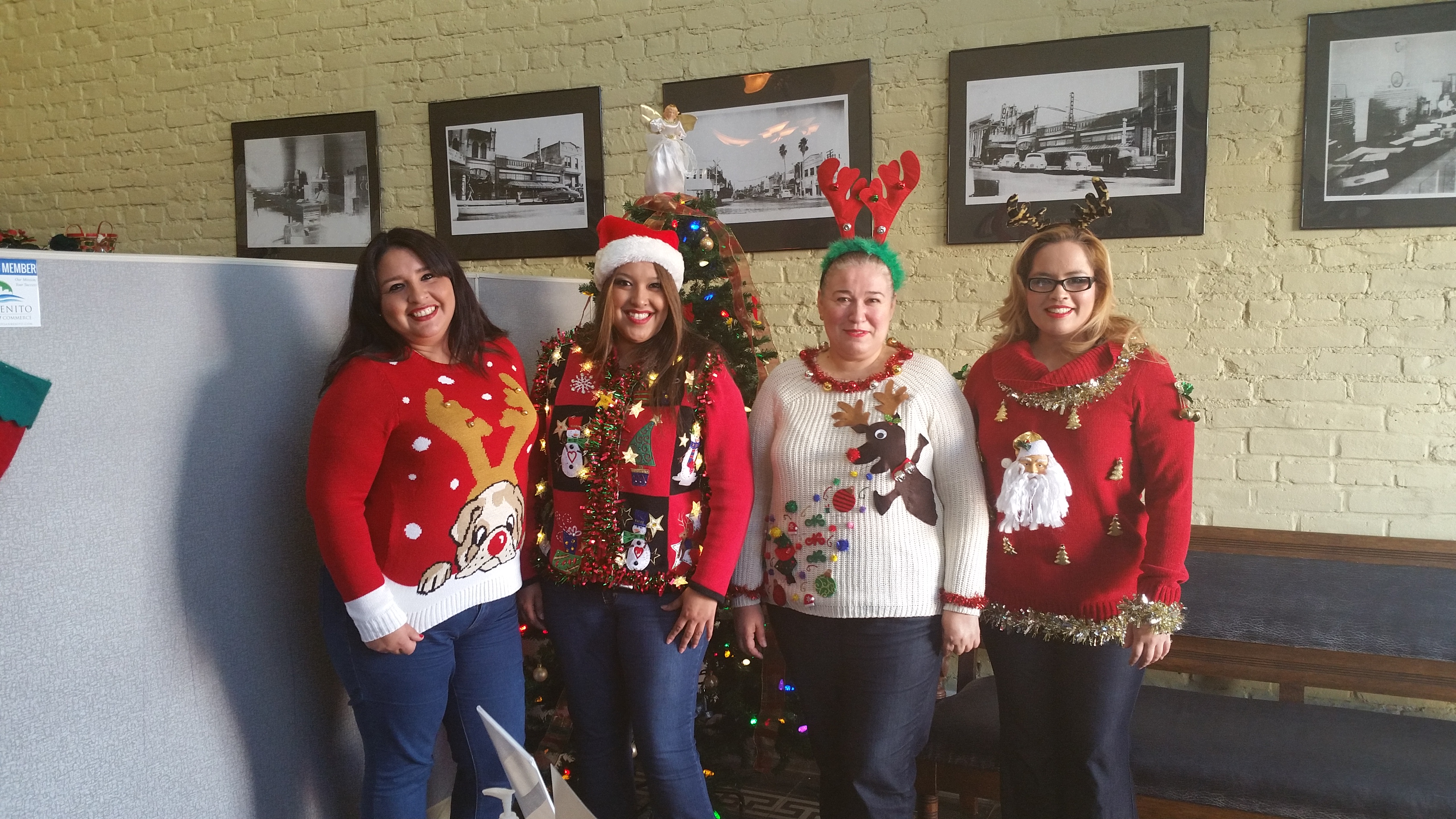 Smith-Reagan Insurance Agency, San Benito, Texas
The winners of Smith-Reagan's Ugly Christmas Sweater Contest. From left, Rachel Arellano, commercial lines customer service representative; Carly Alonzo, file clerk; Zaidi Cantu, commercial lines customer service representative; and Janice Rendon, personal lines customer service representative.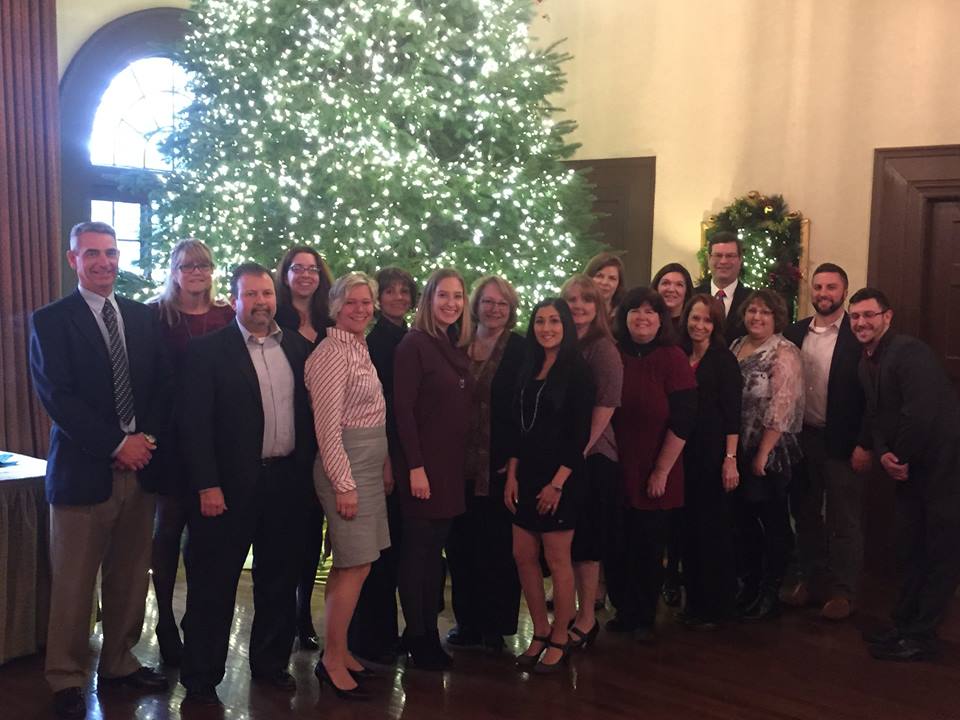 Arbor Insurance Group, Allentown, Pa.
Justin Beidleman, an insurance advisor at Arbor Insurance, passes along this photo from Arbor's holiday luncheon at Lehigh Country Club. From left, William Hacker, Roberta Kates, Bruce Kraft, Kalene Birdsall, Colleen Underwood, Brandy LiCausi, Alison Weaver, Michelle Grace, Maria LoPiccolo, Stacy Ford, Kathy Heffner, Mary DiMartini, Annette Gambler, Ann Pospishil, Eric Blew, Michelle Colella, Justin Beidleman and Chris Mack.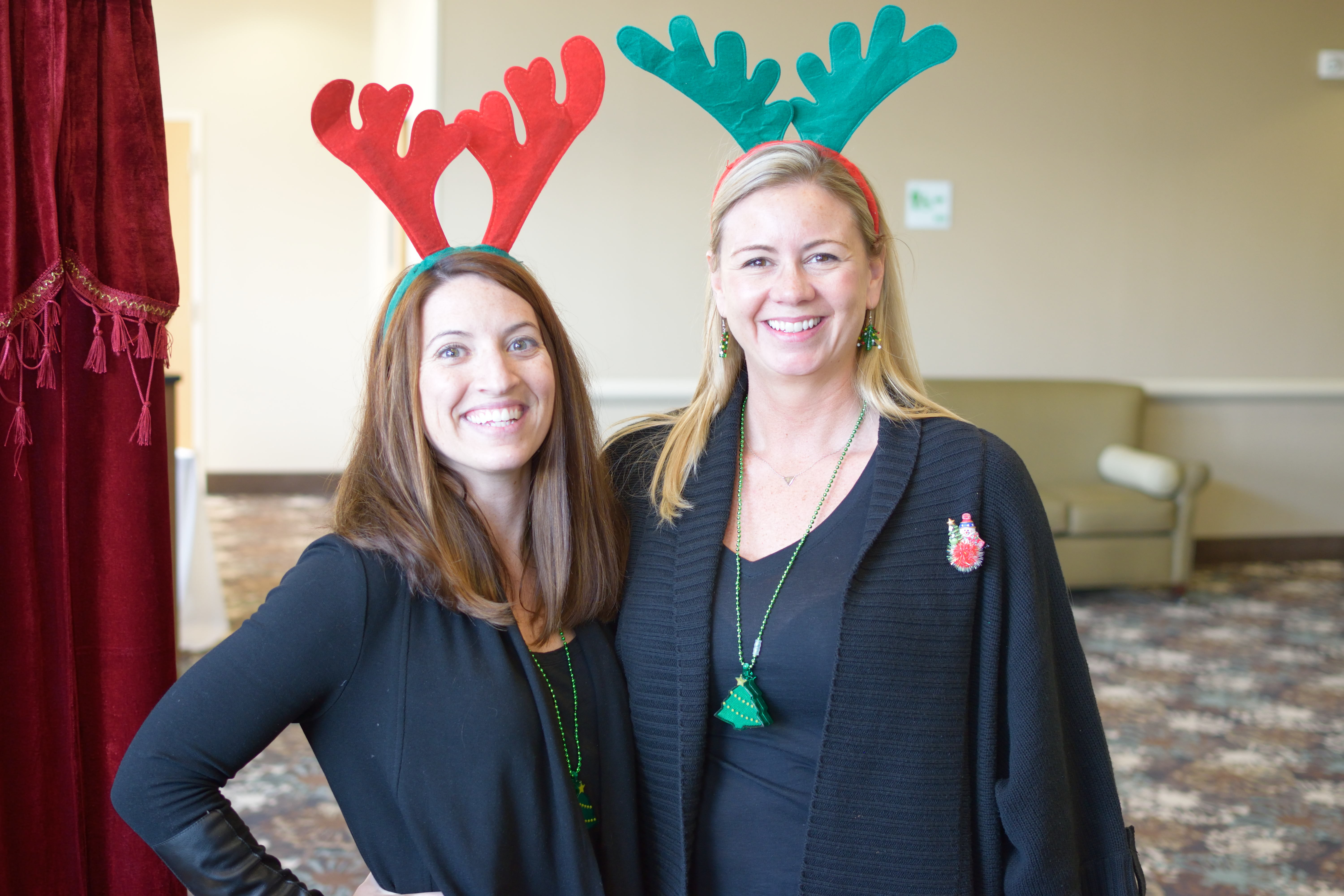 Atlantic/Smith, Cropper & Deeley, Willards, Md.
Producers Megan Muller and Nicole Brushmiller embody the holiday spirit at Atlantic/Smith.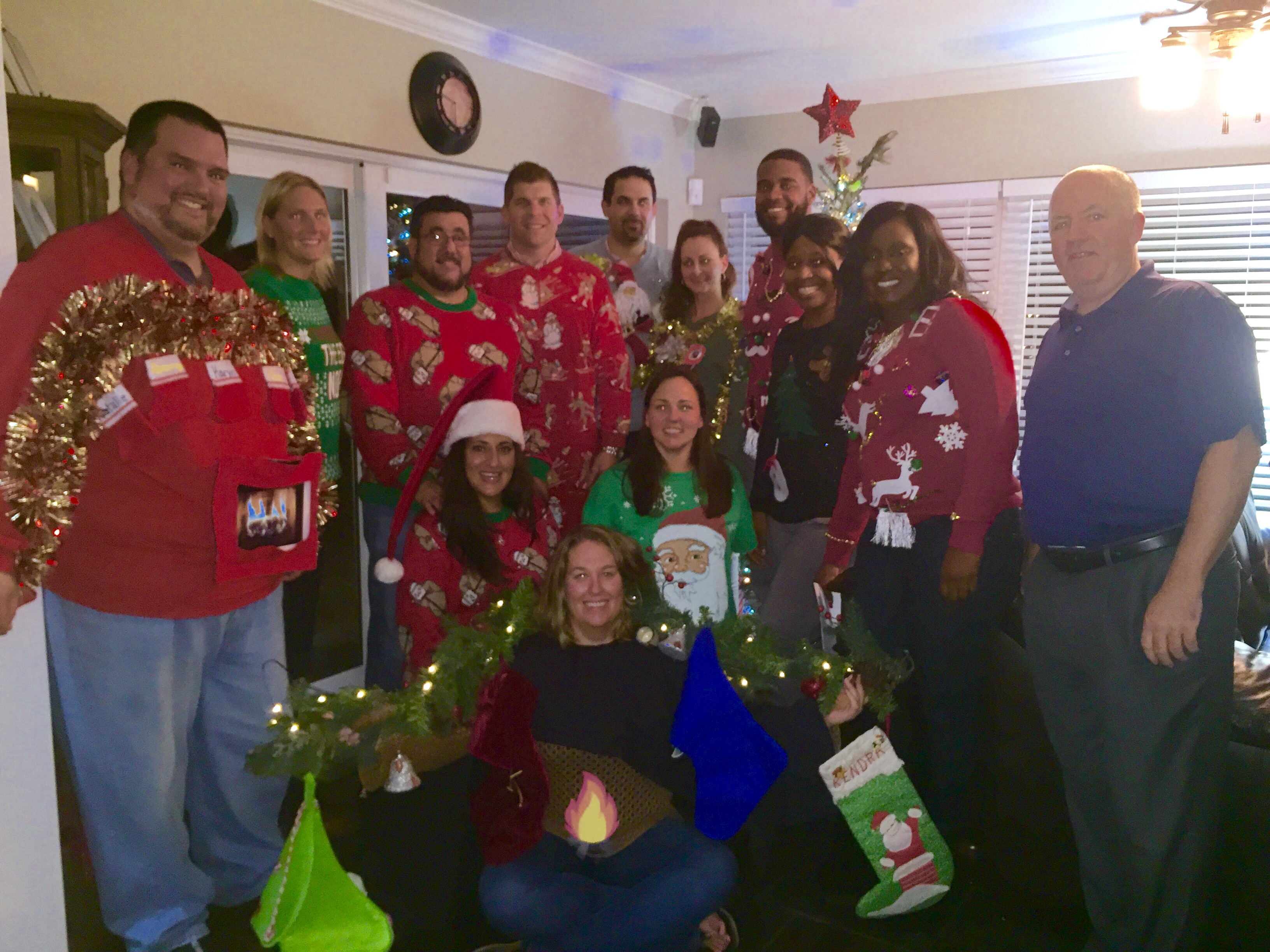 Seibert Insurance Agency, Tampa, Fla.
Seibert's Christmas Party and ugly sweater contest.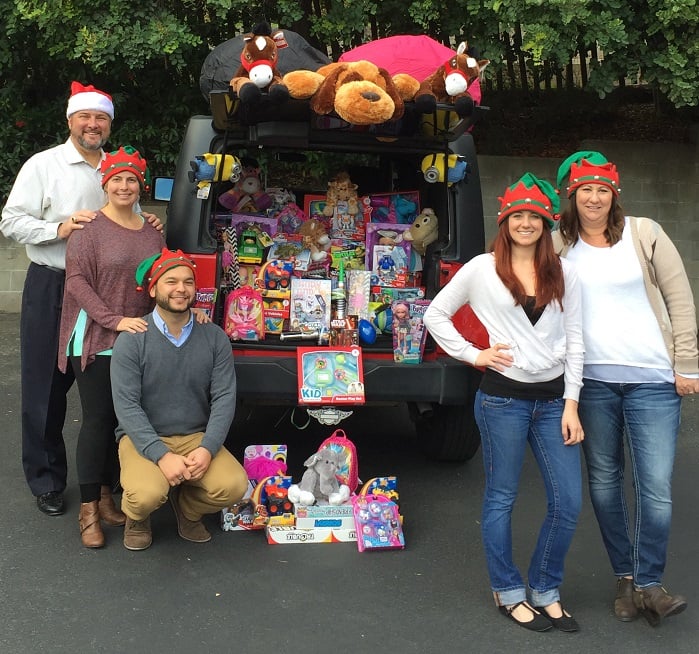 DPB Agency Inc., Pleasant Hill, Calif.
The employees at DPB Agency participated in a Toys for Tots gift drive this year.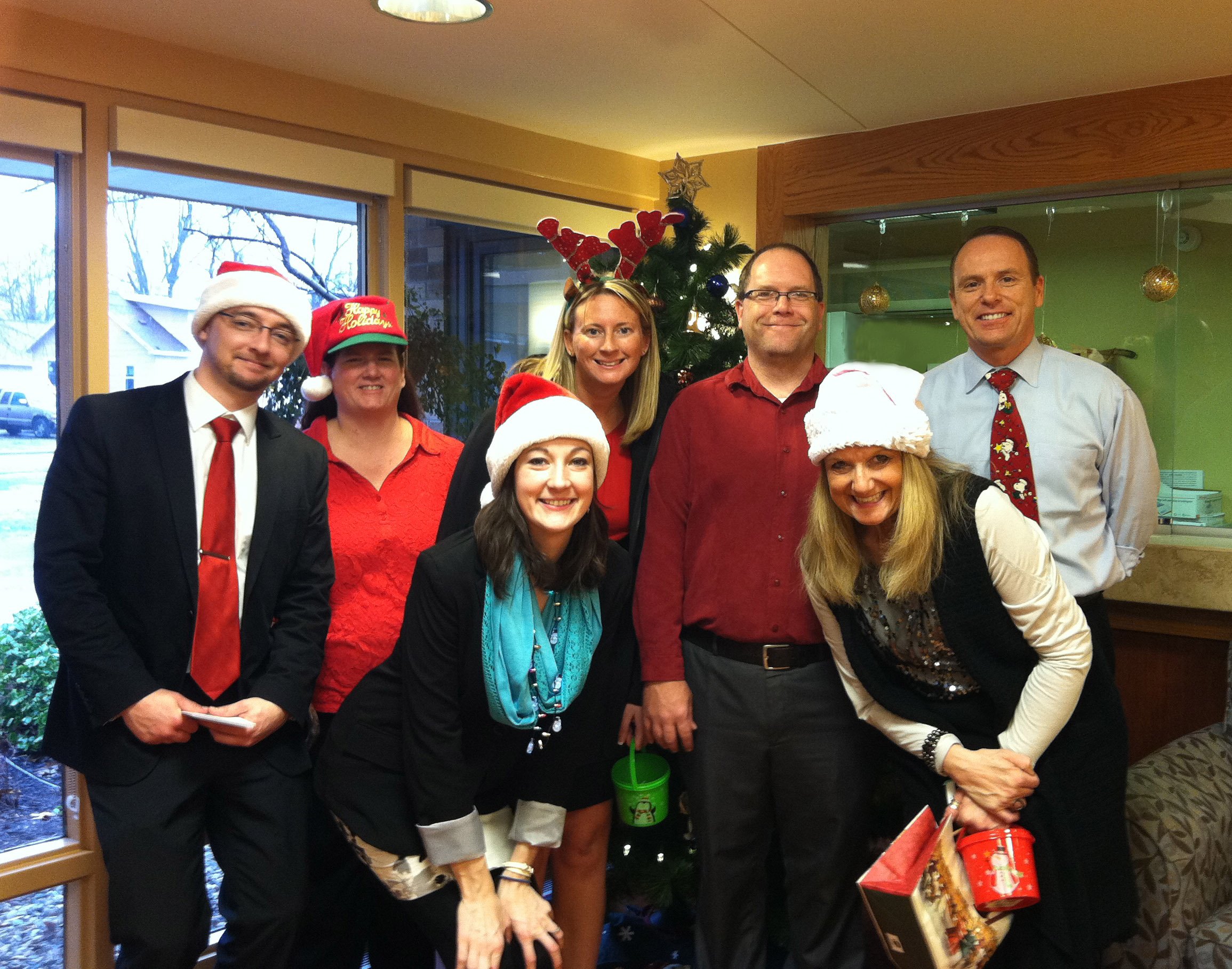 Michigan Insurance Group, Grand Haven, Mich.
Michigan Insurance Group employees Ryan Miller (from left), Ronda Hunt, Karlee Miller, Amanda Merrills, Peter Drost, Marjie Young and Donald Shampine visited three nursing homes last week to spread holiday cheer.
Arlington/Roe, Indianapolis
This is the managing general agent and wholesale broker's holiday video message to its agents. This is the first time Arlington/Roe has done a video holiday greeting to its agents, the company said.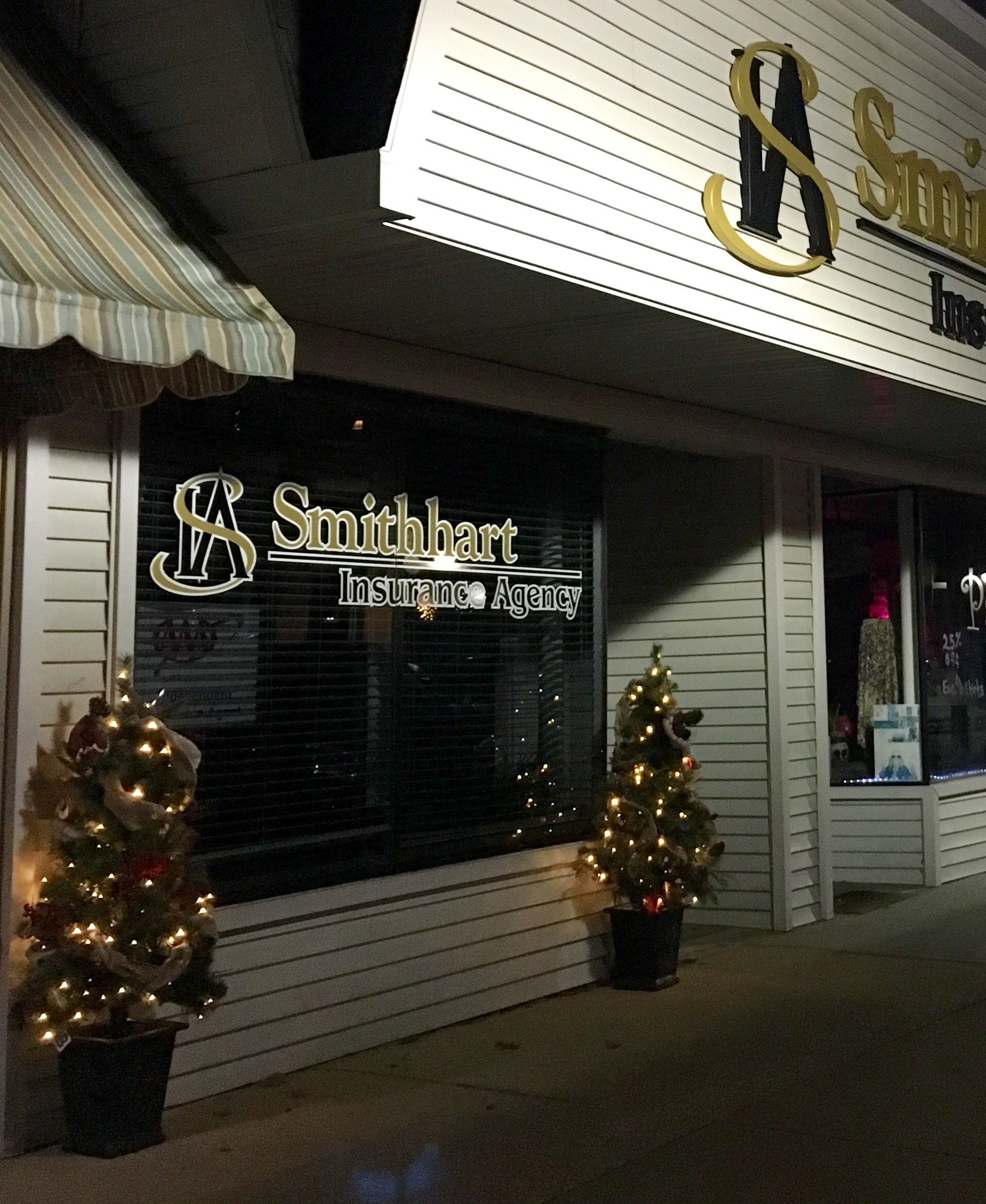 Smithhart Insurance Agency, Henderson, Ky.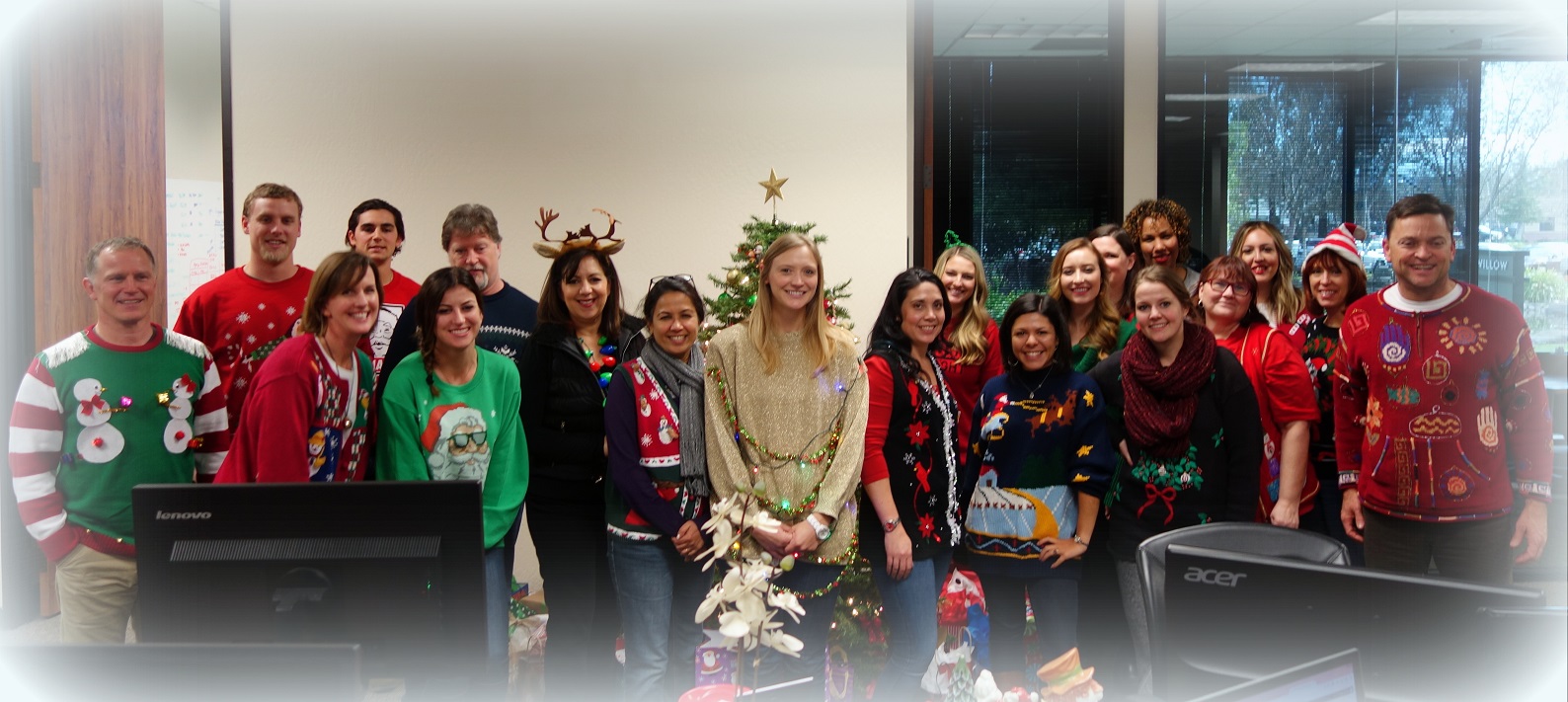 ThinkHR, Pleasanton, Calif.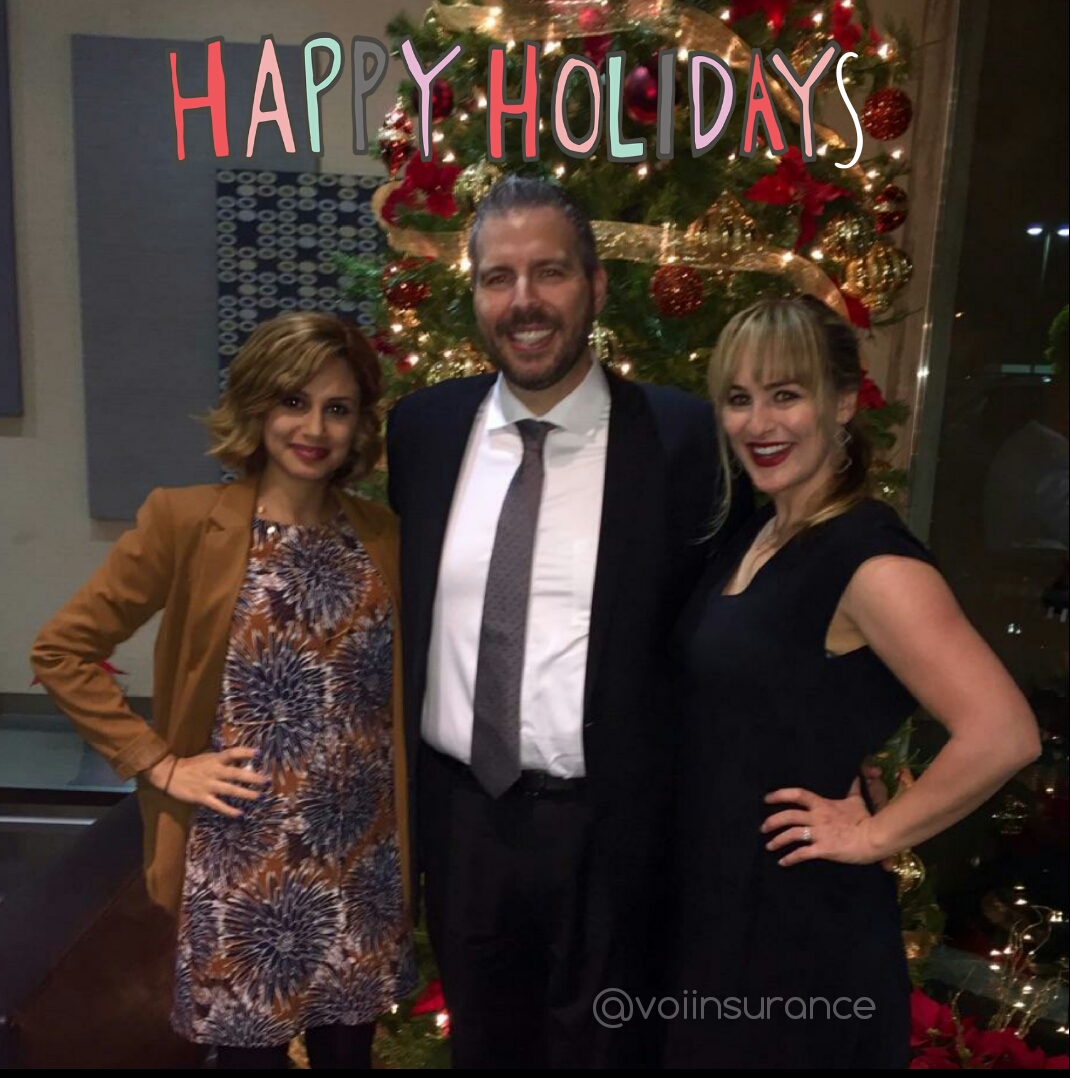 VOI Insurance Solutions, Glendale, Calif.
From left, Adriana Isagholi, account service manager; Jimmi Lewis, principal; and Emily Lewis, life and health producer.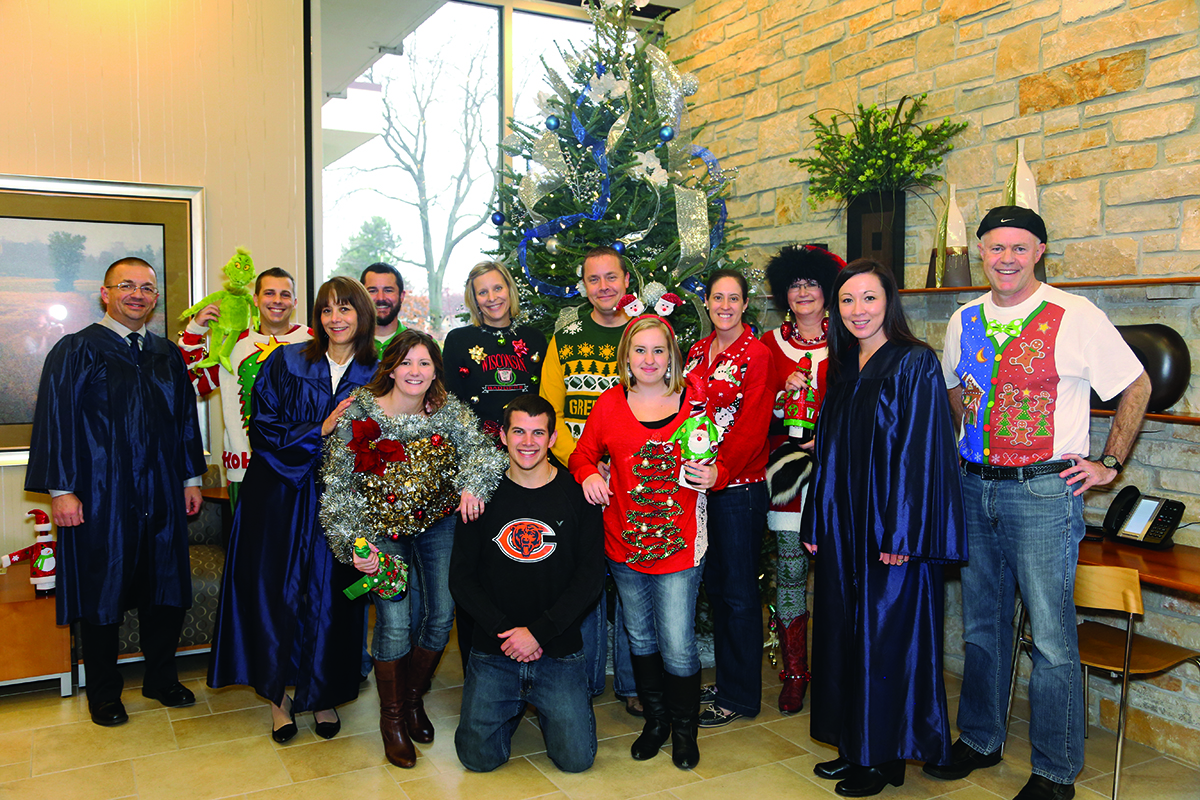 Secura Insurance, Appleton, Wis.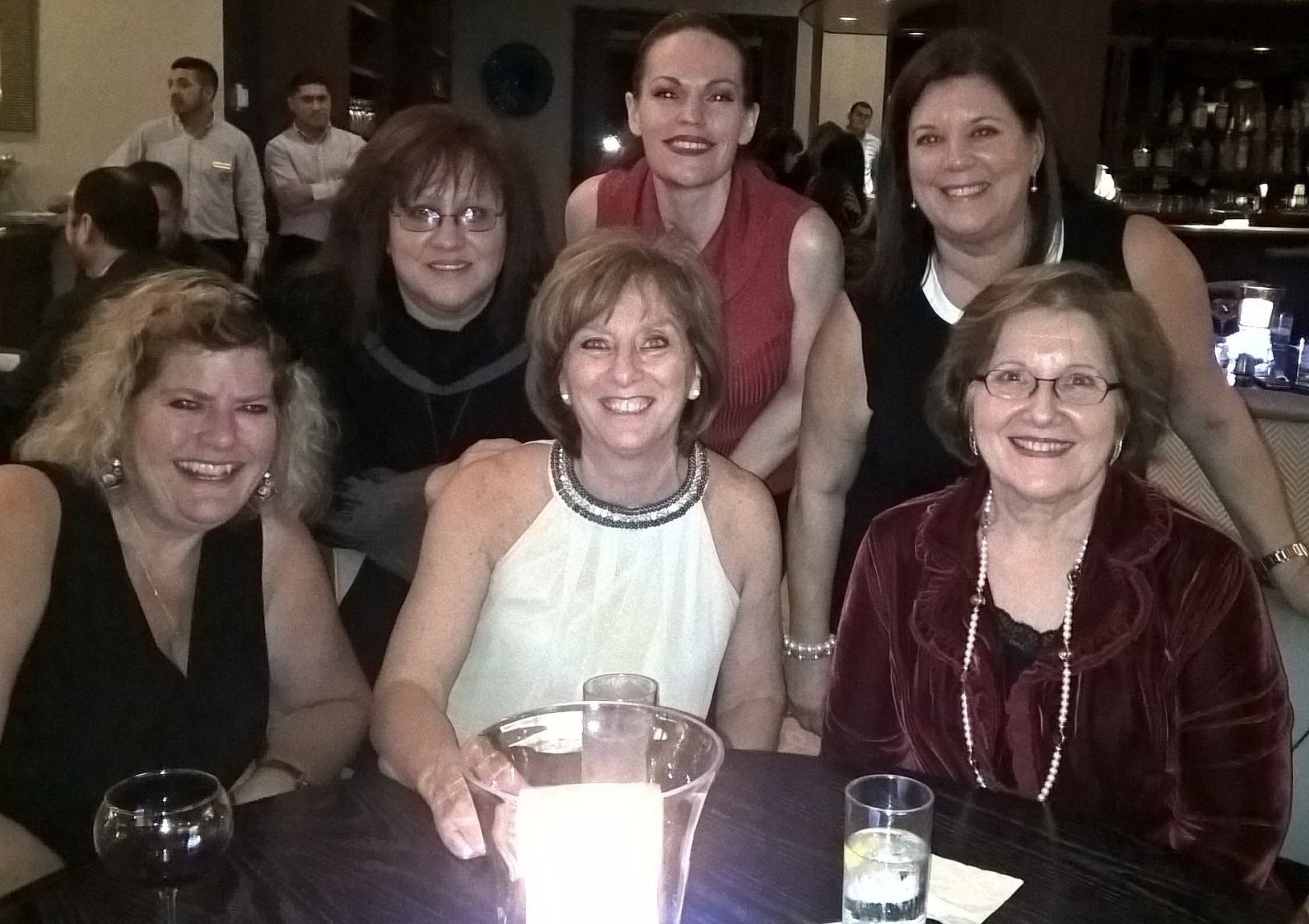 Advocate Brokerage, Scarsdale, N.Y.
At the company's holiday party at the Brae Burn Country Club, Janet Fleming (front row, from left), Victoria Troccoli and Christine Striano, and Toniann Bonvino (back row, from left), Tara Wilson and June Hodapp.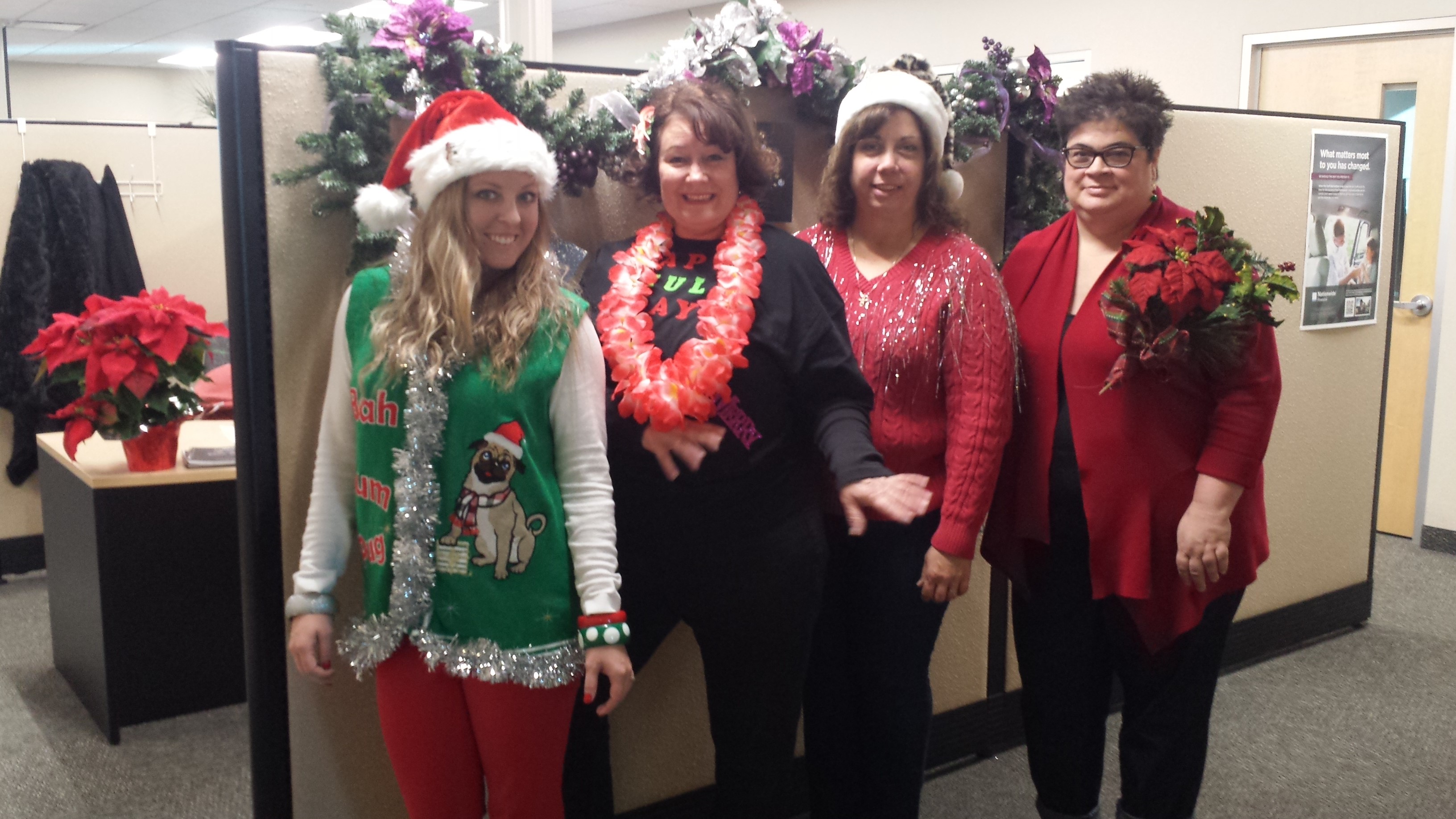 Home Loan Insurance, Grand Junction, Colo.
Christmas Spirit Sweater Day at Home Loan Insurance.
Earl Bacon Agency, Tallahassee, Fla.
The video holiday greeting Earl Bacon is running in place of its regular television advertising.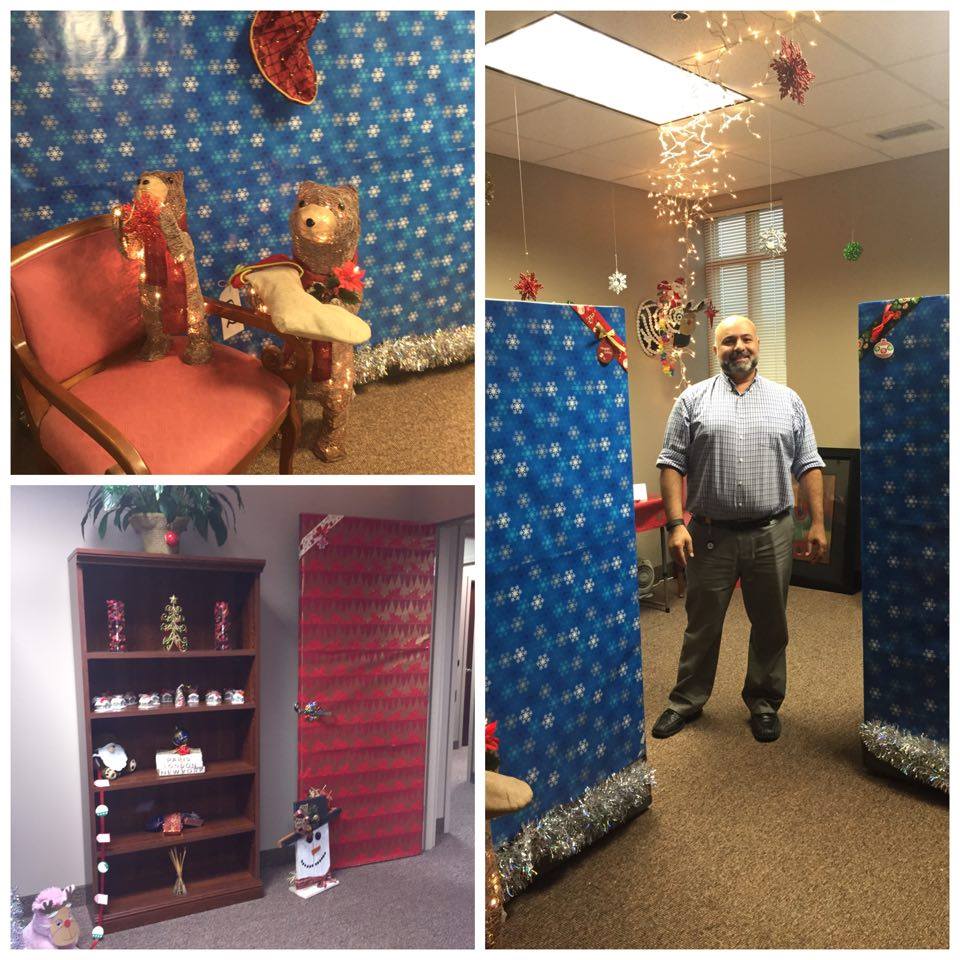 Epic Insurance Solutions, Louisville, Ky.
Account Manager Bud Shunnarah won first place in Epic Insurance's cubicle decorating contest. "The ambiance was the perfect combination of festive cheer and warm winter's evening glow … with bears to boot!" wrote Jessica Bisinger, a communications specialist at Epic.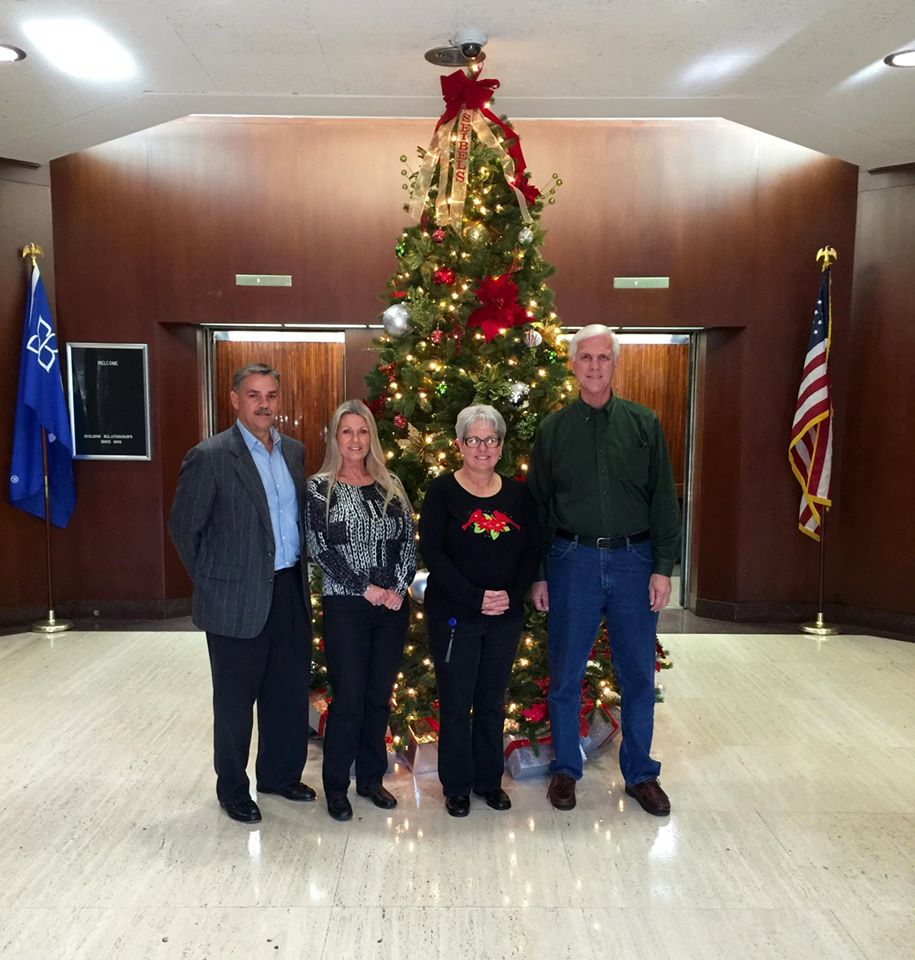 Seibels, Columbia, S.C.
Rex Huggins (from left), chairman and CEO; Lesa Butcher, underwriting manager; Karen Barfield, cash processing manageer; and Andy Banco, contracts and regulatory compliance director, in front of the Christmas display in Seibels's front lobby.
Banco, Barfield and Butcher are also celebrating their 40th anniversaries with the company.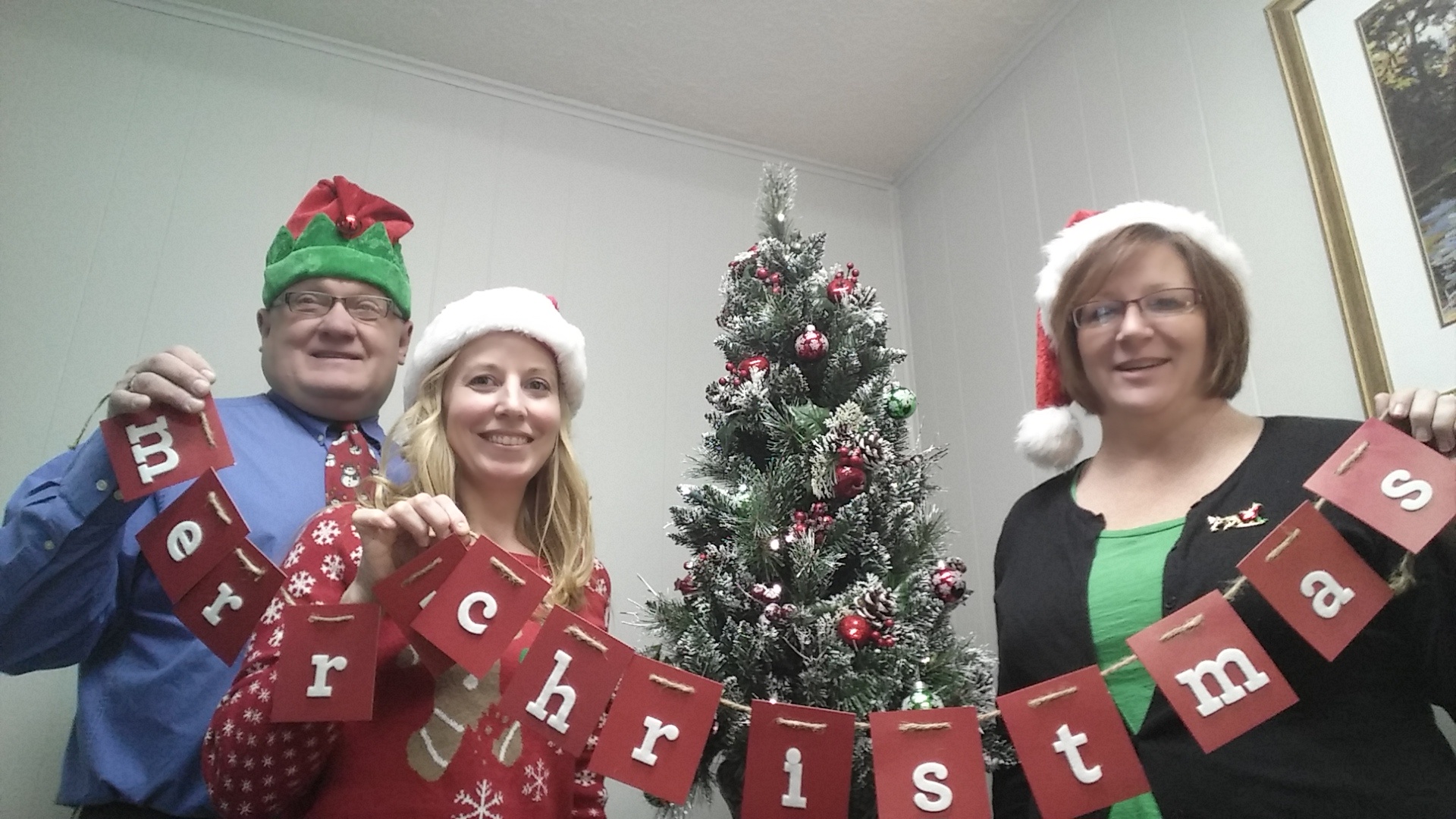 Insurance Service Center, Fond du Lac, Wis.
Larry Schneider, Angela Mand and Rhonda Rohrbeck sent us this holiday selfie.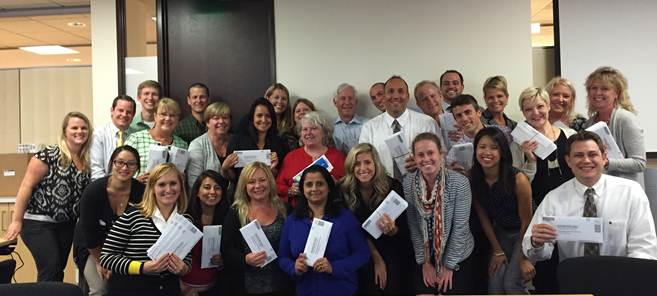 Hays Cos., Minneapolis
Employees at Hays got into the holiday spirit by preparing bone marrow registry kits for the Minneapolis-based Be The Match Registry.
Pictured above are the Hays employees who participated: Chia Yathortou (first row, from left), Andrea Field, Janet Rodriguez, Laura Holzapfel, PJ Jaspel, Jackie Risbrudt, Katie Jones, Lila Chu and Jared Schmillen. Erin Keys (second row, from left), Paul Nelson, Nate Kusie, Patsy Redfield, Tom Goeltz, Paula Mead, Karla Montes De Oca, Shannon Huebscher, Norene Swanson, Shelly Grogan, Steve Lerum, Joe Krupelak, Sean Arnett, Jim Vetter, Dustin Brink, Matt Hochbrunn, Julia Bertrand, Melissa Hesse, Amy Peterson and Michelle Fritz.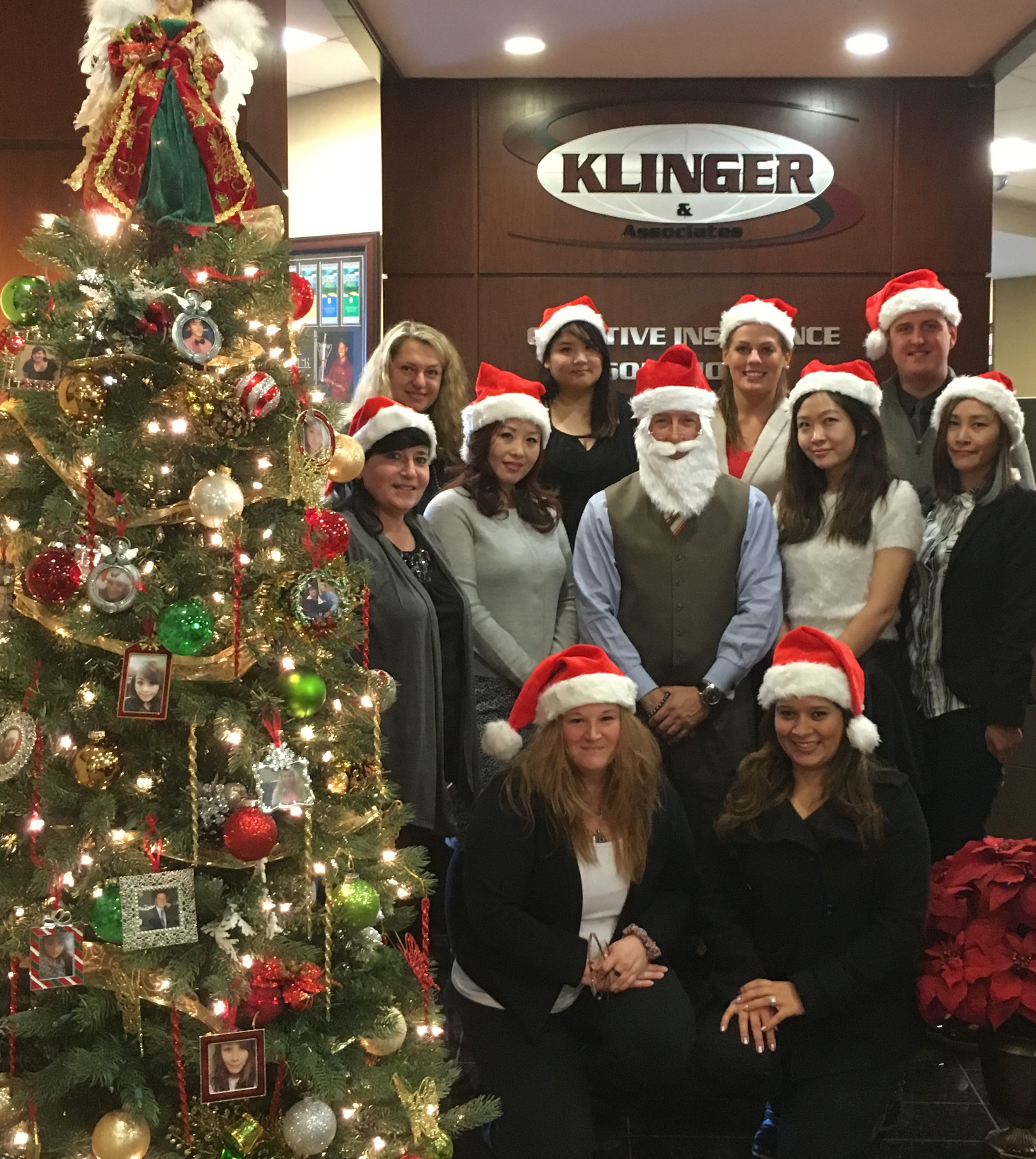 Klinger Insurance Group, Germantown, Md.
Theresa Reed (front row, from left) and Priscylla Ramos, commercial lines customer service representatives. Linda McCarty (second row, from left), office manager and life and health customer service representative; Sarah Sun, commercial lines customer service representative; Bob Klinger, president and CEO; Julia Huang, marketing and customer service representative; and Sam Huang, personal lines customer service representative. Lilia Karasik (third row, from left), bookkeeper; Trinh Ta, commercial lines customer service representative; Courteney Haas, personal lines customer service representative; and John Aks, producer.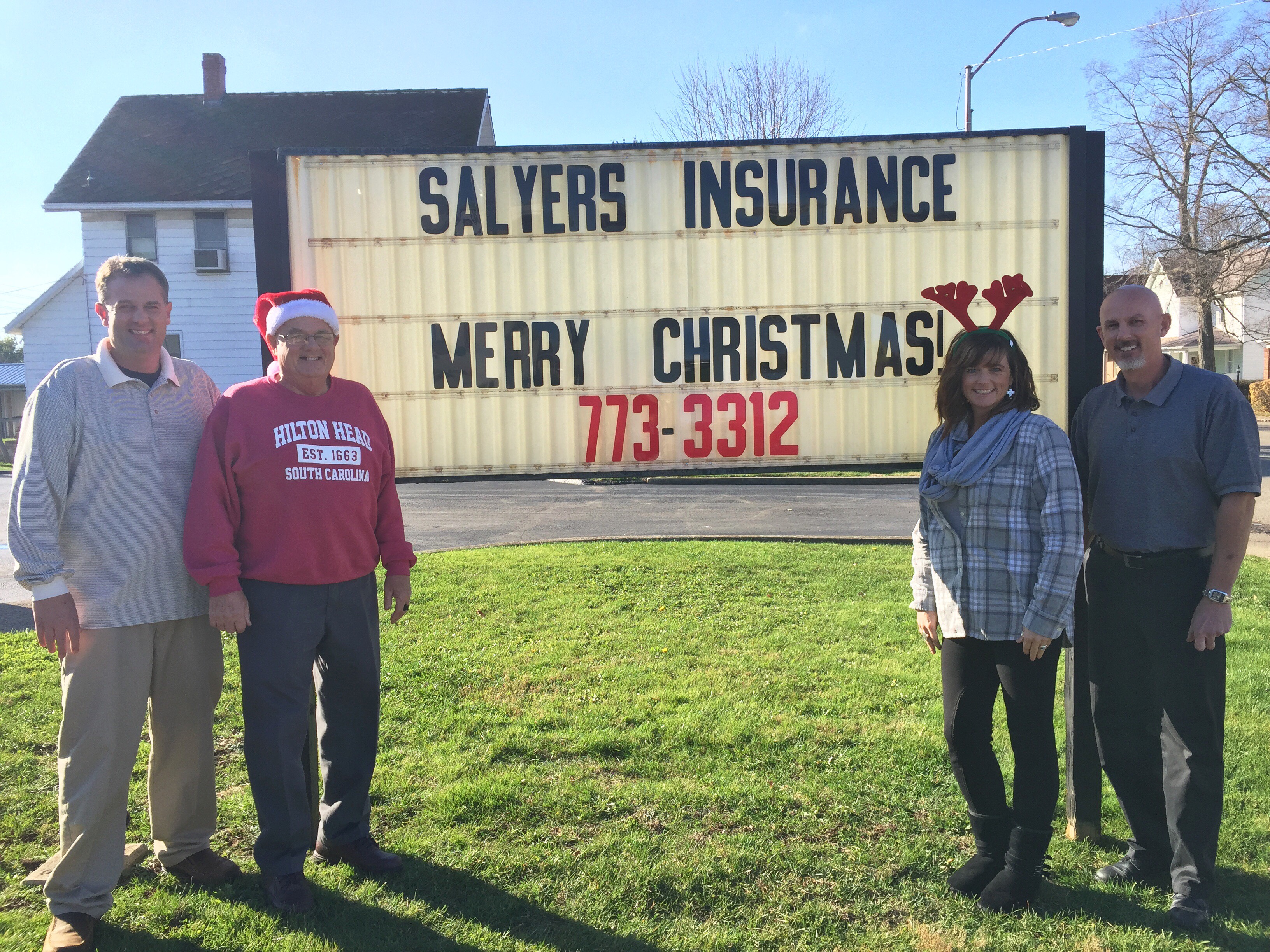 Salyers Insurance, Chillicothe, Ohio
Co-owner Matthew Salyers, former owner Jim Salyers, agent Michon Ekvall and co-owner Mark Salyers. You can read more about how this family-owned agency celebrates the holidays here.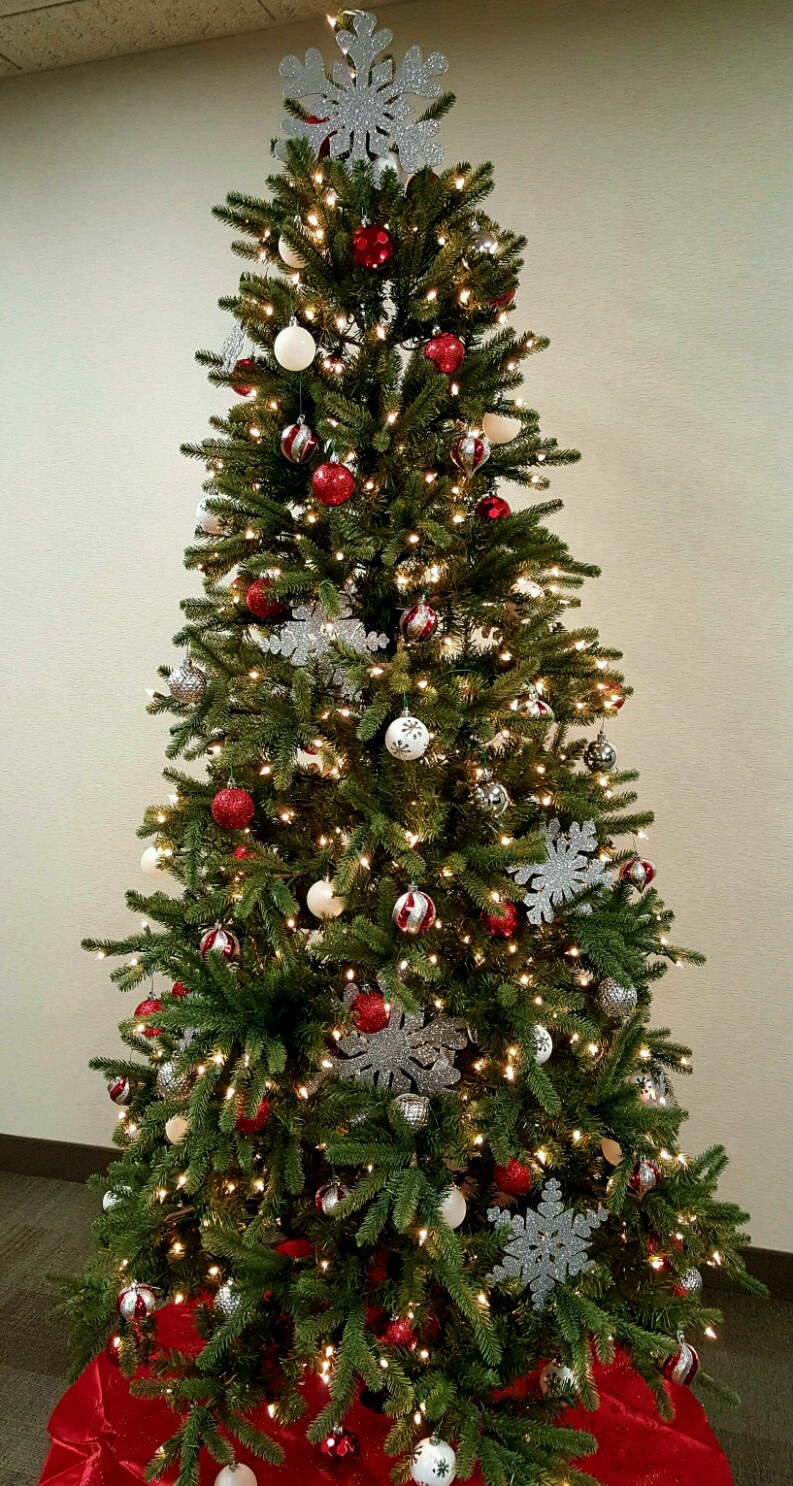 Farmers Union Insurance Agency, St. Paul, Minn.
"Farmers Union Insurance Agency just moved into our new office in St. Paul, Minnesota, and I just had to get a Christmas tree for the new office space, in our company colors! We don't even have an outdoor sign up yet, but we definitely needed this picker-upper after the big move," Emmy Frederickson, director of communications at Farmers Union wrote us.
Enjoy your new office, and we hope Santa got the Change of Address notice from the U.S. Postal Service in time!
Related: 22 toys ranked from least to most dangerous
Check us out on Facebook and give us a Like