The falling cost of gas and food kept consumer prices in check in November but some inflationary pressure appears to be building in the economy, according to the U.S. Department of Labor's consumer price index for November.
Energy prices dropped 1.3% last month, with gasoline prices falling again, and food costs slipped 0.1% to mark the first decline since March, according to a review of the report by MarketWatch.
Lower food prices partly reflects falling costs of farm crops and other commodities. Prices for beef, eggs, fish, chicken and dairy all tacked lower. Stripping out food and energy, so-called core prices rose 0.2% for the third straight month. The cost of shelter, health care, new cars and airline tickets all rose, MarketWatch said.
Inflation, however, is no longer trending lower. From November 2014 to November 2015, consumer inflation climbed 0.5%. Although that's still very low, it's the biggest annualized gain since December 2014.
Similarly, core consumer prices increased at a 2% rate over the past 12 months for the first time since May 2014.
Insurance-related figures
The CPI for Auto insurance rose 5.5% in November, up from 4.7% in October. Tenants' and household insurance rose 2.3%, up from 2.1% in October.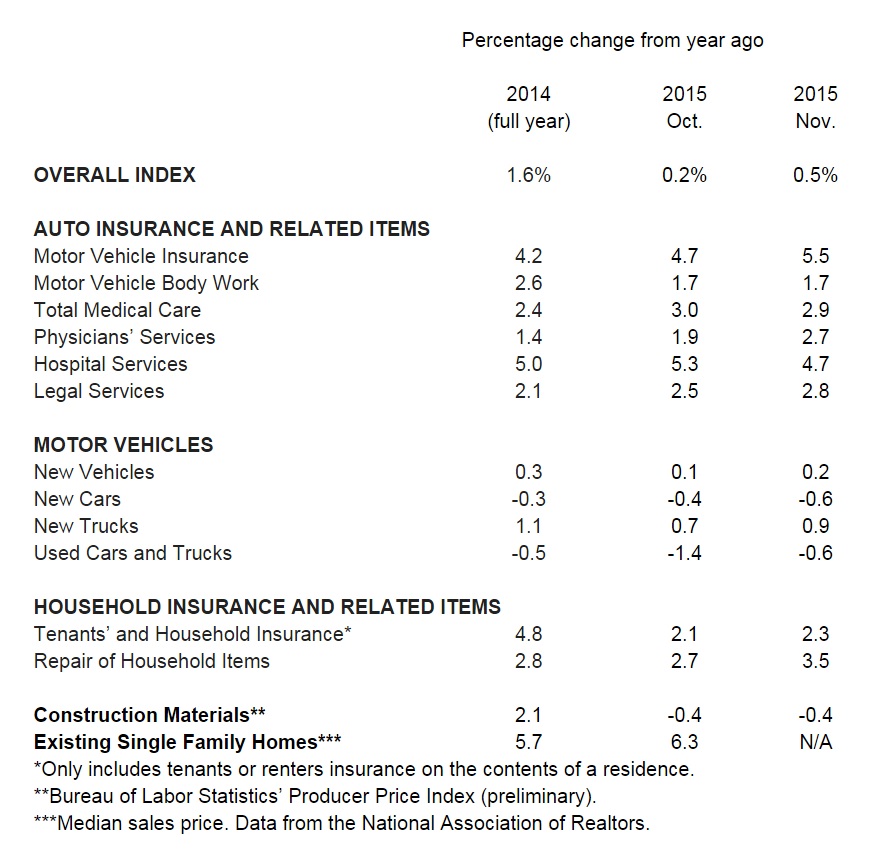 (Source: Insurance Information Institute)
Related: 10 factors affecting auto and P&C insurers
Are you following us on Facebook?