I wish I could have used Google Compare when I was shopping around for Auto insurance earlier this year.
My agent, who I had been with for seven years, sent me quotes from the Auto carriers their agency works with, but I felt like I could still find a lower premium out there. So, I began going to other carriers' individual websites, entering my information on each one and writing a list of the quotes I received. Eventually, I found the best quote with Geico (I know, I'm sorry) and parted ways with my agent, for now.
The whole process took me a few days, as I'd check each website when I found time inbetween my work and personal life. I also had to keep track of the e-mails with each quote in my inbox, and write them all down to compare what was covered and for how much.
After Google Compare CEO Nicolas Weng Kan spoke at the Annual Executive Conference in New York City last week, I decided to try out the tool myself. "Google Compare is not becoming an Auto insurance carrier," Weng Kan assured attendees. OK, so what is it then?

Here's what I found out about using Google Compare and my opinion of the tool from a consumer standpoint.
Related: Google is launching a new auto insurance site. Are you prepared?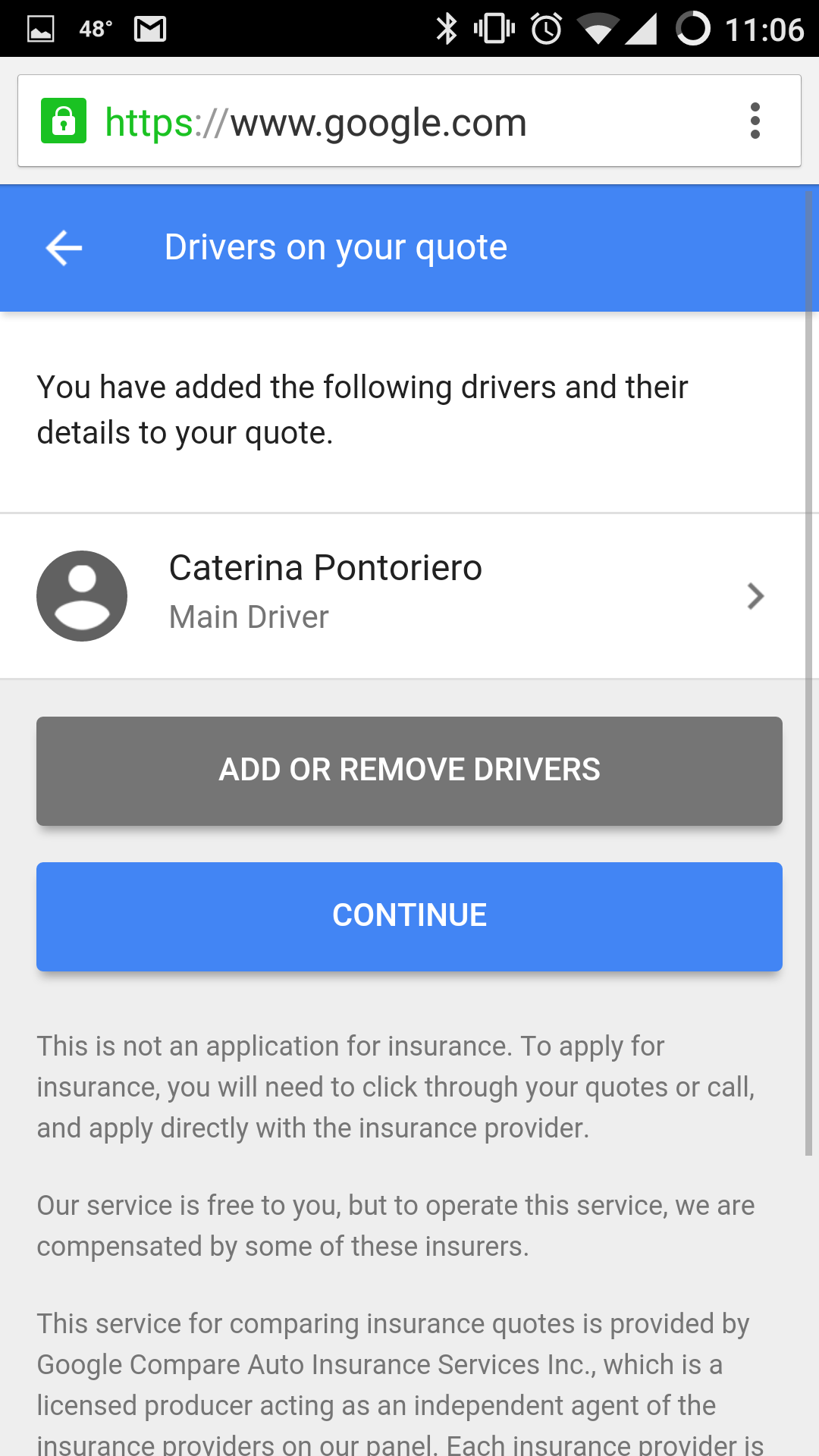 Step 1
The process begins with entering your ZIP code. I live in New Jersey, so for the sake of our test, I used an address from California (the tool is only available in Arizona, California, Illinois and Texas right now). The rest of the information entered is my personal information: age, vehicle information, driving history, etc. Filling out the prompts took me about 10 minutes.
After entering their ZIP code, users are then prompted to add a vehicle and drivers into the tool, which means it can be used to find a quote for multiple cars and/or drivers. Under driver info, I began to enter the California address. Because I had entered the ZIP code at the beginning, the city name and zip code were already filled out in their respective fields. When I typed in the house number, different options for streets within the city popped up below the field, and I was able to select the street without having to type it in.
It's a small thing, but it's extremely convenient when you're entering all this information on a mobile device (like I was) where you're using a couple of fingers to type as opposed to all 10.
(Above: Once all my information was entered, I had a profile saved in my quote.)
I then entered my driving history, which included the option to add information about an accident I was in four years ago. Next I entered my current insurance information, which included the option to add information about my current six-month premium.
(Right: Click on image for full resolution.)
Then I hit submit, and waited for the results.
Related: How insurance agents can stay relevant in an online world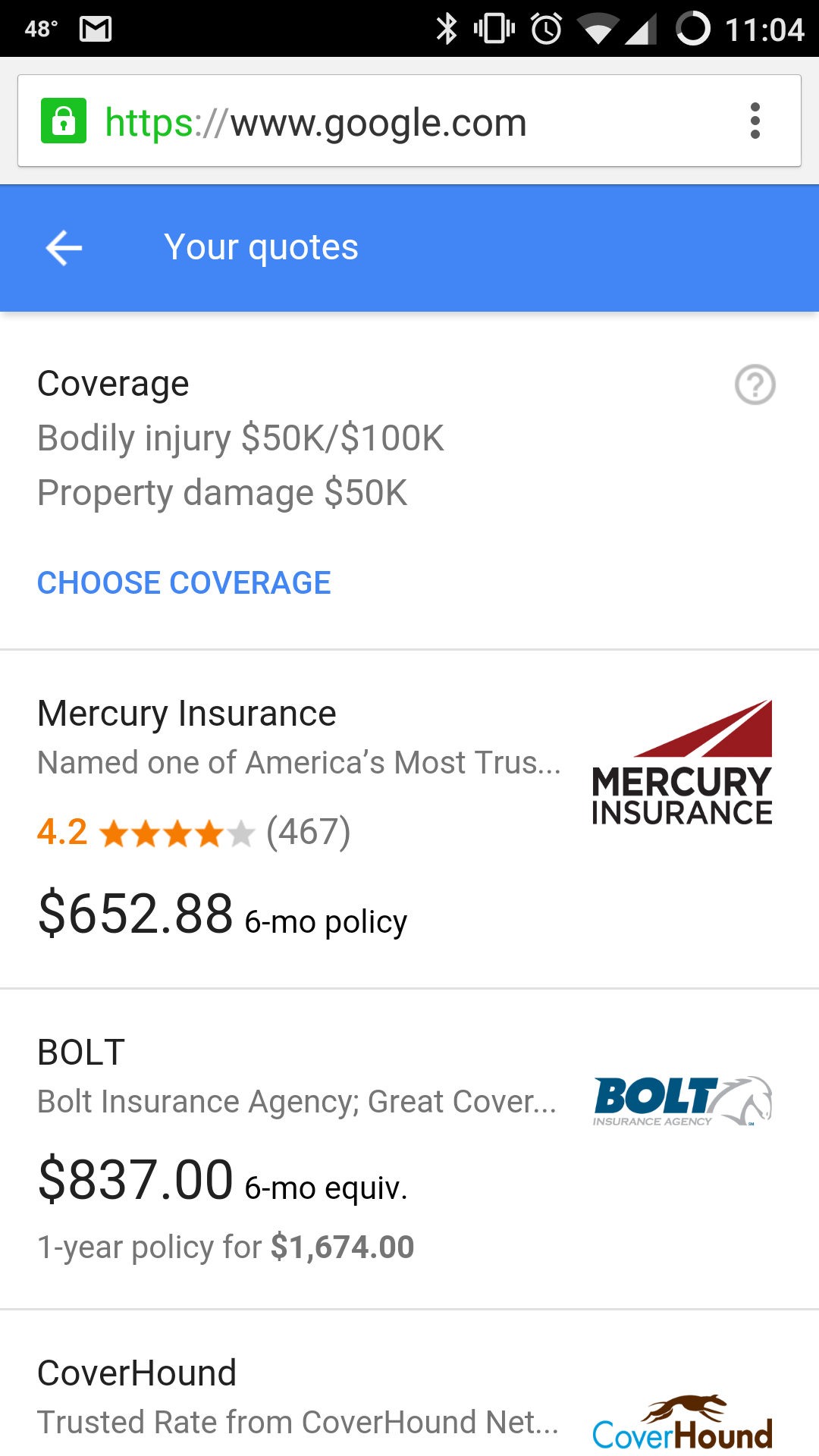 The results
In less than 15 seconds, I was presented a list of 20 quotes from different carriers, ranked from least to most expensive. It was all right there for me to see, without having to wait for multiple emails or to be contacted by a representative.
The results I received were for policies that offered $50,000/$100,000 in bodily injury limits and $50K for property damage (left). At the top of the page, you are able to change the policy options and resubmit the search, getting a new list of quotes from carriers who will underwrite the limits you set (see below — click image for full resolution).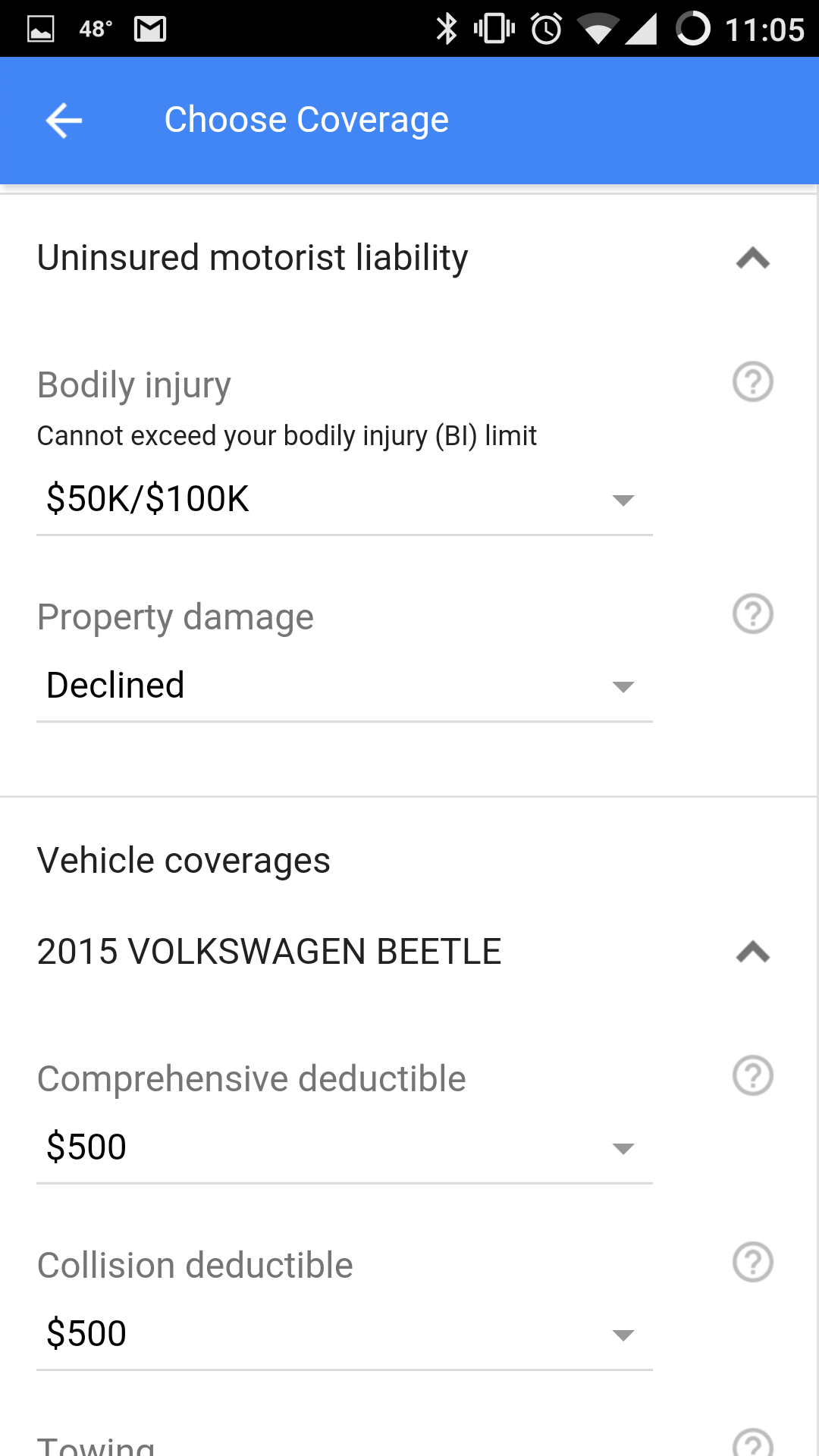 Basically, Google Compare is a search engine for Auto policy quotes. Rather than going to each individual carrier for a quote, users are presented with a list of options after only having to enter their information once.
And the tool's promise that you won't be contact by a carrier or agent unless you initiate the contact holds true. I didn't receive any emails or calls following up about my search. If I had been using the tool for an actual search, I could select the carrier I preferred and request that they contact me about the quote.
My final conclusion: Google Compare makes shopping for Auto insurance very easy. Users only need to enter their information once to receive multiple quotes at once. Instead of taking days to shop around, searching with Google Compare takes less than 15 minutes. Having all my options on one page and in the palm of my hand keeps the search organized and stress-free.
Related: Auto insurance pricing: It's time to adopt Travelocity, Zillow models
Have you Liked us on Facebook?