Those who succeed in starting their own insurance agency come from many backgrounds, but share several common traits. They're entrepreneurial, self-disciplined and are proactive network builders. A look back in history reveals that insurance agents in the United States were often community leaders, farmers, military heroes and politicians.
People may not think of insurance as the most glamorous industry, but in addition to offering stability, challenge and growth to those who pursue this professional path, it's steeped in history.
Related: 3 key strategies for growing your insurance agency
Here's a look at the rich history of 15 insurance agencies from across the U.S.
Does your P&C insurance agency have an interesting history? If so, share it with us by sending an email to jheft@alm.com with the details. Your agency could be featured in a future article.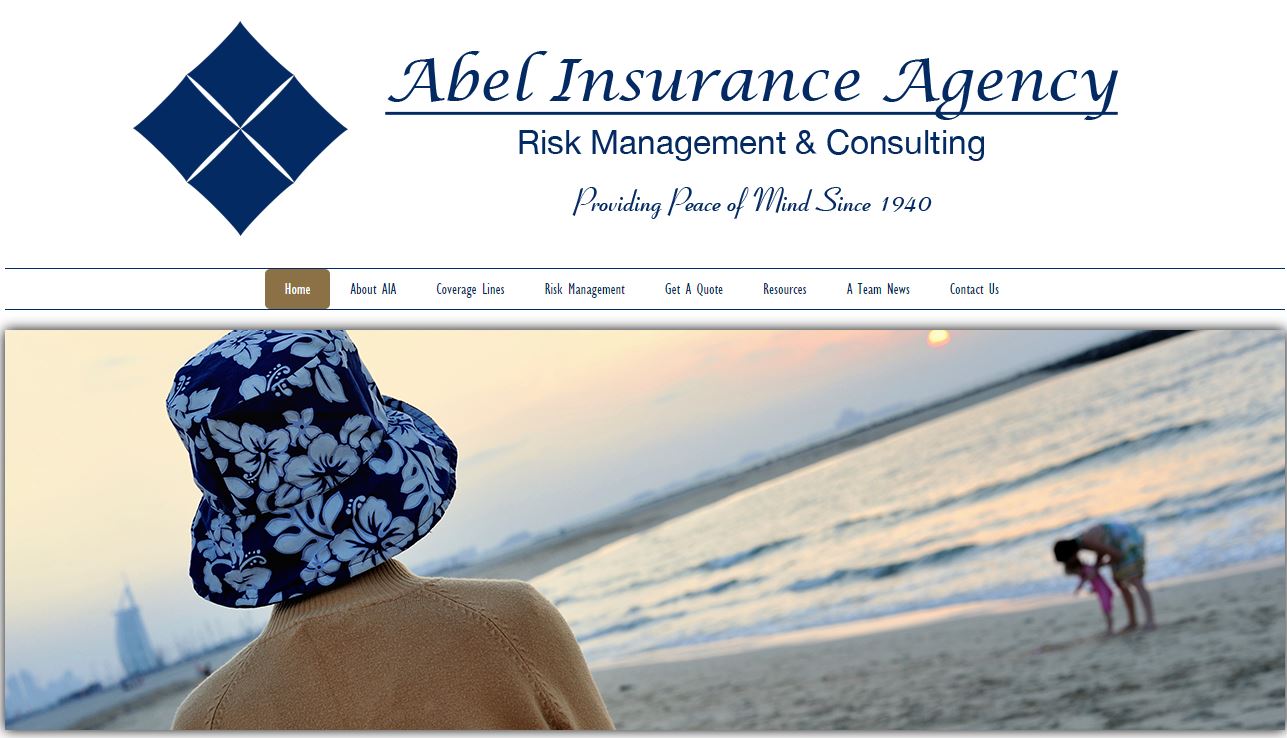 Abel Insurance Agency — Coos Bay, Ore.
The Abel Insurance Agency can be traced back to the 1940s, when Chet Isaacson left the local Huggins agency and started his own insurance agency from scratch. Little is known about the early years of the business until 1954, when Harry Abel Sr. landed a job with Chet Isaacson's insurance agency. Prior to joining the insurance business, Abel was a logger who owned his own truck and hauled logs.
One day while Abel was removing the binders in preparation for unloading at a dump site, logs shifted and started to roll off the truck unexpectedly. The first log hit Abel and pinned him to the ground. The other logs rolled off the truck as well, but fortunately for him, the first log that was pinning him to the ground shielded him from being crushed. After hospitalization and removal of his spleen, it took almost a year for him to recover, after which time he landed the position in Isaacson's agency.
Just eight weeks after Abel started working, Chet Isaacson suffered a stroke and was unable to work and could barely speak. The stroke left him paralyzed on his left side and he never came back to work. The responsibility of running the agency was delegated to Harry Abel, and he truly learned the business from the ground up.
Read more about the history of Abel Insurance Agency.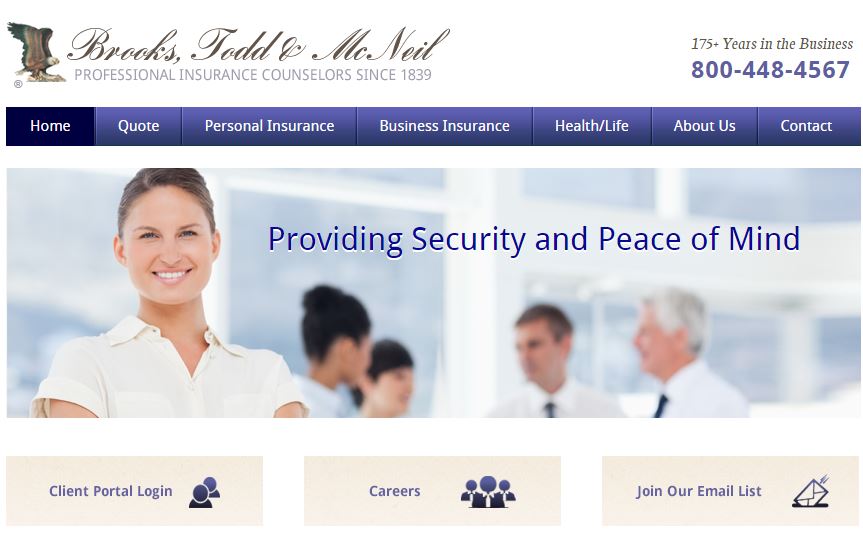 Brooks, Todd & McNeil — Connecticut
The early beginnings of the Brooks, Todd & McNeil insurance agency began with George Davis Wadhams (born Jan. 1, 1800, in Cornwall, Conn., and died June 11, 1862). He was a very energetic and enterprising person who became involved in many companies, was one of the leading businessmen in Torrington, Conn., and was a pioneer in manufacturing. In 1839, he was the first insurance agent to represent the Aetna Insurance Co. in Torrington.
In 1861, Isaac W. Brooks (born Nov. 8, 1838 in Goshen, Conn., and died 1916), was involved in continuing the insurance agency. From 1861 to 1872, Brooks and his brother John were partners in a general merchandise store in Goshen, Conn., where they also sold steamship tickets and insurance as a part of the general business.
Read more about the history of Brooks, Todd & McNeil.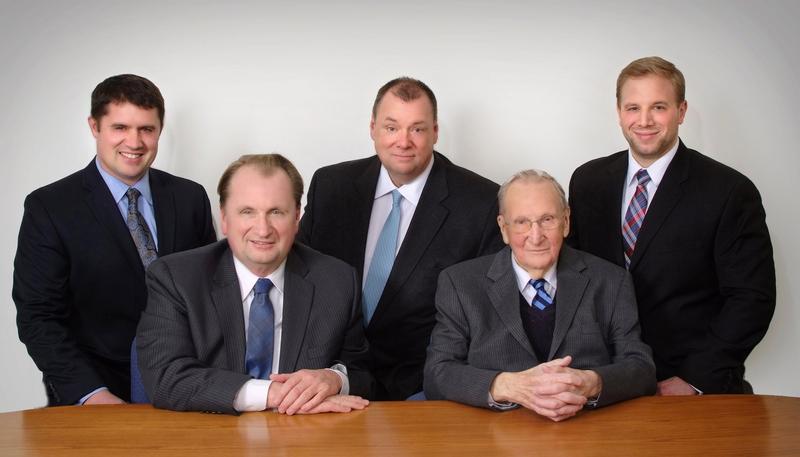 Back row from left to right: Jonathan Cross, executive vice president; Brent Cross, executive vice president; and Woodrow Cross II, account executive. Bottom row from left to right: Royce Cross, president, and Woodrow Cross, chairman. (Photo: Cross Agency)
Cross Insurance — Bangor, Maine
In 1923, Woodrow Cross, a 6-year-old living in the countryside of Maine, entered into the world of business. With a two-wheel wagon strapped to his pony and a bag of seed, young Woodrow took off around town selling seed to neighbors and farmers. It was at this young age that Woodrow began to develop the skills essential to becoming a businessman and his own boss.
Woodrow dabbled in other business ventures in his childhood until he began working at his father's country store as a teenager. Woodrow worked with his father and learned from him, but for only a few short years. In 1938, Woodrow's father abruptly passed away, leaving Woodrow, at 21-years-old, in charge of running the store to support his mother and younger siblings.
Related: 5 tips for aspiring insurance brokers
Over the next 16 years, Cross ran the store, fought in World War II in the Pacific Theater, married, and started a family. It was in 1954 that Cross and his wife, Janette, decided to make some changes; Cross sold his store so he could spend more time with his children, and the family moved to Bangor, Maine, so the children could attend better schools.
While in Bangor, Cross sought out employment any way he could. He worked at a local mill and worked nights ensuring that cement properly settled during the construction of the Bangor Auditorium (now rebuilt and named the Cross Insurance Center). During this time, Cross began studying insurance, an area of work he had wanted to learn more about ever since a friend encouraged Cross to purchase his agency many years before.
After months of rigorous study, Cross became licensed to sell Property & Casualty insurance, Fire insurance and Life insurance. With license in hand and no office, Cross began the Woodrow W. Cross Agency — now known as Cross Insurance — from his kitchen table.
Learn more about the history of Cross Insurance.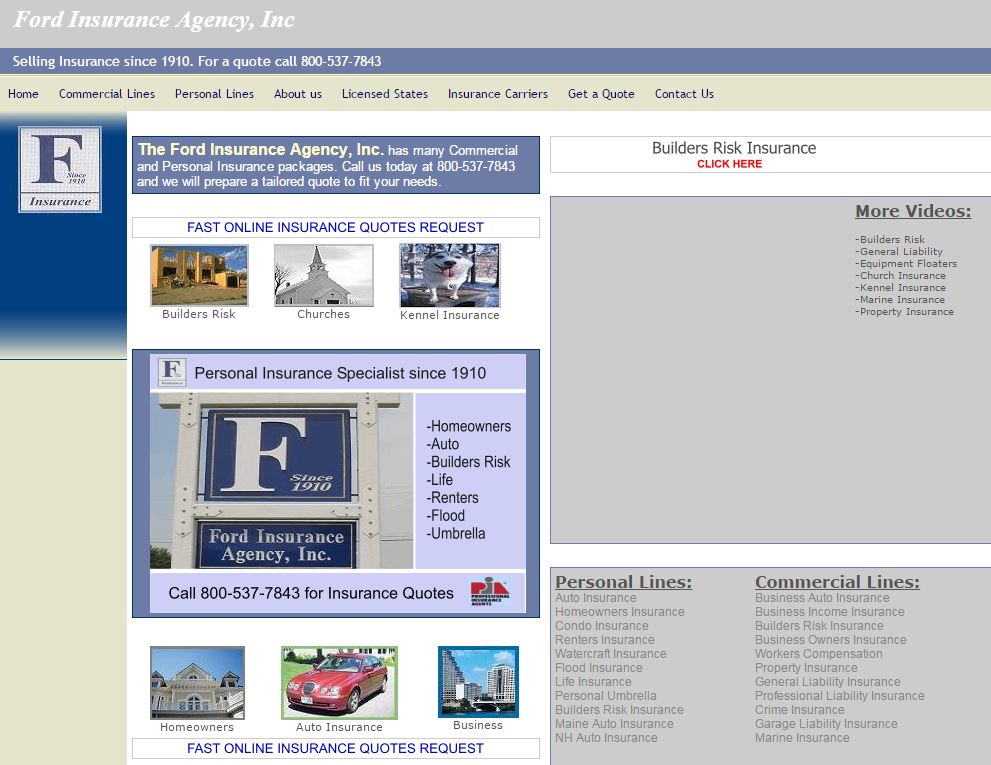 Ford Insurance Agency Inc. — Eliot, Maine
The Ford Insurance Agency was founded in 1910 by Mervin Ford as a part-time agency catering to the personal insurance needs of local residents. As the agency steadily grew in size, Ford retired from his full-time employment at the Portsmouth Naval Shipyard and devoted all his energies to the insurance agency.
Mervin's son, Wilson, joined the agency after serving in World War II as a naval officer and continued to work with his father until Mervin retired in the 1960s. The personal lines approach, developed by Mervin, was then continued and expanded upon by Wilson.
In 1975, Gary L. Lonsinger joined the agency and started an expansion from the personal lines approach to a complete multiple lines agency. Primary efforts were then directed toward commercial growth and expanding the agency's markets.
Learn more about the history of the Ford Insurance Agency.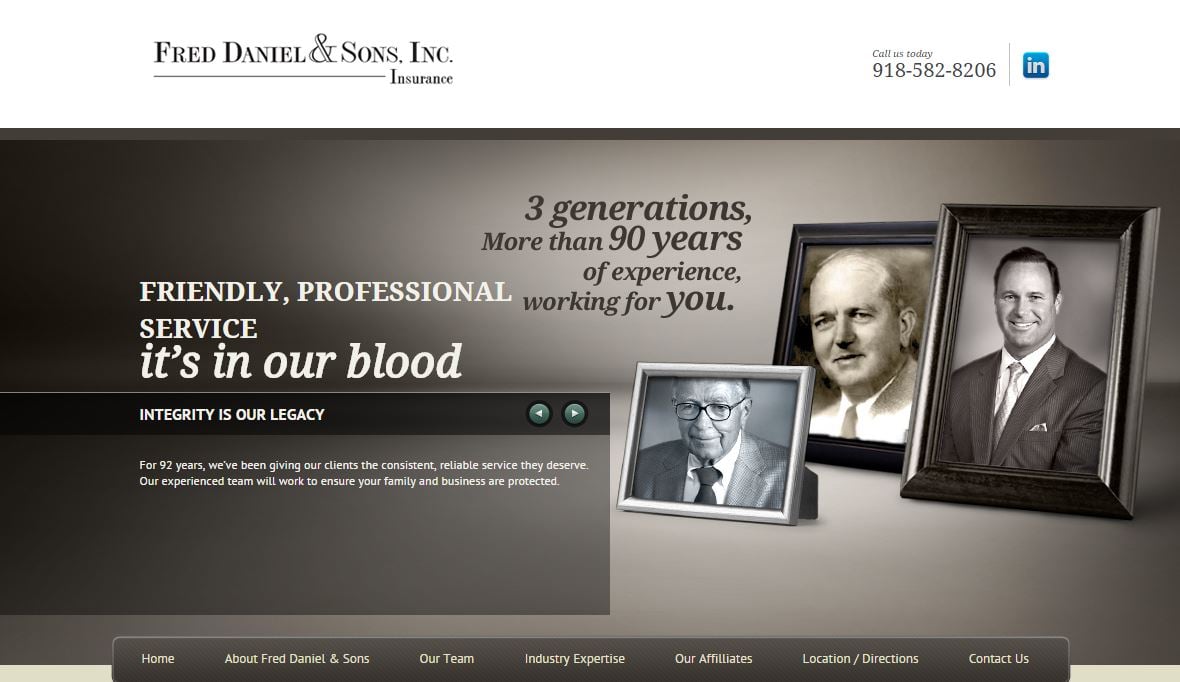 Fred Daniel & Sons Inc. — Tulsa, Okla.
Fred Daniel Sr. had been working for a Tulsa judge when he noticed the need for providing protection for business and families. Fred Daniel & Sons Inc. was founded in the 1920s to help fulfill this need.
Fred Daniel Sr. was extremely involved in the insurance industry, serving as president of the Oklahoma Association of Insurance Agents, Inc. from 1941-1942 and was the state national director in 1944.
Following in their father's footsteps, Fred Daniel Jr. and his brother, William, joined the agency in 1951 and 1955, respectively. Fred Daniel III joined the agency in 1982 and became president and owner in 2000.
Learn more about Fred Daniel & Sons.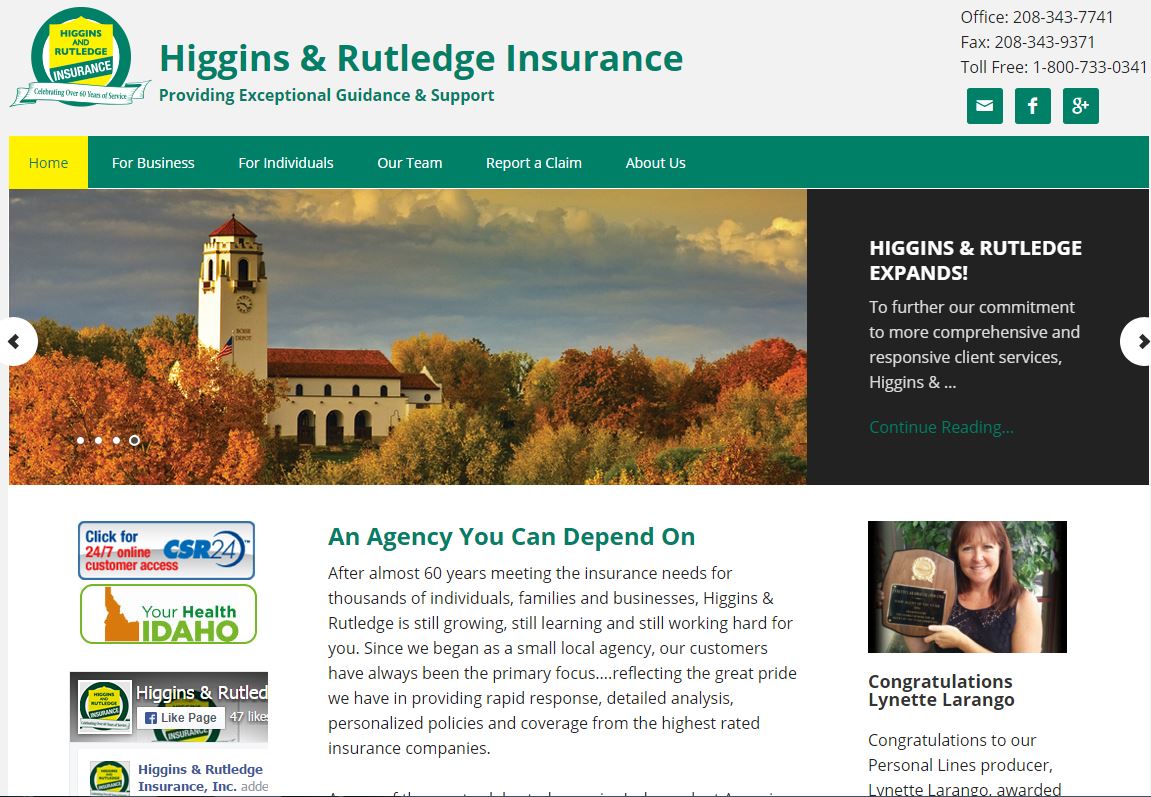 Higgins & Rutledge Insurance — Boise, Idaho
Prior to becoming Higgins & Rutledge Insurance, the agency was the W.C. Robinson Co., a small loan business founded by William Colburn "June" Robinson Jr. in the early 1940s. When he began financing aircraft, the need arose to provide insurance to protect his growing investment, so he contacted the Royal Insurance Co. in San Francisco, which provided authorization to write aircraft insurance policies in his office.
Seeing enormous opportunity, in 1946 Robinson hired Bert Higgins as the primary insurance agent and began offering coverage to meet the needs of a growing community.
Upon his retirement, Robinson sold the agency to Bert Higgins in 1951. By that time, the company had evolved into a respected insurance agency and continued to expand under its new name — the Bert Higgins Agency.
Read more about the history of Higgins & Rutledge Insurance.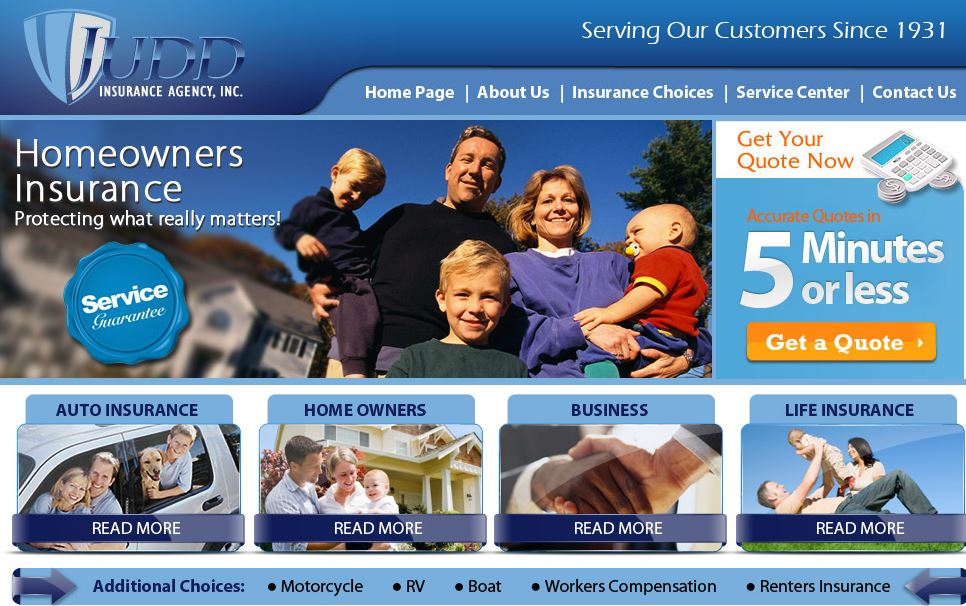 Judd Insurance Agency Inc. — Birch Run, Mich.
In the small logging town of Blackmar, Mich., during the middle of the Great Depression, the Judd Insurance Agency's long history began. During a huge blizzard early in 1931, Carl Nuechterlein, then president of Frankenmuth Mutual, was returning home to Frankenmuth by train. Nuechterlein had been out of town on business purchasing reinsurance for Frankenmuth Mutual Fire Insurance Co. The weather was so bad he couldn't make the six mile trip back to his home in Frankenmuth.
Related: Tennessee trailblazer: Agency owner June Taylor
George M. Judd, a local farmer, offered to put Nuechterlein up for the night in his home across the street from the train depot. Nuechterlein and Judd engaged in many discussions throughout the evening and during breakfast the next morning. During those discussions Nuechterlein realized Judd's relationship with the members of the community and his involvement in business.
Nuechterlein invited Judd to come by his office in Frankenmuth and consider becoming an agent with Frankenmuth Mutual. Later that year, Judd met with Nuechterlein at his office in Frankenmuth and started the George M. Judd Agency.
For the next 20 years, George operated the agency and also farmed the 160 acre family farm.
Learn more about the history of the Judd Insurance Agency.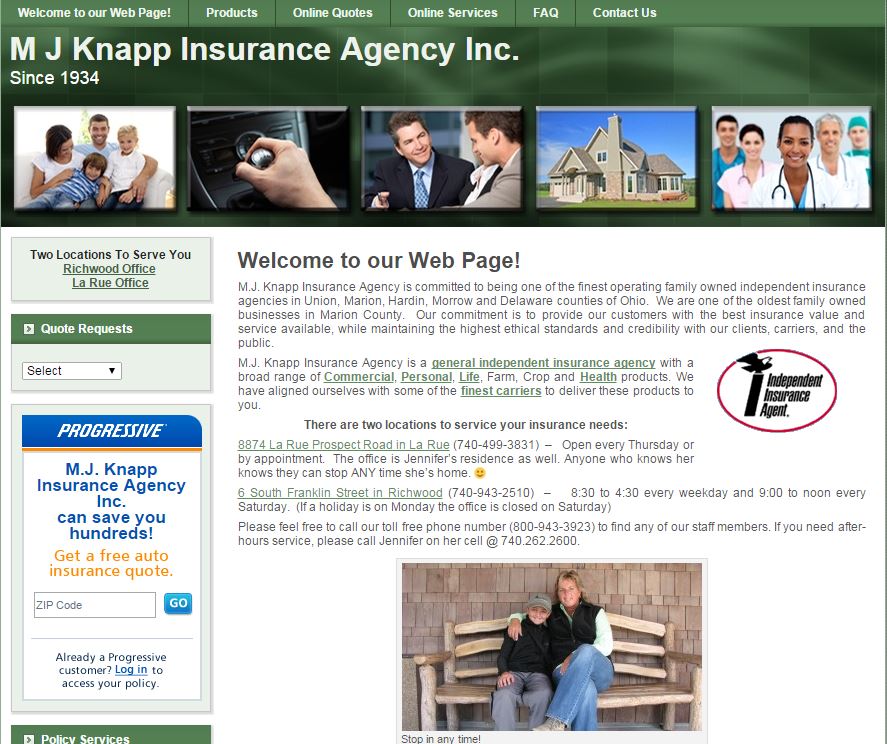 M.J. Knapp Insurance Agency Inc. — Richwood and La Rue, Ohio
The M.J. Knapp Agency was established in 1934 by Martin Jackson Knapp. Marty was a railroad worker and was looking to supplement his income upon retirement from the railroad. He opened an office off the north side of his house where people stopped to do business with him for years.
When Martin's son, Larry J. Knapp, had fulfilled his service with the Navy, he purchased the agency and managed it from 1968 until 1996. Larry ran the business out of his home on State Route 95. Larry and Marilyn's daughter, Jennifer L. Conroy, bought the agency in 1996 after having worked there as a licensed agent since 1983. She has since purchased Larry's home/office since the passing of Marilyn, and runs the office much the same … out of the house. The agency still has that small town, homey feel as you walk in the door.
More on the history of the M.J. Knapp Insurance Agency.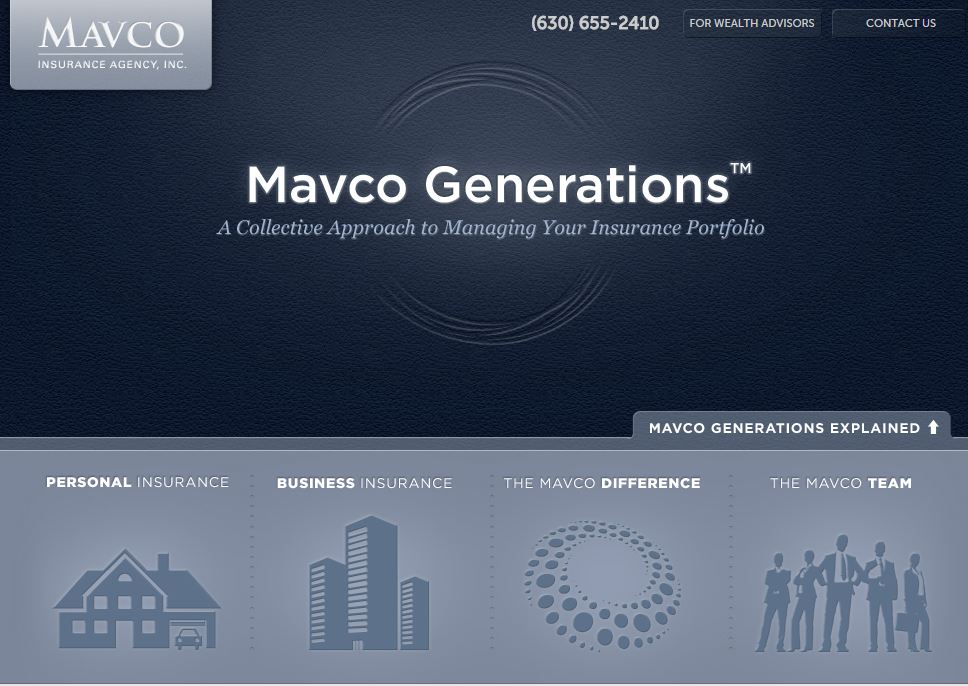 Mavco Insurance Agency Inc. — Hinsdale, Ill.
The Mavco story began nearly a century ago, when Girard Aloysius Mavon founded G.A. Mavon & Co. in 1916. Previously, he had earned a reputation as a determined businessman, traveling door-to-door by bicycle, selling insurance to the locals as a field man for the Dubuque Fire and Marine Co.
Once Mavon established his own general agency, he was able to open an office on South Halsted Street in Chicago. He eventually moved to the Insurance Exchange Building in downtown Chicago, where it remained for 50 years.
In 1979, G.A. Mavon & Co. moved into its own distinctive building at 10 W. Chicago Ave. in Hinsdale.
Four generations have controlled company operations throughout the history of the organization.
Read more about Mavco.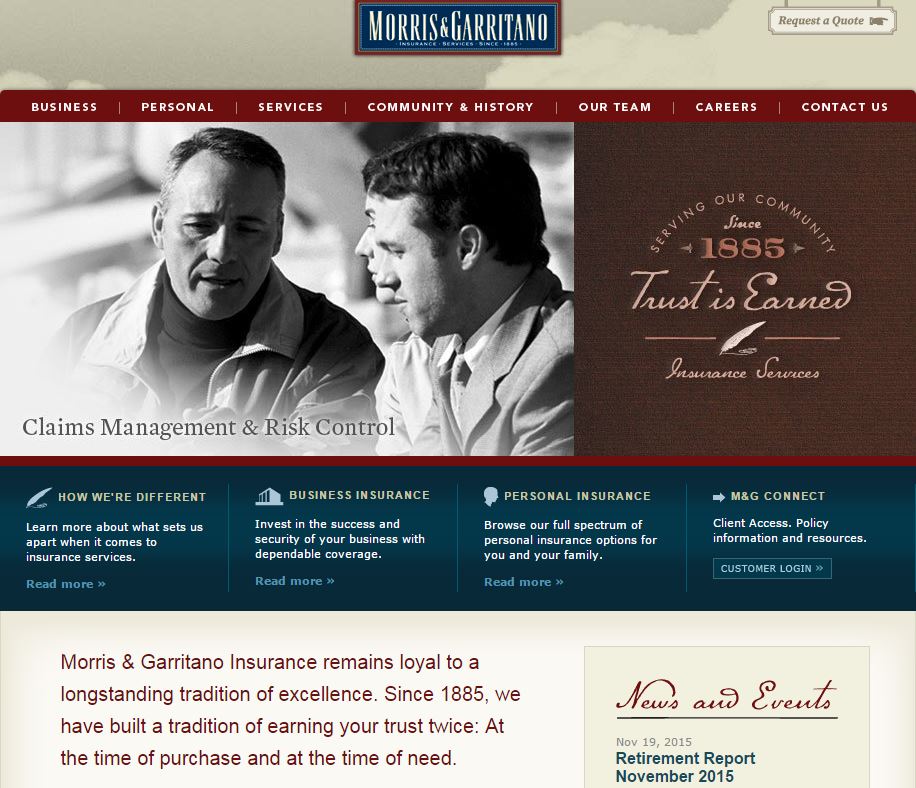 Morris & Garritano Insurance — San Luis Obispo, Calif.
In 1885, while hooves thumped the dust of Higuera Street, Archibald McAlister opened a "Lands, Loans, Rents & Insurance" office. Straightforward and amiable, McAlister earned the community's trust.
A decade later, San Luis Obispoans elected McAlister mayor. That same year, McAlister hired his son-in-law, Ernest Vollmer. After a decade of sharing work, McAlister retired, and his son-in-law continued his tradition.
Along with running Ernest Vollmer, Real Estate & Insurance, Vollmer served as an inheritance tax appraiser for the County of San Luis Obispo.
Read more about the history of Morris & Garritano.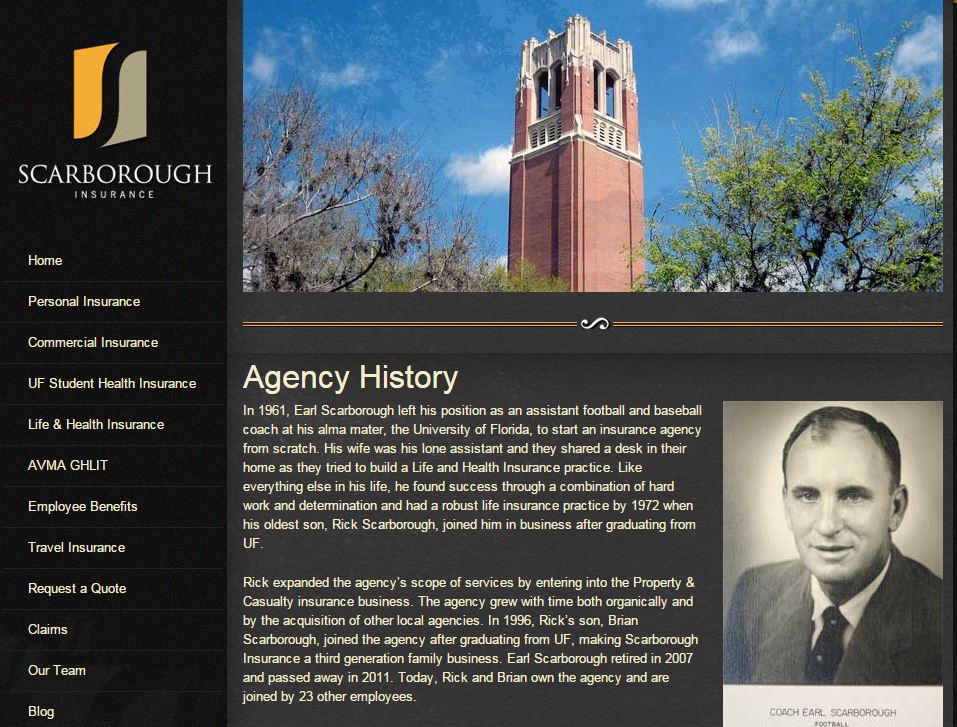 Scarborough Insurance — Gainesville, Fla.
In 1961, Earl Scarborough left his position as an assistant football and baseball coach at his alma mater, the University of Florida, to start an insurance agency from scratch. His wife was his lone assistant, and they shared a desk in their home as they tried to build a Life and Health insurance practice.
Like everything else in his life, he found success through a combination of hard work and determination and had a robust life insurance practice by 1972, when his oldest son, Rick Scarborough, joined him in business after graduating from the University of Florida.
Rick expanded the agency's scope of services by entering into the Property and Casualty insurance business. The agency grew with time both organically and by the acquisition of other local agencies. In 1996, Rick's son, Brian, joined the agency after graduating from the University of Florida, making Scarborough Insurance a third-generation family business.
Visit their website and learn more about Scarborough Insurance.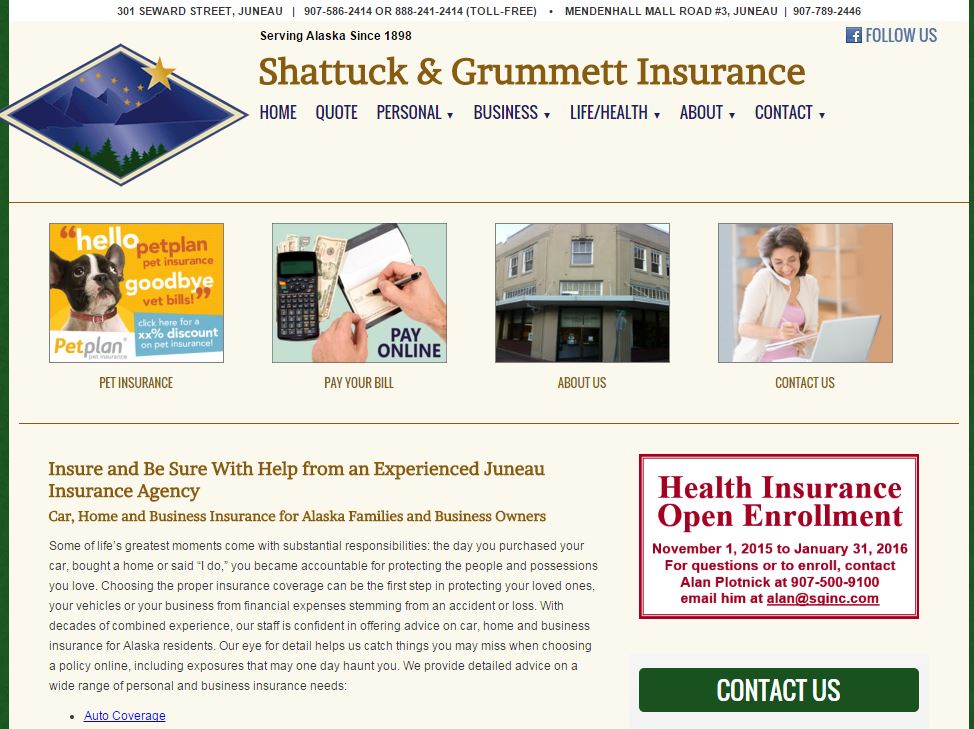 Shattuck & Grummett Insurance — Juneau, Alaska
When Shattuck & Grummett's history began in Juneau, the town was little more than a frontier mining camp. On Jan. 1, 1898, when Henry Shattuck and E.F. Cassell established an insurance agency, the oldest insurance agency operating in Alaska today, was born.
By 1900, Henry's brother, Allen, who had come to Juneau with him in 1897, joined him in the insurance agency, now called Shattuck & Co. Allen's son, Curtis, joined in 1930.
The history of the Grummett Insurance Agency begin in 1945, when Stan Grummett purchased the Juneau Insurance Agency from the Frank Burns Co., which had been operating since 1932. Following a stroke in 1954 that left Stan Grummett partially disabled, Grace Grummett stepped in to learn insurance and successfully continue the business.
The 1960s brought new blood to the agencies. Allen and Roger Shattuck joined their father, Curtis, and Mike and Roger Grummett joined their mother, Grace, in the operation of these competing agencies. The Shattuck & Grummett Inc. was formed in 1971 when these two long-time competitors merged.
Read more about the history of Shattuck & Grummett Insurance.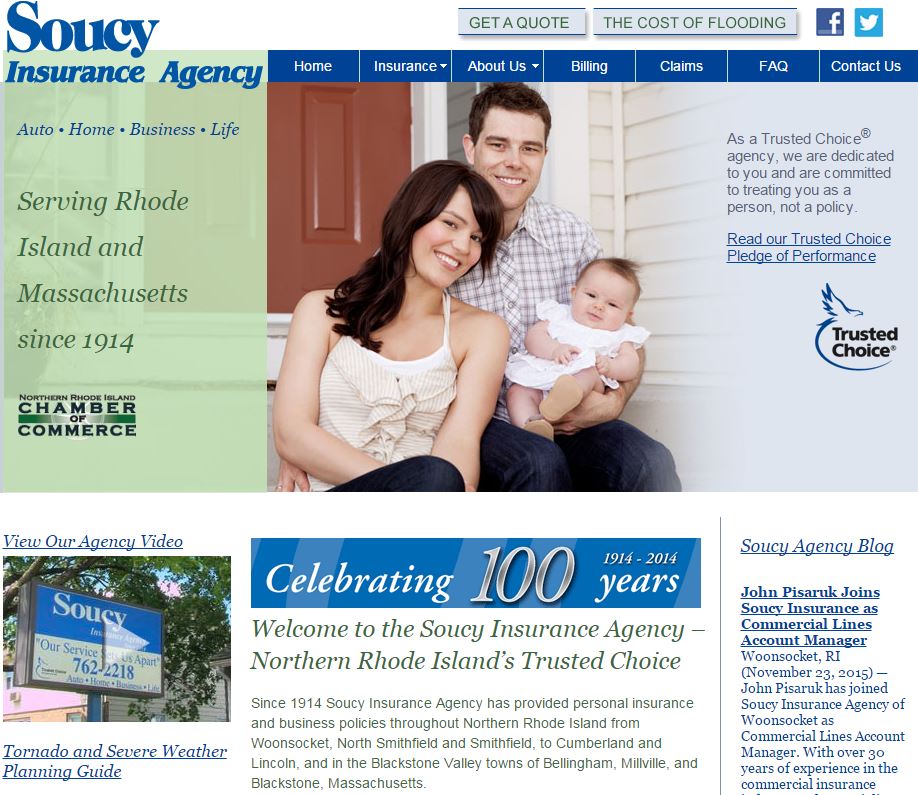 Soucy Insurance Agency — Woonsocket, R.I.
Soucy Insurance Agency was started in 1914 by Adelard L. Soucy, a first-generation French Canadian born in Manville, R.I. Adelard Soucy was a leader in the community and represented Woonsocket in the Rhode Island House of Representatives. In 1918, he was elected mayor of Woonsocket and served four terms.
From 1945 through 1994, Adelard's son, Rodrigue, turned the business his father had started out of a room in his house into a thriving insurance and real estate agency. His brother, Adelard Jr., worked for the company for over 30 years, spearheading the burgeoning real estate division.
Over the next four decades, the company witnessed tremendous growth. In 1994, David Soucy became the third member of the Soucy family to take the helm as president.
Watch a video and learn more about the Soucy Insurance Agency.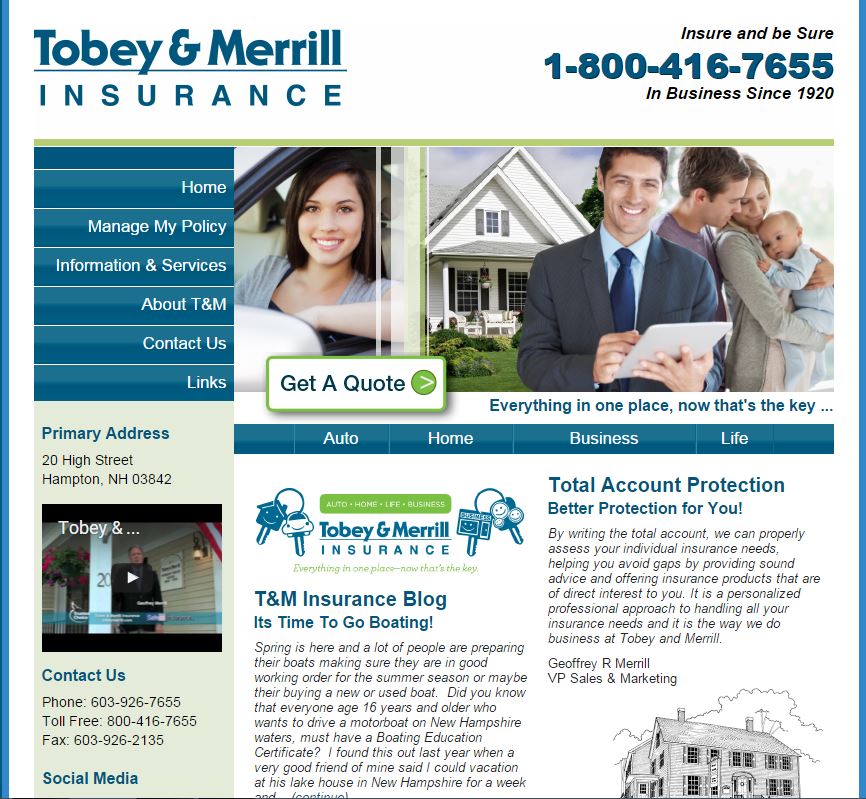 Tobey & Merrill Insurance — Hampton, N.H.
Tobey & Merrill Insurance Inc. of Hampton, N.H., might be known as the "little business that could." The company has survived two World Wars, tremendous social change, and economic ups and downs, to find itself still going strong in the same community where it began more than 100 years ago.
The insurance business was started by the Rev. Edgar Warren in 1908, at a time when the world was in the midst of vast and exciting changes. Automobiles and telephones were gaining in popularity, with Henry Ford's Model-T debuting that year. Americans were reading Jack London and Henry James, and flocked to see nickelodeon picture shows. Unrest was brewing in Europe, but the United States was still at peace. Amid this backdrop, the little insurance company took hold, and became a solid part of the Hampton business community.
In 1915, Warren sold the business to Herbert L. Tobey, who was basically looking for something new to do. He had a successful dye-selling business, but with the advent of World War I, could no longer get the dyes he required. Insurance seemed like a sound venture, and for good measure, Tobey also opened a real estate business.
In 1916, with the business continuing to grow, Tobey hired C. Ruth Noyes as his assistant. In 1917, she married Dean B. Merrill, who has just returned from the war. Soon after, Merrill joined Tobey in the agency. By 1920, they had become partners, and the agency became known as Tobey & Merrill.
Learn more about the history of Tobey & Merrill Insurance.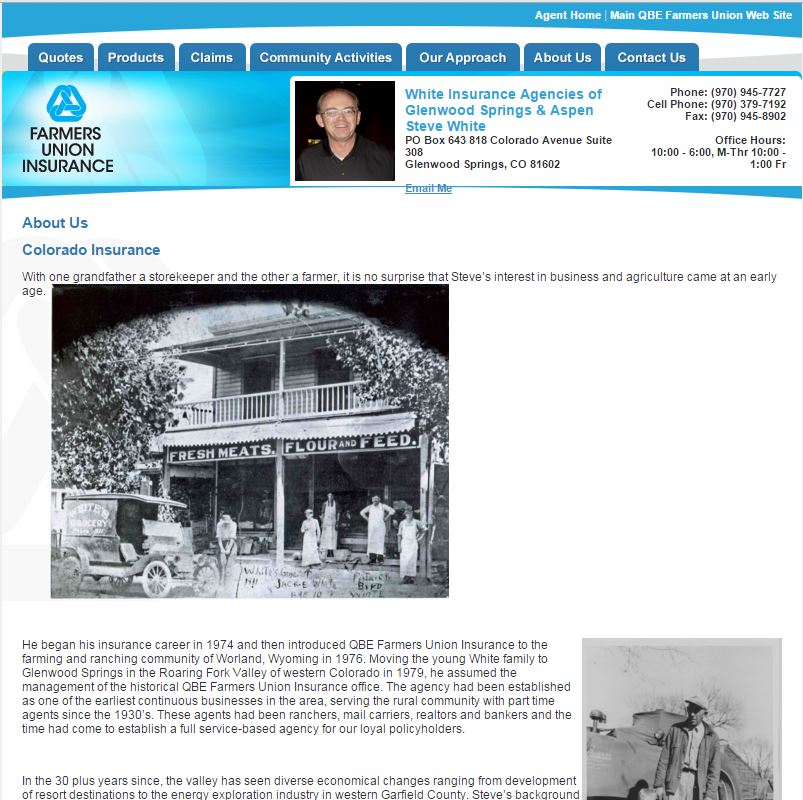 White Insurance Agencies — Glenwood Springs & Aspen, Colo.
Steve White began his insurance career in 1974, and introduced QBE Farmers Union Insurance to the farming and ranching community of Worland, Wyo., in 1976. Moving the young White family to Glenwood Springs in the Roaring Fork Valley of western Colorado in 1979, he assumed the management of the historical QBE Farmers Union Insurance office.
The agency had been established as one of the earliest continuous businesses in the area, serving the rural community with part-time agents since the 1930s. These agents had been ranchers, mail carriers, real estate agents and bankers, and the time had come to establish a full service-based agency.
Find out more about the White Insurance Agencies.
Related: How 7 P&C insurers got their start