It's perfectly logical to discard a resume that reveals occasional gaps, frequent job changes and slow career advancement. However, doing so may deprive a business of a highly competent and motivated employee.
While the military serves the nation at home and abroad, many military spouses are eager to work to supplement their income, fill their time and find fulfillment.
"Military spouses are flexible and adaptable," says Katie Savant, government relations issues strategist for the National Military Family Association in Alexandria, Virginia. "They are able to balance multiple priorities at the same time. Their diverse experiences and backgrounds mean they can provide innovative ideas to employers and have experience with what worked well in one setting and why it may or may not work in the new environment."
Military spouses may be one of the most overlooked and underused pools of job talent in the market, research shows. According to a joint study by the Military Officers Association and the Institute for Veterans and Military Families at Syracuse University:
90% of responding female spouses of active duty service members said they are underemployed.

Military spouses earn an average of 38% less and are 30% more likely to be underemployed than their civilian counterparts.

55% of respondents said they "need" to work, while 90% said they "want" to work.

Unemployment rates are highest (30%) for 18-to-24-year-old female spouses.

More than 50% said their career fields require licensing or certification, which costs more than $220 to renew after a move.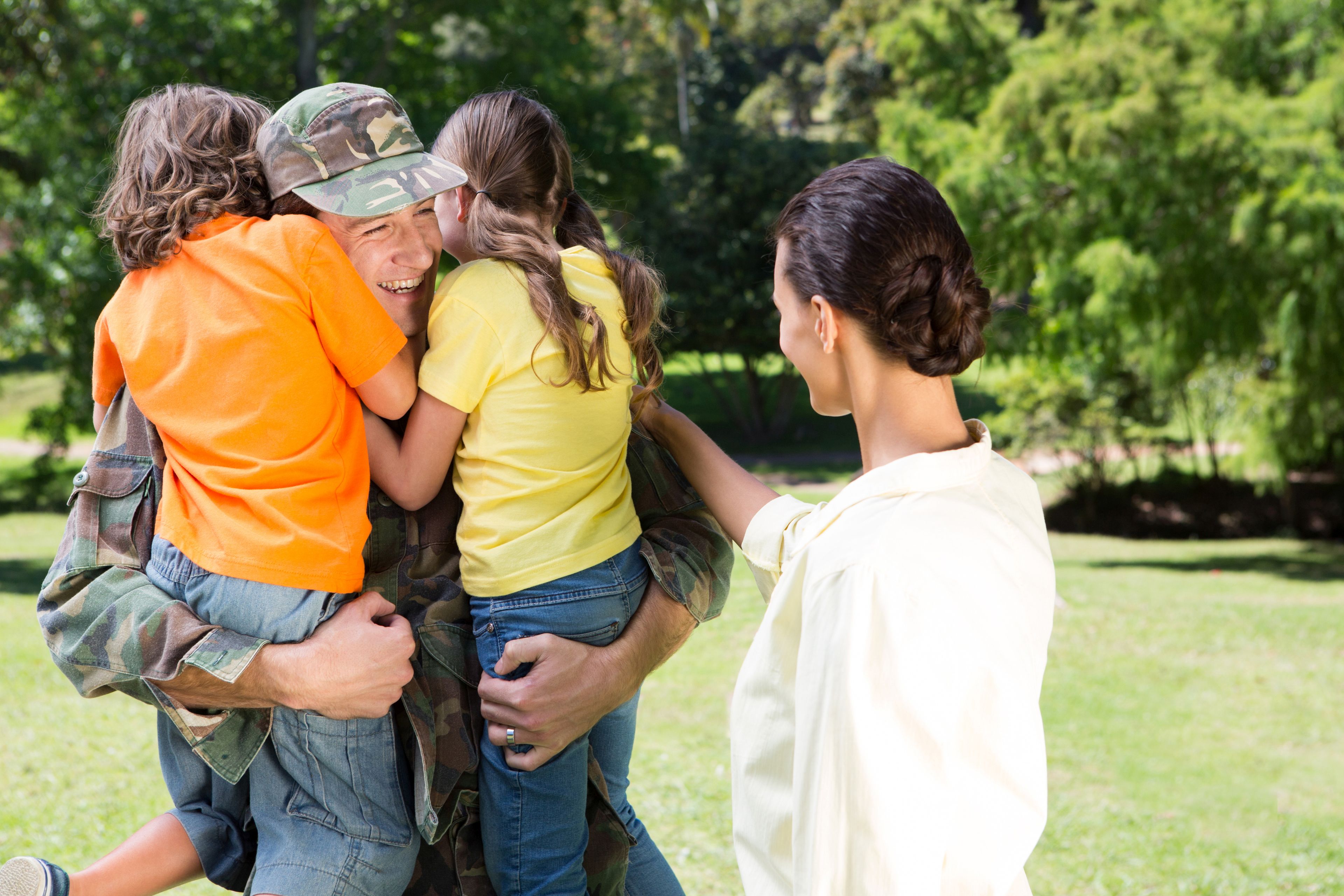 (Photo: Thinkstock)
Hiring barriers
Why are qualified military spouses not getting hired at the same rate as their civilian peers?
"The biggest barrier to hiring military spouses is that they may move when their spouses get relocated," says Michelle Matthews, director of the Show-Me Heroes Program, a statewide hiring iniative in Jefferson City, Missouri. "However, that should not deter any employer from hiring them. They come with multiple skills, and many times when they relocate they can transfer into a position in another state with the same company."
Many spouses work in professions requiring licensing that doesn't transfer among states, says Kevin O'Brien, founding partner of Veteran Recruiting, which conducts virtual job fairs for military veterans and spouses. In addition, spouses often lack access to the people who traditionally open employment doors.
"The biggest barrier is the lack of established networks," Savant says. "Military families often move far from home and where they received their professional degree or training, which means that professional employment facilitators are no longer available to help them with employment opportunities across the country or world."
Desirable skill sets
Of course, it would be shortsighted to hire military spouses simply to help them overcome the challenges they face. However, it may make sense after weighing assets against perceived liabilities.
What traits can military spouses bring to the table?
"Today's military spouses are skilled, diverse and motivated, with sound work values and a strong work ethic — characteristics highly valued by America's top employers," Savant says. "Military spouses are also young, tech-savvy, mobile and more educated than their civilian counterparts."
84% have at least some college background.

25% have earned a bachelor's degree.

10% have an advanced degree.
Other qualities may not be visible on a resume. For example, military families move 14% more often than civilian families. This means spouses must not only be flexible and organized but also must have the people skills to quickly build new networks.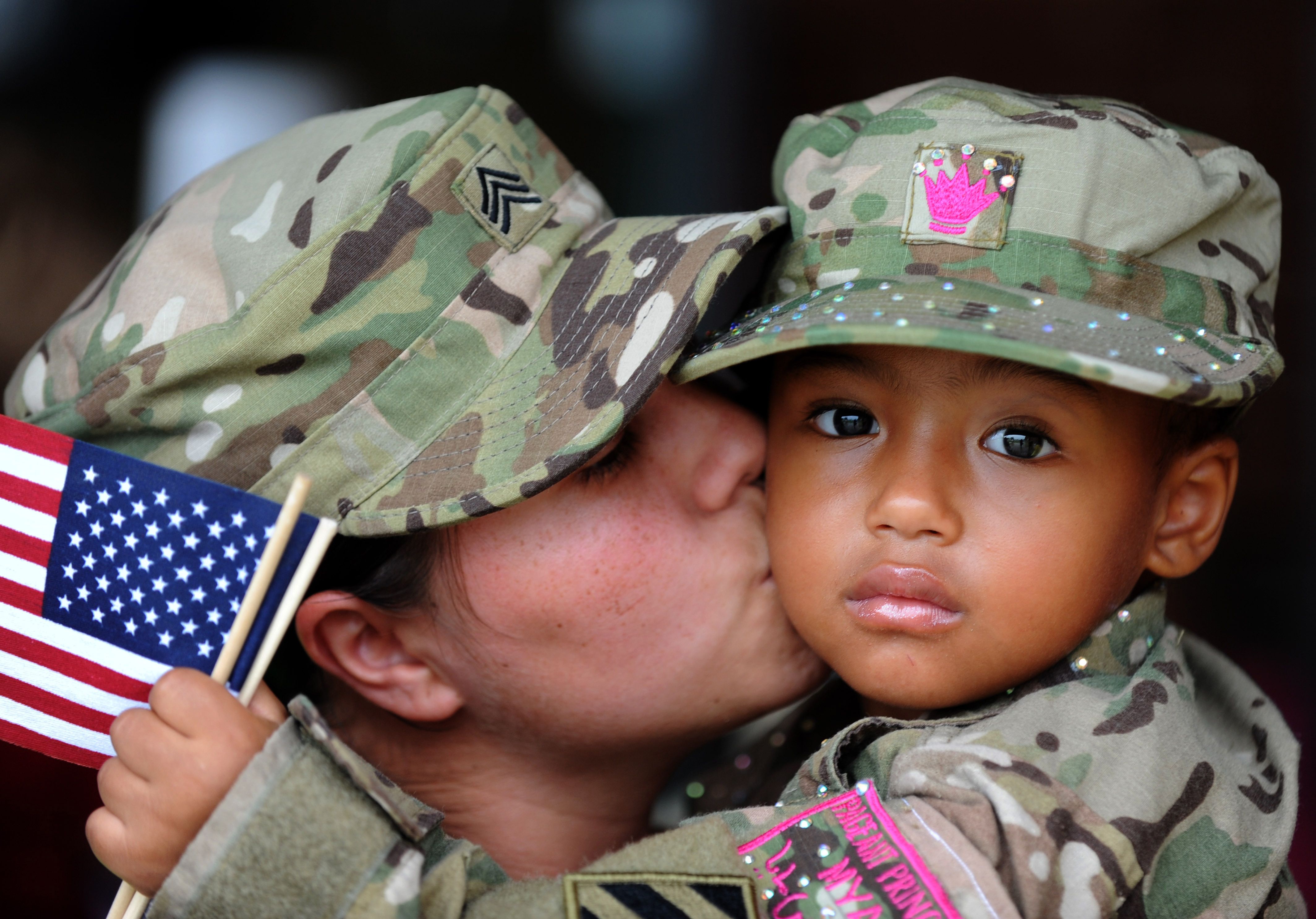 Mya McNeal is kissed by her mother, U.S. Army Sgt. Kionna Huewitt, during a homecoming ceremony for 184 troops in the 1st Armor Brigade Combat Team after a 9-month deployment to Afghanistan, Wednesday, July 3, 2013 at Fort Stewart, Ga. (AP Photo/Stephen Morton)
The perception that most military spouses make short-term employees may be a deal-killer, but it often is a red herring, some experts say.
"Employers often fear a military spouse will leave after the employer has invested time and resources into training a military spouse," Savant said. "Statistically speaking, military spouses change jobs only slightly more than the civilian population. If the family receives orders to move, the employer may consider telecommuting options to retain the employee."
O'Brien agrees.
"The biggest misperception is often that employers think of a military spouse as someone who sits home while their spouse is serving in the military," he said. "Employers often don't realize just what a military spouse represents, and that often causes them to overlook them when considering candidates for their open jobs.
"Employers fear the spouse will leave at a moment's notice. Spouses serve right alongside their spouse, are outstanding at multi-tasking, loyal, educated, resourceful and thrive under the most stressful of conditions."
A fairly new program makes it easier to find qualified job candidates. The Military Spouse Employment Partnership (MSEP) provides companies direct access to military spouses seeking career opportunities and connects spouses to employers who are actively recruiting. MSEP currently has more than 200 partners who have hired more than 55,000 military spouses.
(Complete information is available at www.msepjobs.militaryonesource.mil.)
Evaluating the person
Experts offer consistent advice for hiring military spouses: Evaluate the person, not just the paper.
"HR professionals should not count them out as an asset to their organization," Matthews says. "They should take the time to review the resume and skills, and make sure they fit in with their culture and their needs. If they do and would make a great asset, then they should interview and hire without hesitation."
Life skills often come across better in a personal meeting than in a resume alone.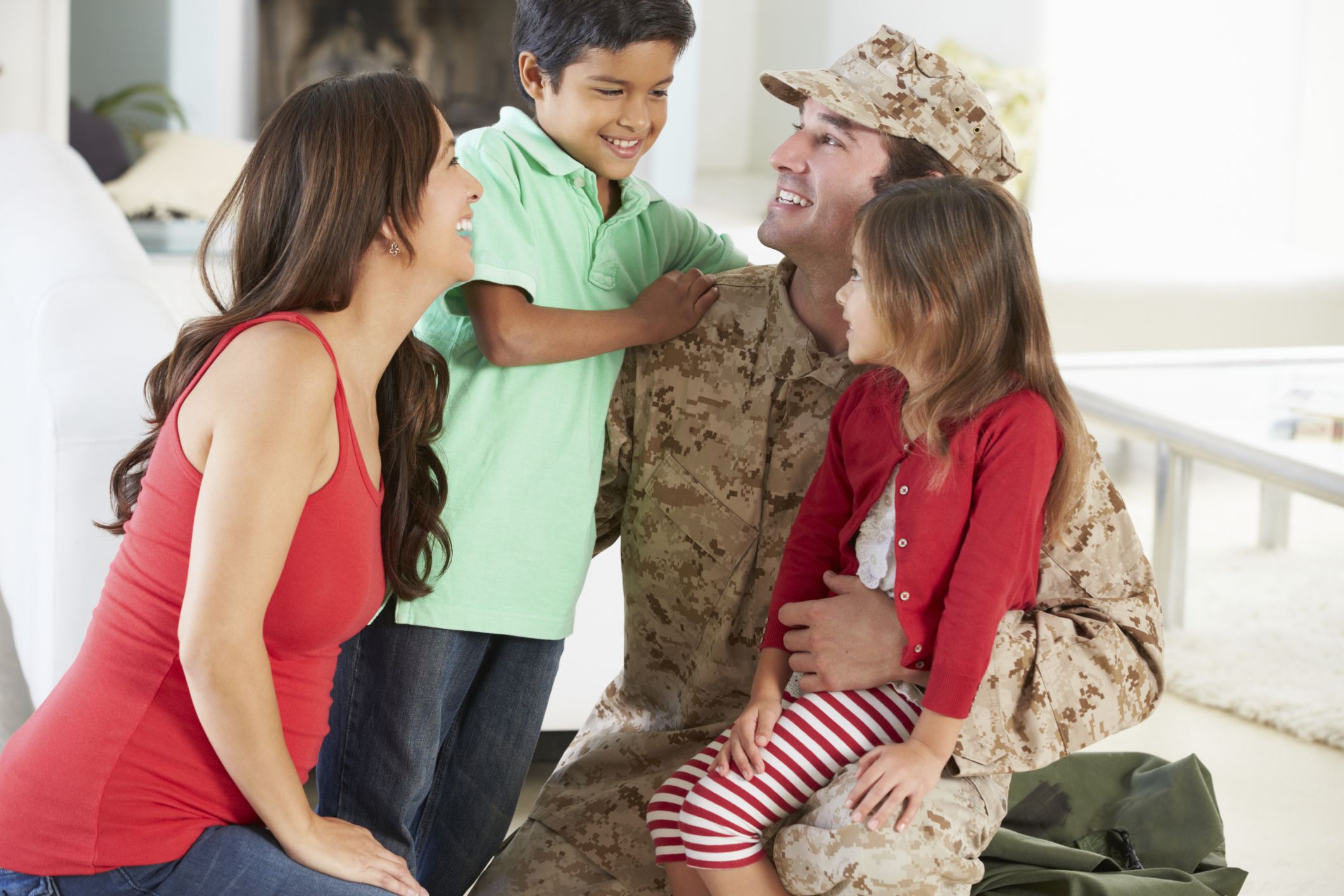 (Photo: Thinkstock)
"Keep an open mind before determining if a military spouse is a fit or not," O'Brien says. "Take the time to actually meet with them, and then determine if they are a fit for the open position. In a nutshell, you will gain a team member who possesses the skills, talent, education, work ethic and loyalty that any employer would benefit from having onboard."
Finally, look at a resume gap not as a negative but as a conversation starter.
Related: Attracting bright, young minds to an insurance career
"Human resource professionals should look beyond work history at the entire resume package, including volunteer experiences," Savant says. "Gaps in work history may be attributed to being in a very remote location where employment opportunities were not available. A military spouse may volunteer to enhance their skill sets or keep current in their profession. Don't discount volunteer work."
As the nature of the workplace and workforce evolves, some companies may find that hiring military spouses can create a win-win partnership.
"Military spouses seek employment opportunities in a variety of situations including full time, part-time, remote or freelance opportunities," she says. "Don't be intimidated by a resume listing several employers from locations across the globe or a combination of volunteer and work experience coupled with some breaks in employment.
"Military spouses need and want to work as much as their civilian counterparts and are more likely to be better educated and underemployed. Employers who hire military spouses appreciate the worldly view and tech-savvy skills military spouses bring to their workforce."