Top executives of small and medium-size enterprises (SMEs) in the United States are among the most optimistic about future business opportunities compared to the rest of the world, according to Switzerland-based Zurich Insurance Group's Third Annual Global SME Survey.
The U.S. was included in the study for the first time this year, which surveyed 3,000 C-suite executives and managers at SMEs in 15 countries across Africa, the Americas, Asia-Pacific, Europe and the Middle East. Respondents were polled on the biggest opportunities and risks facing their businesses in today's economy.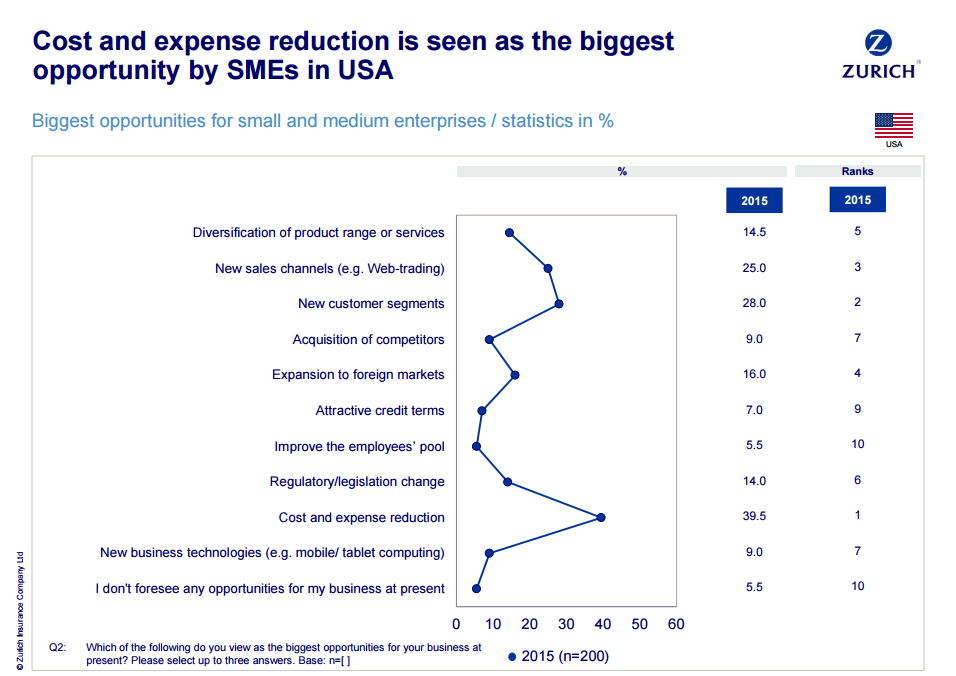 (Source: Zurich)
The outlook of U.S. SMEs was most optimistic — the response "I don't foresee any opportunities for my business at present" ranked last out of 11 potential opportunities posed, and received fewer responses (5.5%) than any other region.
"Cost and expense reduction" was ranked highest (39.5%), followed by "new customer segments" (28%), "new sales channels" (25%) and "expansion to foreign markets" (16%).
In other parts of the world, "diversification of product range or services" (Asia-Pacific) and "cost and expense reduction" (Europe) ranked highest.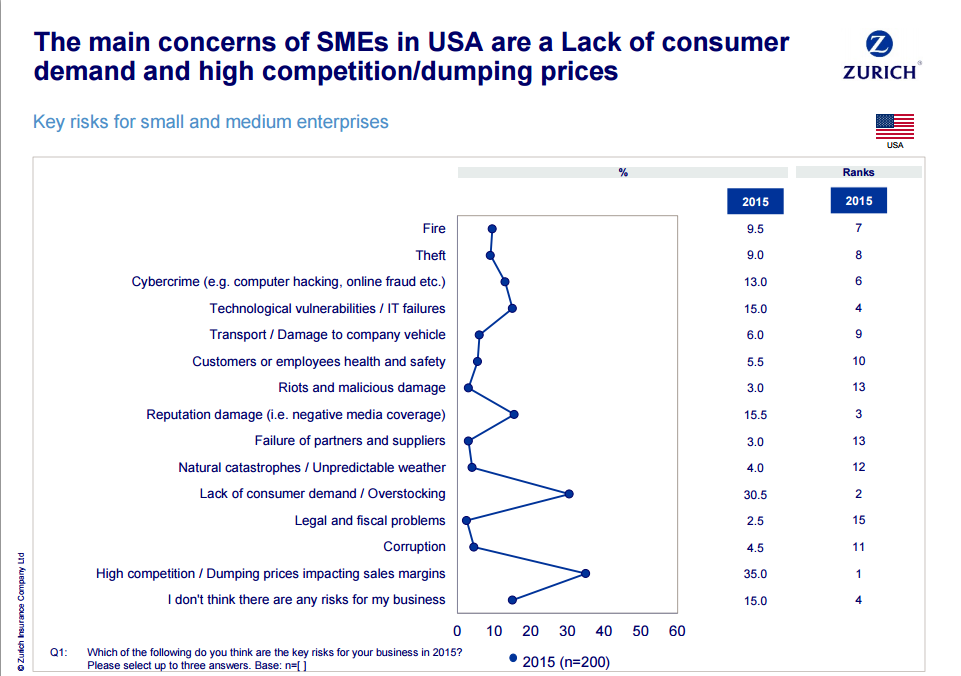 (Source: Zurich)
What worries businesses
On the risk side, SMEs in the U.S. identified their top concerns to be "high competition" (35%) and "a lack of consumer demand" (30.5%), on par with the rest of the world.
Despite this correlation, of the 14 potential business risks surveyed, the U.S. ranked "technological vulnerabilities" (15%) and "cybercrime" (13%) highest of all the regions.
"Given that U.S. SMEs view new sales channels, such as online trading, as one of the key opportunities for growth, it stands to reason that they would weigh tech and cyber-related concerns more heavily than other regions," said Craig Fundum, president of commercial markets at Zurich Insurance Group. By comparison, Asia-Pacific rated natural catastrophes and unpredictable weather as a key business risk and in Latin America, fire was cited as a top concern.
This is the third year Zurich has surveyed SMEs from around the world.
To view the results of the survey:
Related: Zurich released 5th annual Advisen cyber risk survey