Charity works in a number of ways, and I recently had the chance to see an inspiring example of how it works for families still trying to get back home in New York at the three-year anniversary of Superstorm Sandy.
Volunteers from Zurich Insurance teamed with the St. Bernard Project on yet another home-rebuilding project along the East Coast.
24-hour build
As I left my New York hotel and started my drive to the house for the 24-hour build, I noticed a lot of the streets in the Rockaways were flooded from the rain earlier that morning and the night before. I thought about the current conditions and what it must be like for residents when a major storm comes through and wreaks havoc on the community.
I arrived at the home and felt the excitement among the participants. Our Zurich volunteers were ready to get started as many of them have been on a St. Bernard Project build before. Zurich has continued to support the nonprofit organization in rebuilding disaster-affected communities nationwide. We all made name tags and did introductions. The site supervisors gave us their bios and a little more information about St. Bernard Project and their builds in progress across the United States.
Special trip from Illinois to New York to help
Then, we got to work. Almost everyone started out doing some sanding. I grabbed a ladder and began working on the front ceiling and walls. The site supervisors were good about explaining where to go and what to do. As we performed our assigned tasks, we chatted among ourselves and got to know each other. As I had flown in from Illinois, I didn't know our company volunteers very well. So, I introduced myself, asked about their role at Zurich, and was always able to find a connection we both knew.
After sanding, we all moved on to mudding. Some were learning this skill for the first time and others were seasoned volunteers. It was uplifting to see people taking the task seriously and wanting to do the best job possible for the family. We worked on other tasks throughout the day, and I was exhausted at the end. At the close of our shift, we cleaned up and got the site ready for the next round of volunteers who would work on the house from 5-11 p.m. Unfortunately, it continued to rain all night.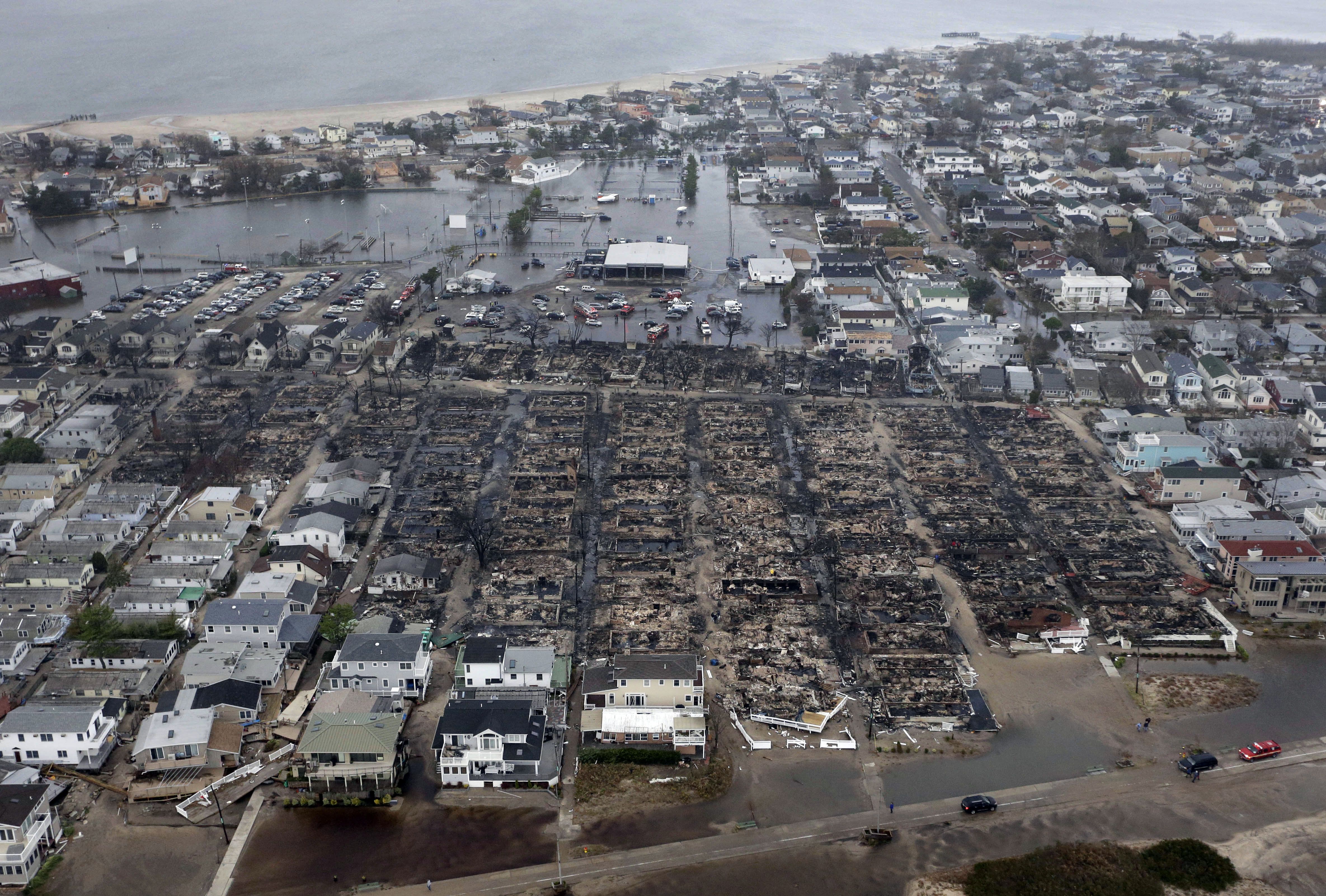 This aerial photo shows burned-out homes in the Breezy Point section of the Queens borough New York after a fire on Tuesday, Oct. 30, 2012. The tiny beachfront neighborhood, told to evacuate before Sandy hit New York, burned down as it was inundated by floodwaters, transforming a quaint corner of the Rockaways into a smoke-filled debris field. (Photo: Mike Groll/AP Photo)
Amazing progress overnight
When I headed back to the site at about 5 a.m. for the final shift of volunteers, it was amazing to see all of the progress that occurred overnight. A good portion of the mudding and taping was done, and this final shift would finish it off. I walked through the house and was so inspired by all of the hard work completed in the past 12 hours. All these people worked through the night, voluntarily, to help move the homeowner closer to the point of being in her home. Everyone exhibited such dedication and passion to get the job done.
While it was 5 a.m. and most were tired from having to get up so early, we knew we were nearing the finish line of the 24-hour build. The group was ready to go. There was still more mudding to be done as well as some framing. The rain let up and we were hoping for a better weather day, but we all remained inside again and focused our efforts there.
As we approached the end of the fourth shift on the morning of Sandy's anniversary, members of the media arrived and the homeowner was there for some interviews and photos. I heard her speak about the tragic events from three years ago and how the community was just frozen. People wouldn't leave their homes because of the looting, but at home they lacked utilities.
Homeowner gratitude
As I listened to the homeowner, you could hear the gratitude in her voice for the work of St. Bernard Project and all the volunteers. She still lives upstairs and comes down once in a while to see the progress on the ground floor. St. Bernard Project is hoping to bring the homeowner fully "home" by the end of 2015.
As we completed the round-the-clock build, another group of volunteers was arriving to continue the rebuilding efforts. This group has been coming every Thursday and was excited to see all of the progress made in the past day.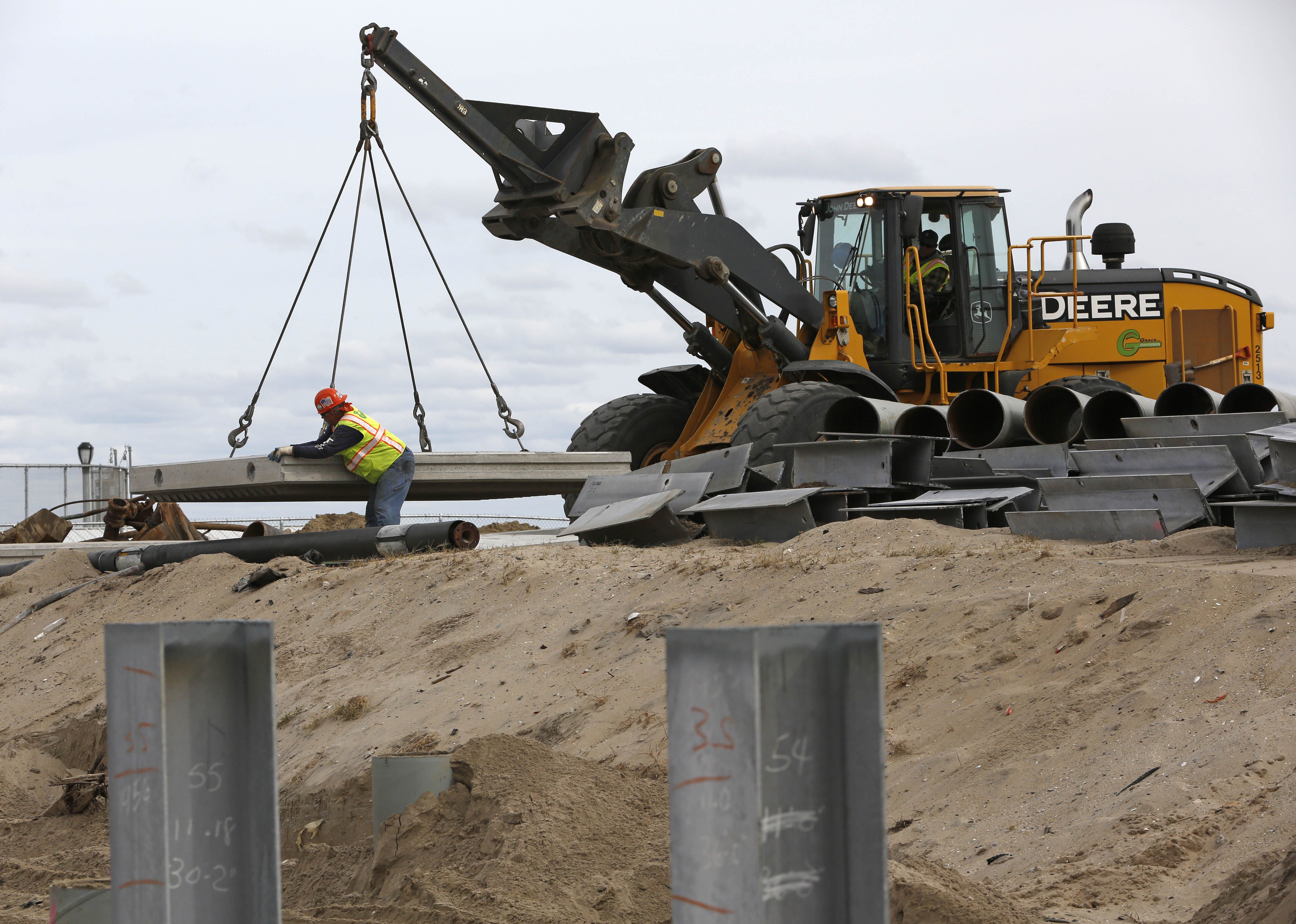 A worker stabilizes a pre-cast concrete slab while a co-worker uses a crane to position it on a berm as construction continues on replacement portions of the Rockaway Beach boardwalk Tuesday, Oct. 27, 2015, in New York, before the third anniversary of Superstorm Sandy. Since the storm, more than $140 million has been invested to repair and restore damaged areas of Rockaway Beach, including the boardwalk, beach buildings, and to construct new facilities for the public. (Photo: Kathy Willens/AP Photo)
Volunteering and building with St. Bernard Project has been such a great experience and truly rewarding on many levels. Zurich volunteers have contributed on a monthly basis for the past three years. The most amazing part for me is meeting the homeowners. In the midst of the events they have endured, they have remained brave and continue to push forward. To bring them home is more than rebuilding a structure. It's restoring a place where family and friends can safely gather and enjoy each other's company.
Helping post-disaster
After a major storm, we hear about all of the displaced families and see the news stories. But when you are there and talk to them in person, it's different. It's real.
Seeing organizations like St. Bernard Project step up and help post-disaster for years at a time is the true meaning of being there for the community. Zurich is proud of our work with them to bring more families home and to show how charity really works.
We also have been working with St. Bernard Project on disaster preparedness. We want to build resilience in communities and get ahead of these severe storms – for people to be prepared enough to stay safe, mitigate damage, and resume daily activities shortly afterward. As St. Bernard Project always says, their mission is to be out of business. Let's keep working to that end.
Jenae O'Neil is program manager in community investment at Zurich North America.