To achieve exceptional success and sustained growth, an agency must commit to establishing formal processes for producer development and sales management. In NU's October issue, Part 1 of this column described and outlined producer development. This month, I show how to create and manage an in-house sales management process using everyday activities, new business revenue provided by your agency system, and the goals set in a producer's individual annual sales plan.
Sales management
This is the key to producer development and continued agency growth. As agency founder and CEO, I took on this critical role even as I had executive and personal sales responsibilities. It isn't easy, and producers, especially the really good ones, are not always simple to manage. While the sales manager is often an agency principal, the role can also be successfully filled by an executive with good management, organizational and, most importantly, great people skills. The primary responsibilities of the sales manager and sales management should include:
Creating the annual sales plan based on the agency's annual business plan

Working with each producer to develop their individual annual sales plan and establish those activities that will keep them focused to achieve their goals

Meeting monthly with new and intermediate producers and quarterly with all others

Reporting results to the CEO monthly

Monitoring and evaluating the producer activities and sales production monthly

Scheduling monthly sales meetings, which are mandatory for all producers, a customer service rep from each department and someone from operations

Making decisions on periodic sales contests by line of business, by product, by a/c rounding or other criteria

Distributing awards and recognition based on achieving specific goals, for example, total sales, growth percentage, number of new clients or percentage of goals achieved, at the last sales meeting of the year

Being involved with all aspects of hiring and termination of producers

Overseeing the agency's producer agreement, which should be composed of three sections:

Employment agreement

Compensation

Vesting and termination provisions.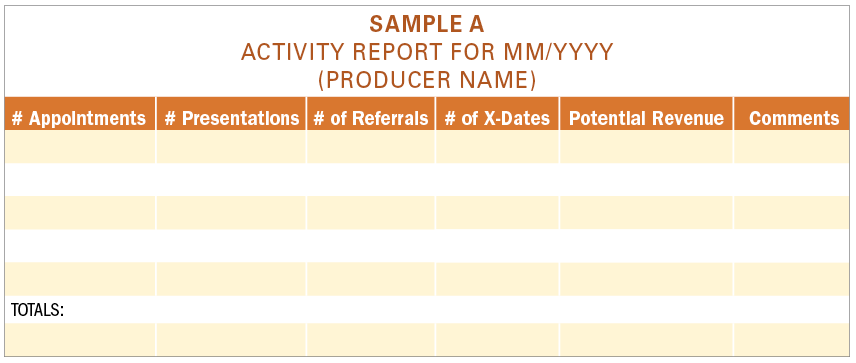 The three key ingredients of activities, sales and individual producer goals must be managed routinely on a monthly and annual basis by the agency sales manager and reviewed monthly with each producer. No exceptions.
The tools shown here (click on each one to enlarge) were used with great success in our agency for many years — and while these samples were designed primarily for new and intermediate producers, you can easily modify them as needed for more senior and even veteran producers. These tools can be easily created in Microsoft Excel or Word, with no significant investment in technology or software required. Their simplicity makes them easy to use, and every producer has a clear understanding of expectations.
It's never too late to create producer development and sales management processes tailored to your individual agency. You will be amazed at how quickly the results will come and how receptive your producers will be at the prospect of becoming killer salespeople!
Barry Seigerman founded the Seigerman Agency, a full-service, multi-line agency in 1975, and is now a producer for People's United Insurance Agency. Contact him at bmseigerman@gmail.com.