Livegenic and Insurity were named the winners of the Association for Cooperative Operations Research and Development's 2015 Insurance Innovation Challenge during the ACORD 2015 Conference in Boca Raton, Fla. last week.
Both winners received a prize package valued at $25,000.
This year, the nonprofit standards and data exchange company put together a competition to drive innovation, which Bill Hartnett, head of innovation at ACORD, calls a "business incubator, competition hybrid," similar to programs such as "Shark Tank" or TechCrunch Disrupt.
"ACORD was founded to drive efficiency," Hartnett says, "and these competitions — none had previously focused on insurance. This is a perfect fit for ACORD."
Related: Innovations with ACORD
Back in February, ACORD asked for companies to send in proposals. From more than 100 overall submissions, 48 companies passed through the first round and pitched their ideas at the ACORD office in Pearl River, N.Y., in the semifinals. Here, judges were allowed to provide feedback, Hartnett says. From these entries, judges named 12 finalists to pitch their ideas for top prize at the ACORD Insurance Innovation Challenge, held on Nov. 3rd and 4th.
In the finals, pitches were limited to seven minutes, and were made before four judges and a live audience. The judging panel was composed of industry analytics, entrepreneurs and thought leaders, and they graded each pitch on four criteria: ingenuity, impact, feasibility and applicability. Each judge's score — plus the collective score of the audience, who voted through the ACORD app — counted for 20%.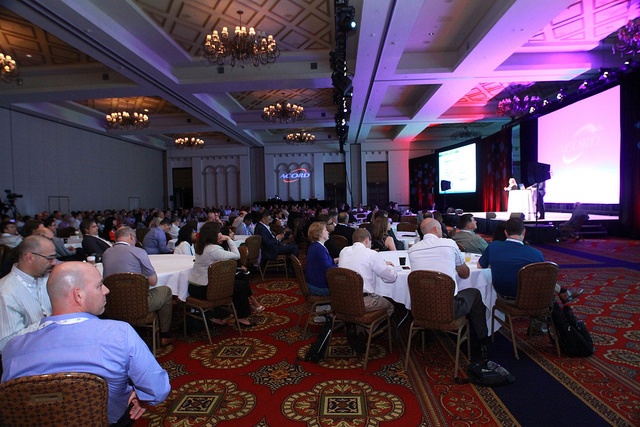 Tara Kelly, CEO of SPLICE Software, gives her pitch to judges and a live audience at the Innovation Challenge. (Photo: ACORD)
Disruptors
Livegenic competed in the challenge's "disruptors" division among five other finalists on Nov. 3. The company pitched its Real-Time Guidance for Claims software, which puts control over the insurance claim adjustment process into the hands of the claimant through the use of live audio and video, and claimant-provided photographs.
In his pitch, Alexi Polyakov, Livegenic's founder, pointed out that $44 billion is spent each year on loss adjustment expenses, which represents just under 10% of total claims costs. The industry "needs an effective way to gather information from the field," he said in his pitch. "The typical benchmark cycle time is seven to 14 days, but we figured out how to do it in seven to 14 hours."
Livegenic's solution uses live video, "so we can see what the customer sees, without disconnecting from the phone call." Polyakov points out that existing solutions are of conferencing nature, such as Skype or FaceTime. "But customer service is not about that. People pick up the phone call and dial an 800-number, so there is a need to deliver video on the fly."
When a customer calls his or her carrier to report a loss, the claims rep sends a text message to install the Livegenic app. Without disconnecting from the phone call, the customer installs the app and starts streamlining. The rep sees what the customer sees, and can give direction such as "step to the right," or "zoom in."
Polyakov said that Livegenic, a start-up, works with two of the top 10 P&C carriers.
The five other finalists who pitched at the ACORD conference were Intellect SEEC, which pitched a risk analysis data tool; Social Intelligence, for a tool that analyzes an insured's social media profiles for how they correspond to risk and underwriting; Splice software, for an inbound/outbound messaging systems that uses data and voice to respond to a client within 21 seconds; VRM Telematics, which pitched a connected car device that gives parents the ability to monitor and enforce good driving habits in teens; and Wallflower, for a connected home sensor that monitors unsafe stove situations, and which also sends alerts to the homeowner's smartphone.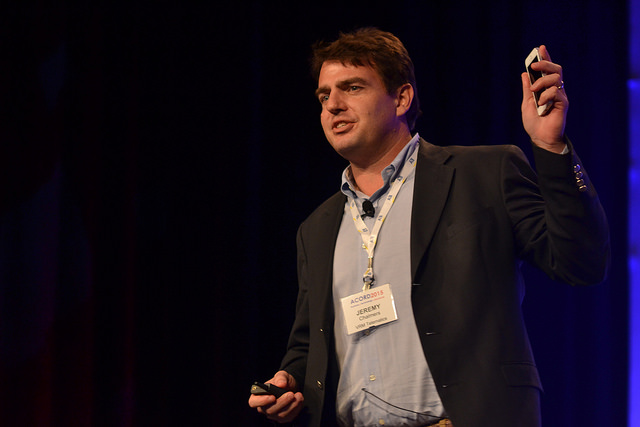 Jeremy Chalmers of VRM Telematics presents his pitch at the Innovation Challenge. (Photo: ACORD)
Innovators
Insurity was named the winner in ACORD's Innovators category. The company pitched its Insurance Enterprise View solution, which eliminates challenges inherent to the data conversion process.
"Every insurer refreshes its policy modernization and data projects," said Bruce Broussard, vice president of data products & strategy, in his pitch. "Traditionally these projects compete for priority and funding. IEV makes that choice unnecessary. It addresses both of those challenges in one product."
Broussard said that insurers face big challenges with transformation, particularly policy migration of all lines of business, historical data conversion and retiring the legacy system. Data analytics projects must grapple with integrating data from all sources, conforming data to an enterprise standard and making data consumable for all users. And in the end, "you end up not retiring the old [legacy] business system, and then you end up with both," he said.
IEV leverages ACORD standards and has data repositories to support more than 30 lines of business. "We connect those to the legacy system and IEV pushes it into the new policy administration system," Broussard said. Traditional policy line of business mapping and integration typically takes nine to 12 months, but the IEV solution reduces it to three to six months, he said.
The other five finalists who pitched before the judges and a live audience were Bolt Solutions, for its BEX product that streamlines book of business transfers; EZLynx, for its Retention Center that analyzes XML differences between current policies and those offered at renewal and uses predictive analytics to determine a customer's risk for nonrenewal; Haven Life, which offers an online sales experience to reach millennial life insurance customers; Isis Papyrus, which pitched a business platform to allow agents and carriers to define business processes on the fly; and Vertafore, for its Renewal Analytics, which automates policy remarketing to customers so agents can get ahead on renewals and pinpoint cross-selling opportunities.
2016 Innovation Challenge
The 2016 ACORD Insurance Innovation Challenge will expand to include regional competitions in San Francisco (March 2), in the Midwest (May 3), London (June, date TBD) and New York (Aug. 2).
Semi-finalists from each regional will pitch live at the ACORD 2016 event in November. For interested companies, application submissions can be found on the ACORD website.