The Council of Insurance Agents & Brokers (CIAB) released its third-quarter Commercial P&C Market Index Survey last week. The report showed a continued, though moderate, decline in commercial Property and Casualty rates across all account sizes and most lines.
This was consistent with the general trend of gradually declining rates observed since the first quarter of 2013, the Washington, D.C.-based council said.
Rates decreased across all lines by an average of 3.1%, with the largest decreases in large accounts at 4.1%, followed by medium-size accounts at 3.8%, and small accounts at 1.4%. This trend was consistent across most lines of business as well, with a few exceptions, including Commercial, Auto and Flood.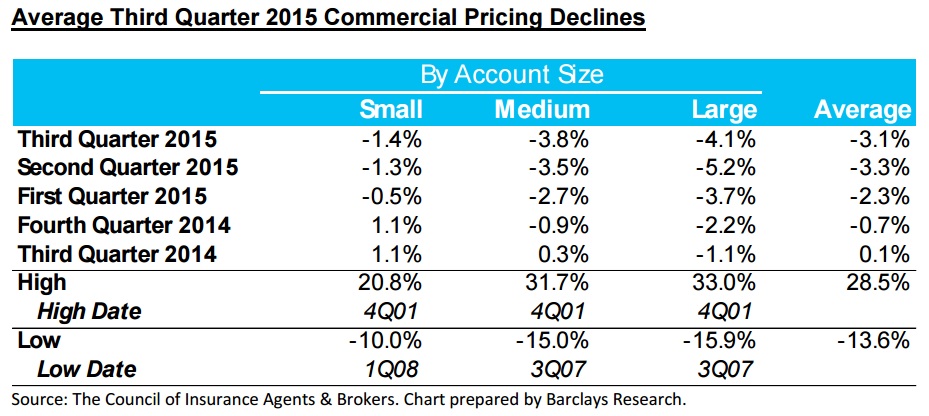 "We continued to hear from our members that this is a buyers' market," said Ken A. Crerar, the council's president and CEO. "Competition was fierce and carriers were willing to give on rate in order to retain good accounts."
Business Interruption, Commercial Property, General Liability, Umbrella, and Workers' Compensation were the lines brokers most often noted as having seen a decline in rates
"It was interesting to see Workers' Compensation rates decreasing, especially when there was concern by market observers that medical costs might rise and that health care costs could be shifted to Workers' Comp programs," Crerar said. "This trend is worth keeping an eye on."
While rates seemed stable, and competition was plentiful in the third quarter, there are still many factors the brokerage industry is keeping an eye on. "We heard from our brokers about the growing Cyber insurance market, consolidation in the industry, and attracting and retaining talent," Crerar said. "These are long-term, macro-level issues that have been percolating for years."