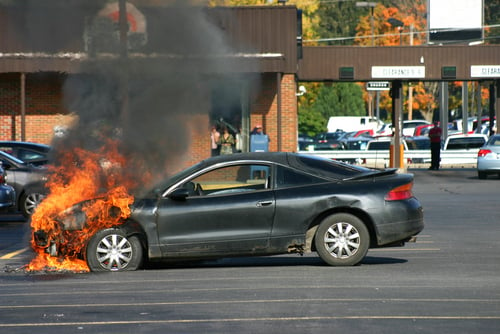 Maybe the third time will be the charm. It looks like more recalls are on the way for General Motors after two previous recalls failed to fix a fire risk for owners. GM will be recalling 1.4 million vehicles because 1,345 previously fixed vehicles caught fire after the repairs were made by dealers.
Most of the vehicles involved are models that are more than 10 years old. The issue involves an oil leak onto the manifold in the engine, usually occurring after hard breaking. Fortunately, 85% of the fires occurred after the engine had been shut off and no one was in the vehicle, said Alan Adler, GM's spokesman.
GM says that even owners who brought their vehicles in for previous repairs should return when notified. Owners were first alerted to the issue in 2007 and again in 2009. The letter sent in 2009 advised against parking the vehicle in any enclosed structures such as garages or car ports.
So far, GM says it is aware of 19 reports of injuries, but no one has been killed or involved in a crash because of the defect.
Models involved in the recall are:
1997-2004 Pontiac Grand Prix
2000-2004 Chevrolet Impala
1998-1999 Chevrolet Lumina
1998-2004 Chevrolet Monte Carlo
1998-1999 Oldsmobile Intrigue
1997-2004 Buick Regal
Owners of GM cars can contact the GM Recall Center for more details.
Fiat Chrysler recalls new Dodge Ram Pickups
Fiat Chrysler (FCA) is also voluntarily recalling some new pickups and SUVs. The 2015-2016 Dodge Ram pickup is being recalled because the company that supplied the axle shafts may not have properly heated treated them, which could cause increased wear and overheating, causing the vehicle's Anti-lock Brake System (ABS) warning light to illuminate and leading to component fracture and possible wheel separation if left unrepaired. Approximately 66, 760 trucks are affected by the recall. Any owners affected will be contacted by the manufacturer, but it primarily involves vehicles produced between mid-June and late September 2015.
The recall follows the company's $105 million penalty imposed in July by the National Highway Traffic Safety Administration for its failures involving 23 recalls and 11 million vehicles. Rodney Slater, a former U.S. Transportation Secretary under President Bill Clinton, has been selected to provide independent oversight of FCA's safety performance for the next three years.