Any drug—whether illegal, filled by a prescription, or over-the-counter—can impair a person's ability to safely operate a vehicle, and a new study from the Governors Highway Safety Association (GHSA) and the Foundation for Advancing Alcohol Responsibility has found that drugged driving is increasing while drunk driving is declining.
The percentage of fatally-injured drivers testing positive for drugs—40%—is almost the same as those testing positive for any alcohol. And the most recent roadside survey by the National Highway Traffic Safety Administration (NHTSA) found that 22% of drivers tested positive for some drug or medication.
Increased pressure on lawmakers to address drug-impaired driving
Both states and the federal government are under increased pressure to address drug-impaired driving. More permissive marijuana laws (now legal for medical use in 23 states, plus Washington, D.C., and for recreational use in 4 states and D.C.) and an increase in prescription drug use has led to calls for legislatures, law enforcement, and highway safety experts to take action to address the safety issues and costs of drug-impaired driving.
"Every state must take steps to reduce drug-impaired driving, regardless of the legal status of marijuana," said Jonathan Adkins, executive director of GHSA. "We look to the federal government to take a leadership role in this issue similar to that of drunk driving and seat belt use."
Related: Don't toke and drive: Marijuana-related accidents remain a hazy subject for insurers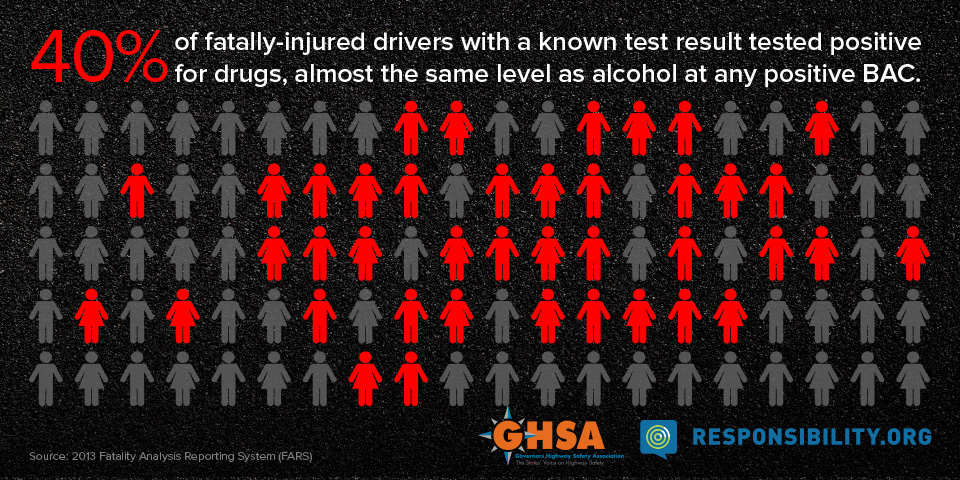 (Source: GHSA.org)
The GHSA study made the following conclusions about drug presence in drivers:
Marijuana is by far the most common drug that is used, found in roadside surveys, and found in fatally-injured drivers. Marijuana use by drivers likely increases after a state permits recreational marijuana use.
About 20% of young adults aged 18-25 and about 6% of adults aged 26 and above use illegal drugs or marijuana at least monthly. In comparison, over 50% of each age group drink alcohol at least monthly.
About 12-15% of drivers in NHTSA's 2013-14 roadside survey tested positive for some illegal drug or marijuana, substantially more than tested positive for alcohol.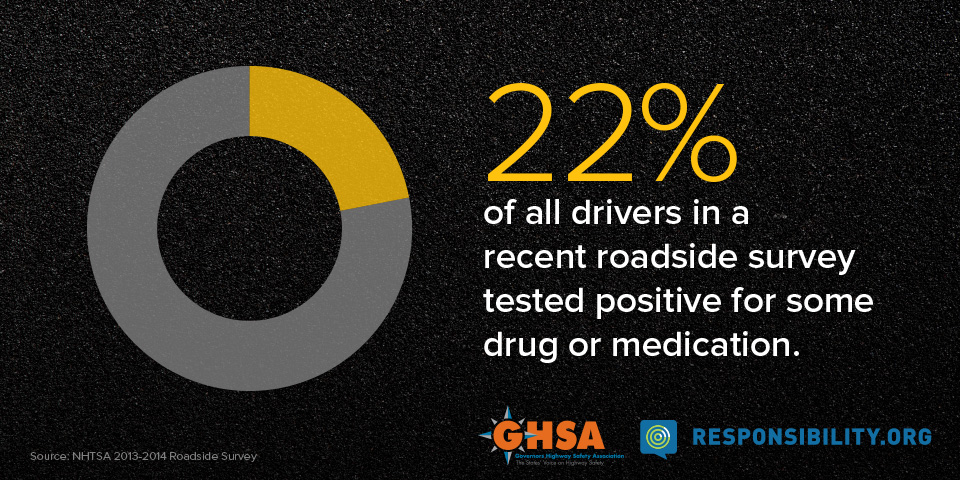 (Source: GHSA.org)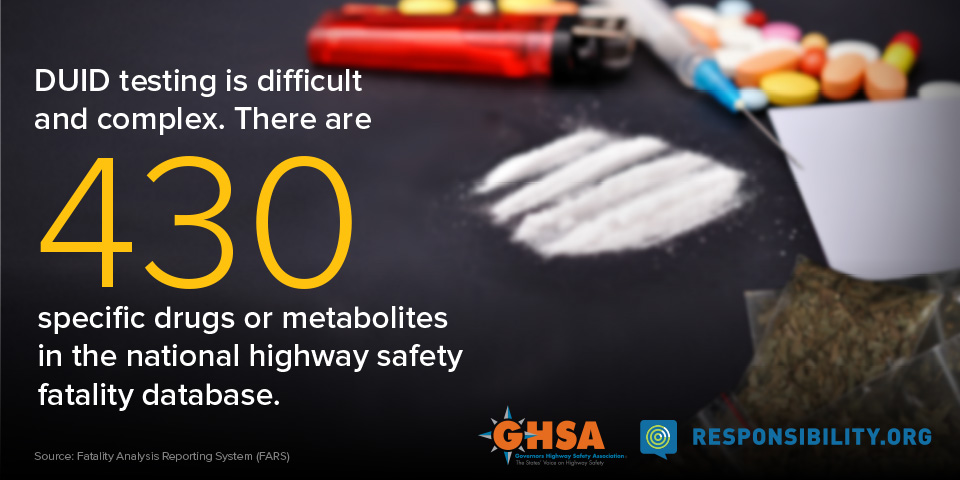 (Source: GHSA.org
Drug-impaired driving is more complex than alcohol-impaired driving for many reasons. Not only are there hundreds of different drugs that can impair drivers (there are 430 specific drugs or metabolites in the national highway safety fatality database), some drugs that can impair driving are illegal to use, some are legal to use under certain conditions, and some are freely available over-the-counter.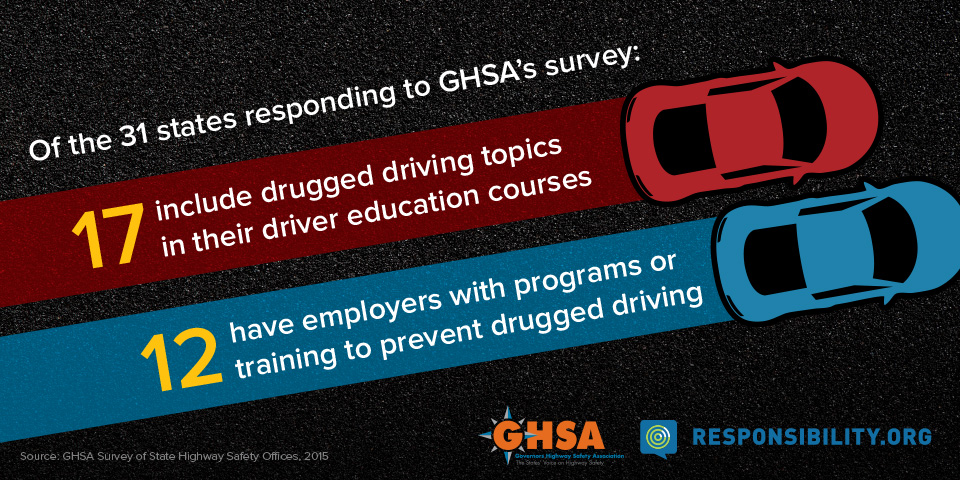 (Source: GHSA.org)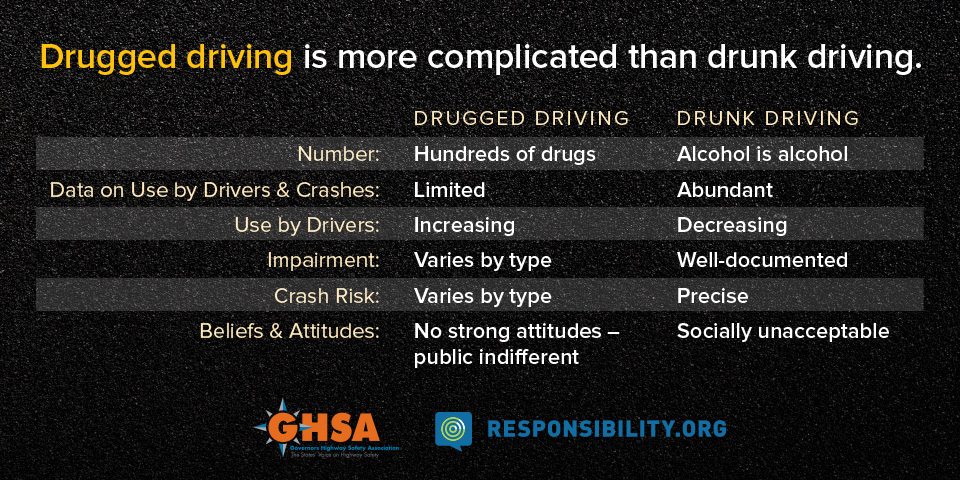 (Source: GHSA.org)
It's more difficult for law enforcement to detect drug impairment at the roadside than alcohol impairment. And laws regarding driving while under the influence of drugs (DUID) vary across the country.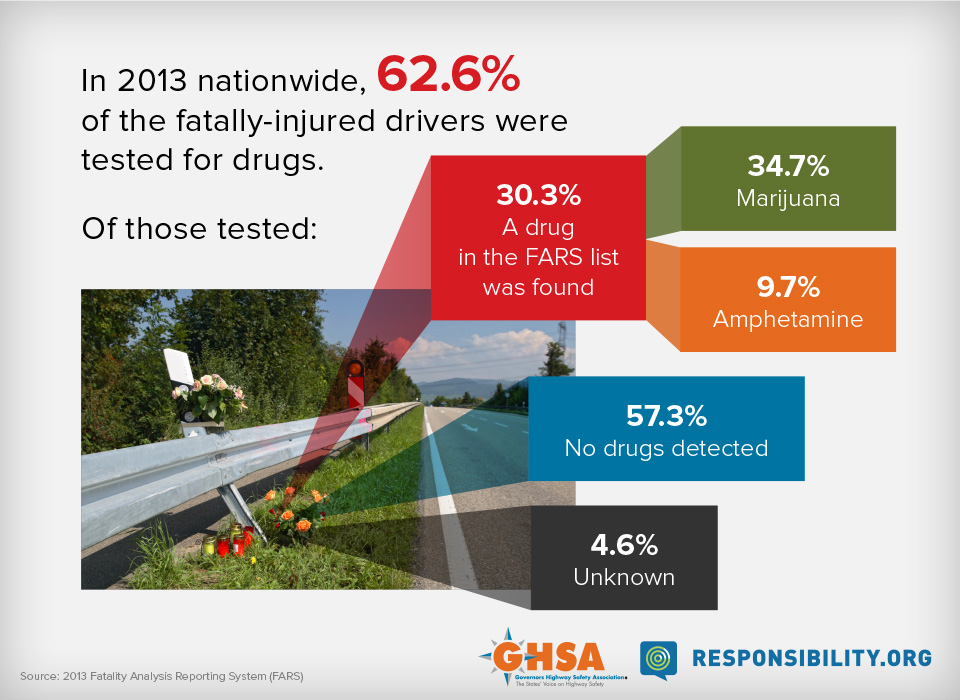 (Source: GHSA.org)
Conclusions about drugs and crash risks:
Any drug may increase a driver's crash risk.
The effect of any drug varies substantially between drivers.
The effect of any drug increases as its concentration increases.
Most illegal drugs and marijuana may at least double a driver's crash risk.
Some individual drugs, multiple drugs, and drugs combined with alcohol increase crash risk substantially.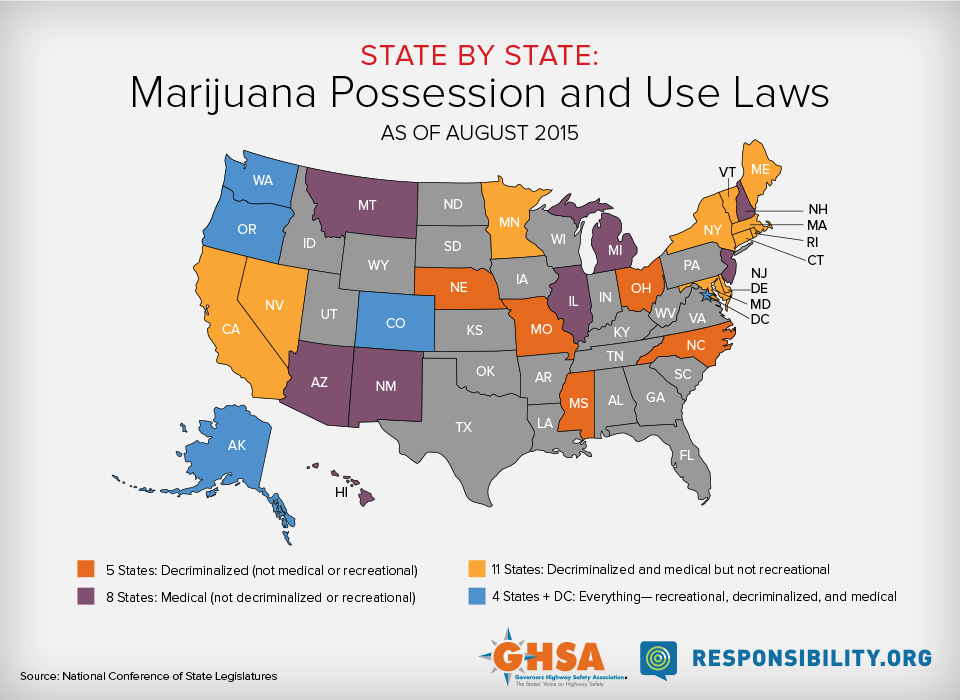 (Source: GHSA.org)
The full report is available at Drug-Impaired Driving: A Guide For What States Can Do.