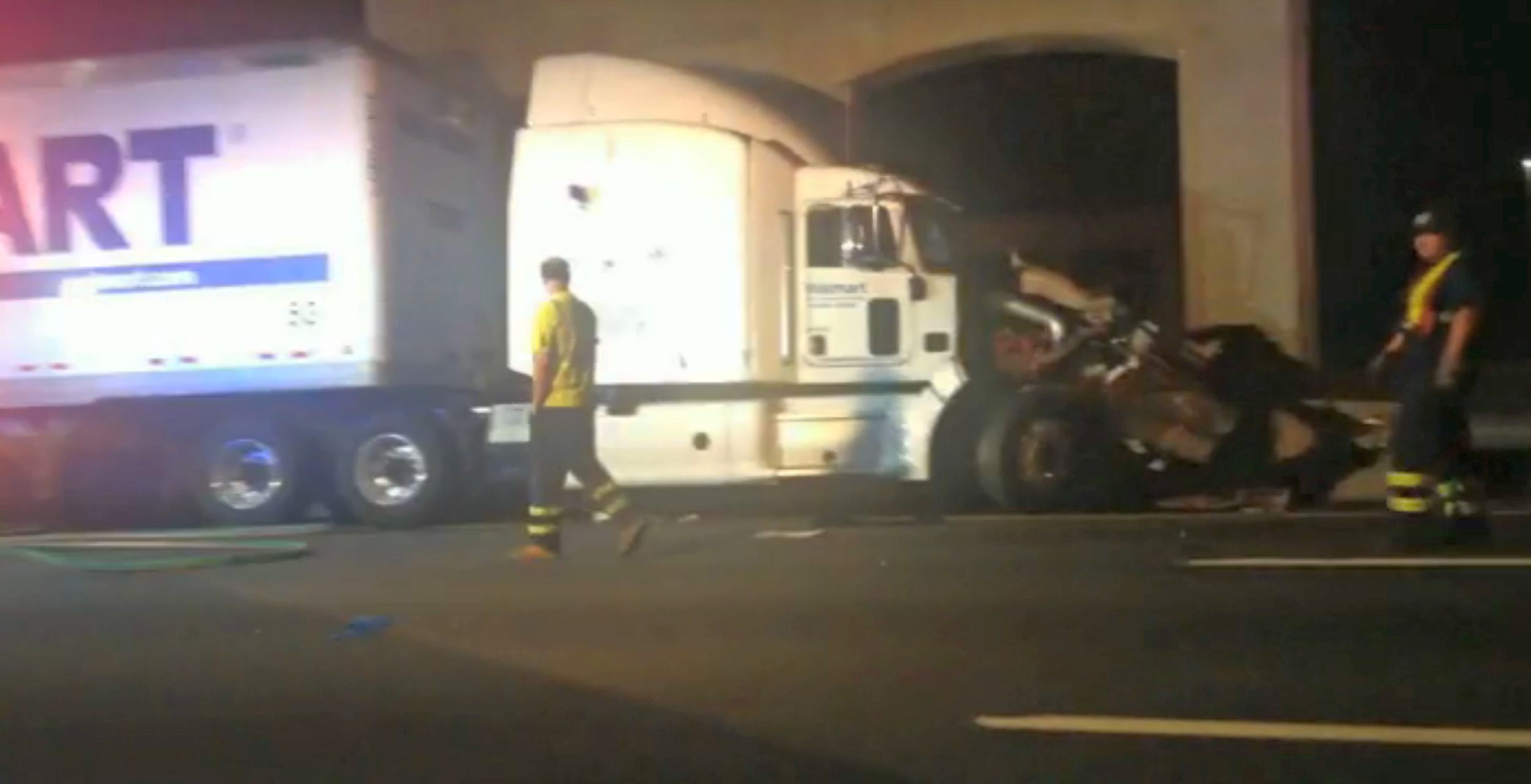 (Bloomberg) — A Wal-Mart Stores Inc. driver hit a limo van carrying comic Tracy Morgan last year because he was so fatigued he didn't notice traffic had slowed ahead of him, U.S. investigators found Tuesday.
The National Transportation Safety Board concluded that Wal-Mart could have done a better job of educating its drivers about the need for sleep. The driver had been awake for 28 hours and worked almost 14 hours at the time of the accident, the investigation found.
The Morgan crash sparked a national debate on truck safety, shining a spotlight on one of the most deadly highway-safety issues. The structure of rules designed to limit fatigue has been intensely debated in Congress. Meanwhile, truck-related accidents kill nearly 4,000 people a year.
"Fatigue cannot be addressed solely by regulations," NTSB Chairman Christopher Hart said in a closing statement. "Strong hours-of-service rules are important. But they cannot govern what employees do on their own time."
Morgan, a former star on NBC's "Saturday Night Live" and "30 Rock," suffered multiple facial fractures, a shattered leg and a traumatic brain injury in the June 7, 2014, accident on the New Jersey Turnpike that caused him to be in a coma for two weeks. His friend, comedian James McNair, was killed.
Wal-Mart delivery
The men's limo van was almost stopped in traffic in a construction zone when it was struck by a tractor-trailer owned by Wal-Mart, the world's largest retailer.
There's a need for better markings at highway work zones for drivers, and injuries among passengers in the van were more severe because none of the occupants wore seat belts, the NTSB said in its probable cause findings released at a meeting in Washington.
"Heavy trucks are involved in nearly one in eight fatal crashes," Hart said. "This alone demands our attention. In work zones, such as the one in which this crash occurred, one in four fatal crashes involves a heavy truck."
The crash has similarities with other truck accidents and raises broader safety concerns, according to the NTSB. It is one of several high-profile accidents that triggered a national debate about truck safety.
The driver's judgment was impaired by his lack of sleep ahead of the crash. Not only was he nearing the 14-hour federal limit for on-duty time, he had only had four hours when he could have slept in the previous 33 hours, the safety board said.
Fatigue factors
That underscores the need for companies, drivers and their families to understand the factors that go into fatigue to ensure truckers are rested as they begin their shifts, Hart said.
"We recognize the rules regarding what you do on duty don't affect what you do off-duty," Hart said. "What the driver does off duty is critically important."
Wal-Mart in a statement following the hearing said it was "deeply sorry" that one of its trucks was involved in the crash and had made changes to improve its safety program, noting its fleet is recognized in the industry as one of the safest in the country.
The NTSB said in January that highway regulators had failed to act on more than 100 trucking-related policy recommendations while fatalities have risen the past four years.
The truck would have stopped in time to prevent the accident if it hadn't been speeding in the work zone, NTSB investigator David Rayburn said. The calculation was made based on when the brakes were applied.
Estimated speed
Investigators estimated it was traveling at 65 miles per hour in an area that was temporarily limited to 45 mph.
The Wal-Mart driver, Kevin Roper, missed numerous cues indicating that cars were slowed ahead and the speed limit was lowered, according to investigators. The slowed cars were visible for a half mile ahead, NTSB investigator Dennis Collins said.
These are indications that the driver was fatigued, Collins said. The accident occurred at 1 a.m., when the human body craves sleep, he said.
Roper was nearing the end of a 14-hour shift, the maximum allowed, when he struck the van, according to the NTSB. He has pleaded not guilty to death by auto and other charges.
Investigators were puzzled about why he accepted the final load on his shift because he probably wouldn't have made it to his destination before reaching the maximum hours he could legally work.
Sleeping time
Wal-Mart would have allowed him to rest and even paid him for sleeping time, which meant he would have earned more money had he declined, investigator Michael Fox said.
"It really makes no sense at all why this driver accepted this last load," NTSB board member Robert Sumwalt said.
He had commuted about 800 miles (1,300 kilometers) from his home in Jonesboro, Georgia, to Smyrna, Delaware, before beginning his shift, according to NTSB.
Wal-Mart said in its statement it had implemented additional training and education for drivers to reinforce their responsibility to make sure they are fit to drive. It is also in the process of implementing a comprehensive fatigue management plan that takes into account drivers' commutes.
They must now live within 250 miles of where they work or arrive 9 hours in advance of their shifts so they can get adequate rest, according to the company's website.
The safety board has also asked the Federal Motor Carrier Safety Administration to mandate such programs for trucking companies.
Civil lawsuit
Morgan in May settled a civil lawsuit for an undisclosed amount after claiming Wal-Mart was negligent. The Bentonville, Arkansas-based retailer apologized for its involvement in the crash and said it was "committed to doing what's right" to all involved.
The NTSB also found issues with poor emergency response, which prompted a delay in taking victims to a local hospital. It took emergency workers 37 minutes to get the van's occupants out, according to the NTSB.
Some of the injured were moved without appropriate precautions and training was inadequate, investigator Thomas Barth said.
New Jersey has no minimum requirement for emergency responder training and certification, Barth said. Sumwalt said a cosmetologist in New Jersey has to have more training than an emergency worker.
Seat belts
None of the passengers in Morgan's van wore seat belts, which may have contributed to the severity of the injuries, according to the NTSB. The van's driver also wasn't belted in, the investigation concluded.
That increased the severity of the injuries, investigators concluded.
The NTSB has investigated numerous accidents in which occupants of buses, vans and limousines haven't worn seatbelts. The safety board recommended that passengers on these vehicles get pre-trip safety reminders to buckle up.
"Seat belts save lives, no matter what type of vehicle we are in and no matter who is driving," Hart said.
–With assistance from Shannon Pettypiece in New York and David Voreacos in federal court in Newark, New Jersey,.