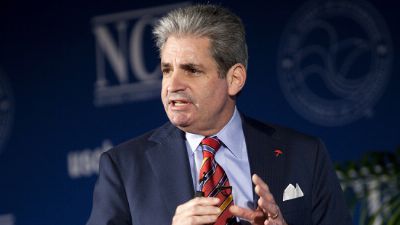 (Bloomberg) — Jay Fishman, who engineered the merger between St. Paul Cos. and Travelers Property Casualty Corp. then steered the insurer through the financial crisis and into the Dow Jones Industrial Average, is stepping down as chief executive officer because of his health.
"It appears likely that I am dealing with a variant of Amyotrophic Lateral Sclerosis, or ALS," Fishman, 62, said in a letter to staff.
Alan Schnitzer, 49, who leads the unit selling business and international insurance, New York-based Travelers Cos.' largest segment, will become CEO Dec. 1, Travelers said Tuesday in a statement.
[Related: Travelers profit climbs 19% to $812 million, beats estimates]
Fishman said in November that he'd been diagnosed with a neuromuscular condition and later said he made the disclosure to provide clarity to people around him who had noticed that "something was amiss." He didn't name the specific illness in the conference call.
"The board and I agree that it is the right time to appoint a new leader," Fishman, 62, said in the statement. "While the physical symptoms of my neuromuscular condition continue to progress, I am committed to actively engage as our executive chairman and am pleased to continue supporting Alan and the rest of our outstanding senior team."
–With assistance from Jing Cao and Selina Wang in New York.