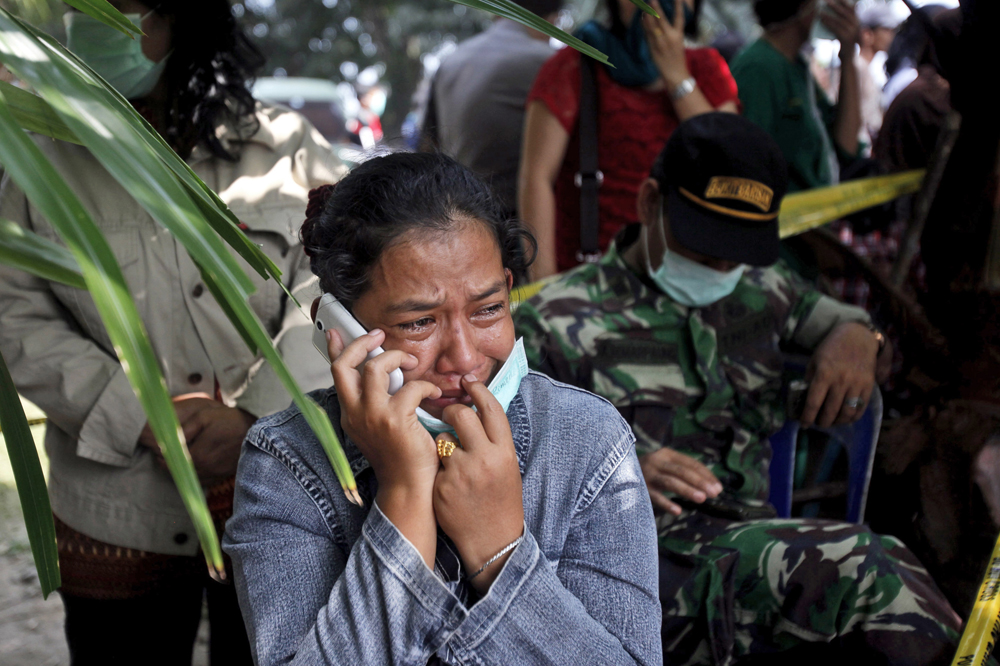 (Bloomberg) — An aging Indonesian military plane packed with families crashed after takeoff in a densely-populated area of Sumatra's biggest city, killing more than 140 people in the latest air disaster to beset the Southeast Asian nation.
The Lockheed C-130 Hercules was carrying 122 people including 12 crew and nine children, and none survived, news website Liputan6.com cited Air Force First Marshal Dwi Badarmanto as saying. The plane also hit buildings, smashing into a hotel. Bisnis reported that 142 bodies were retrieved from the site.
The Hercules, in operation since 1964, took off from the city of Medan on a routine flight. The pilot asked to return to base shortly afterward.
The crash raises fresh questions about the health and age of Indonesia's air force planes. President Joko Widodo has pledged to boost spending to replace outdated equipment as Indonesia faces the challenge of preserving maritime security along the world's largest archipelago, a string of more than 17,000 islands that would stretch almost from New York to London.
"Excessive takeoff weight will probably be one scenario that will be examined," said Ken Conboy, country manager at RMA Indonesia, a Jakarta-based risk management firm.
It is not uncommon for Indonesia's air force to transport family members, especially to more remote areas where there are fewer commercial flights or where people would otherwise have to travel by boat.
The Hercules was headed to Tanjung Pinang in the Riau island chain. It was carrying family members of the military heading to new postings, and it's possible distant family members were on board, said military spokesman Fuad Basya.
"This is Indonesia, family is important," he said by phone. "No one paid to get on board."
Two Minutes
The plane took off at 11.48 a.m. local time and fell out of the sky two minutes later, said Wisnu Darjono, a director at the state air navigation agency. It dropped onto the same road where a PT Mandala Airlines Boeing 737-200 crashed in 2005, killing 149 people.
Military personnel at the crash site were seen with firearms, grenades and rockets, MetroTV reported. Military spokesman Basya said the plane may have carried ammunition, but not explosives.
"The plane was very much fit to fly," he said. "Don't look at the age, look at flight time. We will be looking at everything, human error, mechanical issues and weather."
Lockheed Martin Corp. is ready to support the air force as it investigates the crash, company spokeswoman Stephanie Sonnenfeld Stinn said in an e-mail.
Maritime Vision
The crash is the latest deadly accident in Indonesia's dilapidated and poorly regulated transport network. An AirAsia Bhd. flight from Surabaya to Singapore fell into the Java Sea on Dec. 28, killing all 162 on board and leading the government to fire officials after finding airlines in breach of permits.
Widodo, known as Jokowi, has laid out an ambitious maritime vision that spans the development of the fishing industry, improved port infrastructure, stronger sea defenses and better diplomacy as Indonesia deals with illegal fishing, territorial disputes and piracy. Key to that is modernizing a military where spending has focused on the ground forces.
'Essential Tool'
"The C-130 is an essential tool in moving personnel and their families around the country," said Keith Loveard, head of risk analysis at security company Concord Consulting. "The fact this aircraft was made in 1964 says a lot about the long haul still needed to reach the military's Minimum Essential Force goal."
Indonesia's defense budget will rise at the fastest pace in the Asia-Pacific region over the next five years, according to a May report by IHS Inc. Spending will increase 17% this year to 97.4 trillion rupiah ($7.3 billion), it said.
The country will double its military budget if annual economic growth meets the government's target of 7% within three years, Bisnis Indonesia reported in May, citing Jokowi. The finance ministry expects the economy may grow 5.2% this year, below a budget target for 5.7%.
U.S. Sanctions
U.S. sanctions on Indonesia's military were lifted in 2005, allowing the resumption of arm sales. The U.S. in 2005 sent technicians and parts to Indonesia to help repair the C-130 fleet.
"There is no longer any embargo on the sale of spare parts, so that is no longer a valid excuse," Conboy said. "There have been a couple of recent air force mishaps, so I would imagine some questions will be raised about the age of airframes and the level of maintenance."
–With assistance from Herdaru Purnomo and Neil Chatterjee in Jakarta and Julie Johnsson in Chicago.