Business intelligence, big data, analytics—whatever buzz term you apply, there is huge value for insurance agencies and brokerages in the data that they collect from insureds.
The challenge—or the opportunity, as Kevin Smith, product manager for agency software provider Applied Systems points out—is managing, accessing and making sense of those numbers. "Collecting data is not a problem. The reason it is called 'big' data is because over time, the amount of data you have explodes exponentially. And it's difficult to handle."
Especially at insurance agencies and brokerages, where employees have top-notch service and relationship skills, but whose knowledge concerning statistical analysis may be lacking.
For agencies that use the management systems TAM and EPIC, Applied Systems offers a cloud-based solution that sorts real-time policy data into a graphical report in its service Applied PerformanceManagement (APM).
Whereas a typical report gives a static, backward view of accounts, APM analyzes multiple sources of raw data within the management systems. "Business intelligence allows you to discover, interact and ask additional questions—follow your nose, so to speak," says Michael Howe, senior vice president of product management.
APM provides a snapshot of activity within a current month, through its 36 key performance indicators and filtering options. Through a menu, users can select different dashboards that display employee activity, insurer summaries, new insureds or trends in specific lines of coverage, for example. Users can drill down further to examine the types of policies within each producer's book of business or examine carrier relationships by submissions, declined quotes and close ratios.
"We have access to all of that information in EPIC," says Ryan Headey, COO of Stratton Agency, a P&C firm based in San Carlos, Calif., that brings in $35 million in premium volume. "But we were going through several reports, which takes time, to pull it out. That's the beauty of APM and why we really like it. It gives us a much broader brush to see and quick access to the information."
"We can see which producers in our agency are creating premium volume and what lines of business we are growing," says James Marek, CEO of Stratton Agency, "Are we hot in Workers' Comp? Is Commercial Property going crazy? It helps us manage our agency on an ongoing basis."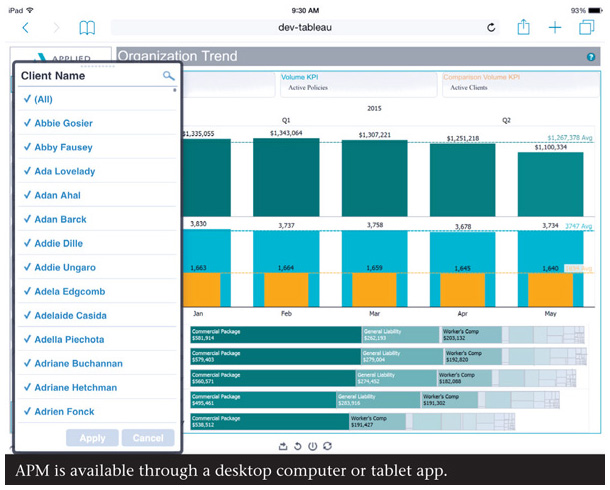 At Stratton Agency, which specializes in writing coverage for national pizza delivery programs, technology in the Bay Area, hospitality, home owners' associations and high-value personal lines, Marek and other agency executives not only use APM to manage the agency's six producers, but also its account managers. "That was one of the trends we realized after using this—the overall premium for our account managers was in the realm of what we thought, but after drilling down, we found out that some months were upside-down in terms of renewals," he adds.
APM breaks down year-over-year growth by policy types or ZIP code. Geography dashboards map business and clients based on their location, where identifying trends provides value. "Let's say that you lost 5% of your customers last year, and you want to make that 4% or 0% this year," Howe posits. "But if you have no insight into what is driving the customer to leave, you can't act on it. Now imagine you have that same set of data, but it's presented in a different way. You are looking at a map and you see that a bunch of customers in a particular ZIP code are leaving. Now you have the tools to find out why you are losing that customer."
Headey points out that APM was able to point out a glitch in the agency's group benefits workflow. "It helped us clean up our management system regarding how we were entering commissions for group benefits."