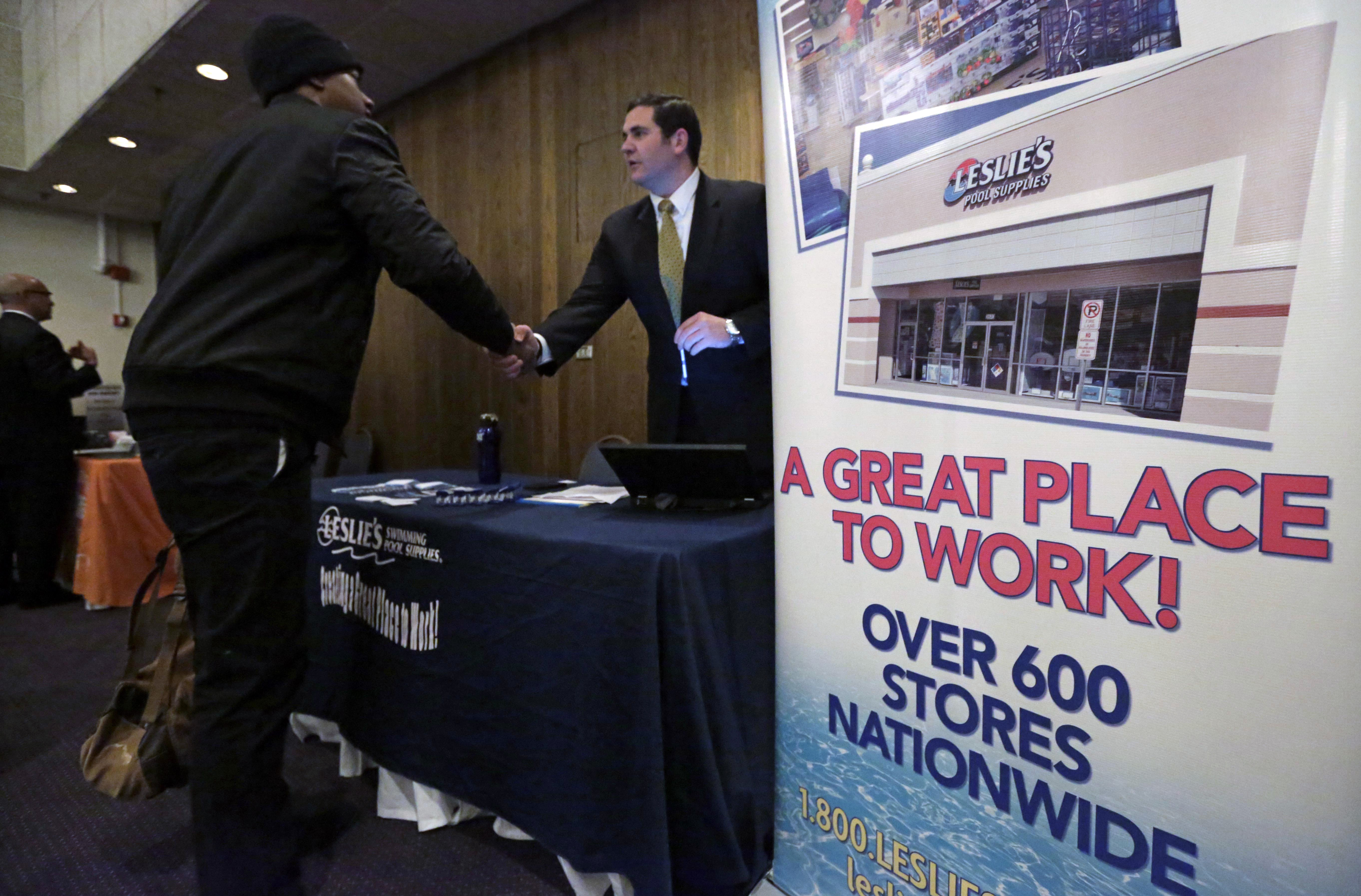 (Bloomberg) — Fewer Americans than forecast filed applications for unemployment benefits last week, pushing the average over the past month to the lowest level in 15 years and underscoring labor-market strength.
Jobless claims decreased by 1,000 to 264,000 in the seven days ended May 9, a Labor Department report showed Thursday in Washington. The median forecast of 53 economists surveyed by Bloomberg projected 273,000. The four-week average, a less- volatile measure, was the lowest since April 2000.
Fewer workers are being let go, a sign that demand for staffing remains robust and that a slowdown in economic growth was due to transitory factors, like bad weather and port disputes on the West Coast. Persistently low firings and greater employment gains should help wages pick up, supporting consumer spending.
"Labor-market conditions are quite firm," said Raymond Stone, managing director at Stone & McCarthy Research Associates in Princeton, New Jersey. "Typically, when you have low claims you have strong payroll numbers."
Another report from the Labor Department Thursday showed producer prices in the U.S. unexpectedly fell 0.4 percent in April from the prior month, depressed by declining profit margins at wholesalers and retailers.
Claims Survey
Jobless claims estimates in the Bloomberg survey of economists ranged from 260,000 to 285,000. The prior week's claims were unrevised at 265,000.
Stock-index futures held earlier gains after the reports. The contract on the Standard & Poor's 500 Index maturing in June rose 0.5 percent to 2,105.4 at 8:45 a.m. in New York.
The number of people continuing to receive jobless benefits held at 2.23 in the week ended May 2.
In that same period, the unemployment rate among people eligible for benefits held at 1.7 percent, where it's been since mid-March, the report showed.
Initial jobless claims reflect weekly firings and typically decrease before job growth can accelerate. Many layoffs now reflect company- or industry-specific causes, such as cost- cutting or business restructuring.
Capital One Financial Corp., the bank that generates more than half its revenue from credit cards, notified Texas authorities that it plans to cut 299 jobs in the Dallas area as it aims to consolidate call centers.
Job Cuts
The cuts are effective July 4, the Texas Workforce Commission said Monday in a statement. The majority are call- center positions for the firm's retail bank, said Julie Rakes, a spokeswoman for McLean, Virginia-based Capital One.
Federal Reserve Chair Janet Yellen and her colleagues are monitoring the labor market while also looking for signs of inflation as they consider the appropriate time to raise their benchmark interest rate from near zero.
Yellen has cited job market slack as one metric that needs to improve before action can be taken on rates. A Labor Department report Tuesday showed more employees quit in March than at any time since 2008. The data also showed a pickup in hiring was met by an even larger gain in firing.
Such churn is typical of a healthier job market where workers move on to better-paying opportunities and employers look to attract more-skilled staff.
Payrolls grew by 223,000 last month, and the unemployment rate fell to 5.4 percent from 5.5 percent in March, another Labor Department report showed last week. The increase in payrolls followed a revised 85,000 gain in March that was the smallest since June 2012.
Wage growth, which typically rises faster as the labor market tightens, remained limited, with average hourly earnings rising 0.1 percent in April after a revised 0.2 percent March gain that was weaker than initially reported. Compared with a year earlier, hourly pay was up 2.2 percent last month, holding within the narrow range tracked over the past four years.