(Bloomberg) — At least five people were killed Tuesday night, and dozens of others injured, when an Amtrak train headed to New York City derailed in Philadelphia, shutting down part of the busiest passenger rail corridor in the U.S.
Northeast Regional Train 188, which originated in Washington, went off the tracks about 9:30 p.m., sending more than 50 people to hospitals for treatment, according to the city's fire department. The cause wasn't immediately known.
An engine and seven cars careened off the tracks, according to Kevin Thompson, a spokesman for the Federal Railroad Administration. Three cars were resting on their sides and one almost on its roof. One car was perpendicular to the others.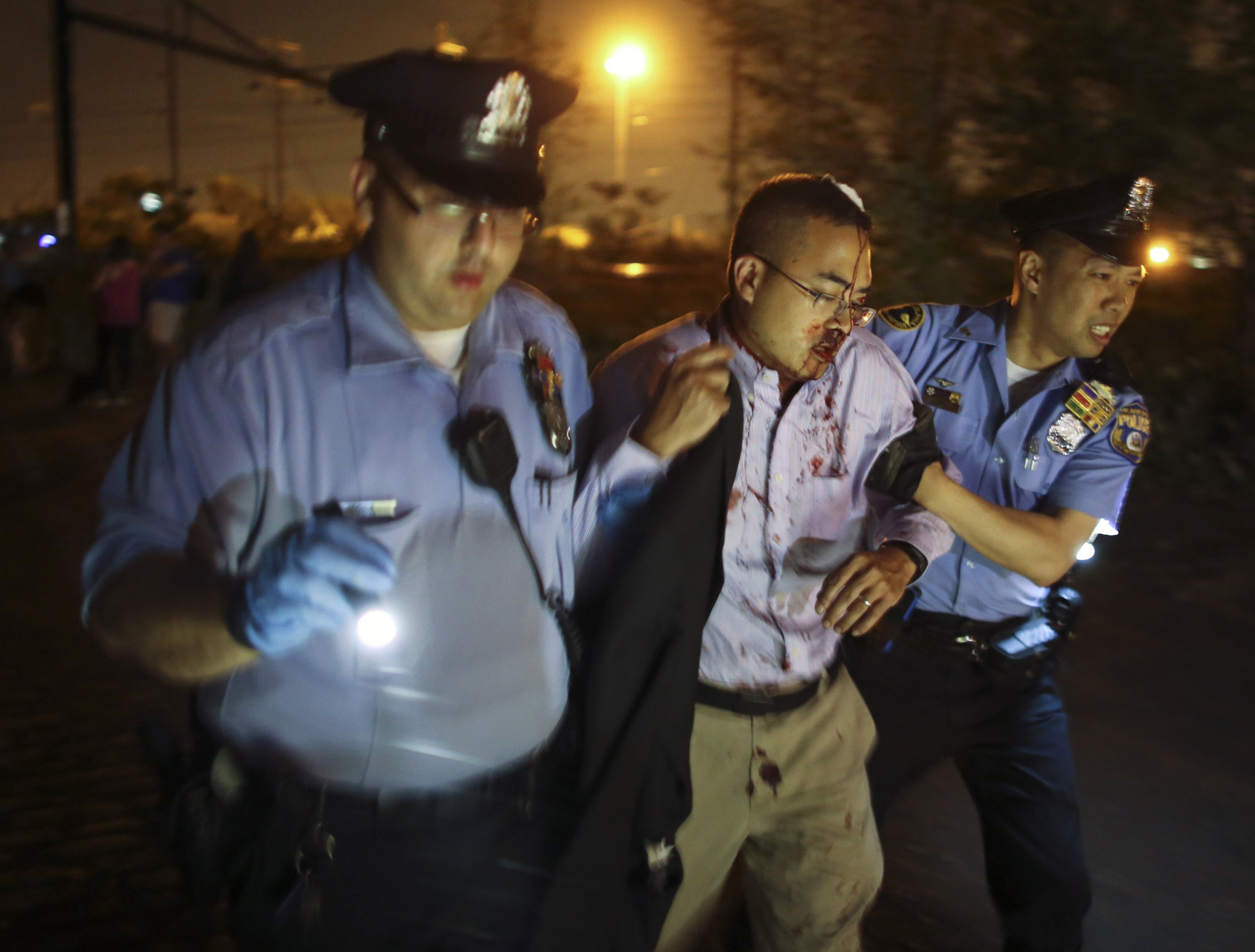 The wreck turned a Philadelphia neighborhood into a search and rescue zone, illuminated by flashlights and spotlights as rescue workers pulled the injured from cars and tried to determine whether other people remained trapped. Bloodied passengers could be seen hobbling from the wreckage.
Right: Emergency personnel help a passenger at the scene. (AP Photo/Joseph Kaczmarek)
The train, which derailed in the northeast section of Philadelphia, carried about 238 passengers and five crew, according to Amtrak.
Philadelphia Mayor Michael Nutter confirmed the dead at a news conference. "It is an absolute, disastrous mess," Nutter told reporters Tuesday night. "We do not know why this happened."
Passenger Traffic
Amtrak service between New York and Philadelphia is suspended, promising to send business travelers and commuters searching for other ways to get up and down the East Coast.
However, modified service will be provided on Wednesday between Washington and Philadelphia, Harrisburg and Philadelphia, and New York and Boston, according to an Amtrak statement. In addition, New Jersey Transit will honor Amtrak tickets between New York City and Trenton.
Ridership in the Northeast Corridor on regional and Acela trains between Washington and Boston rose to 11.6 million in the fiscal year that ended Sept. 30, up 3.3% from the prior year, according to the railroad.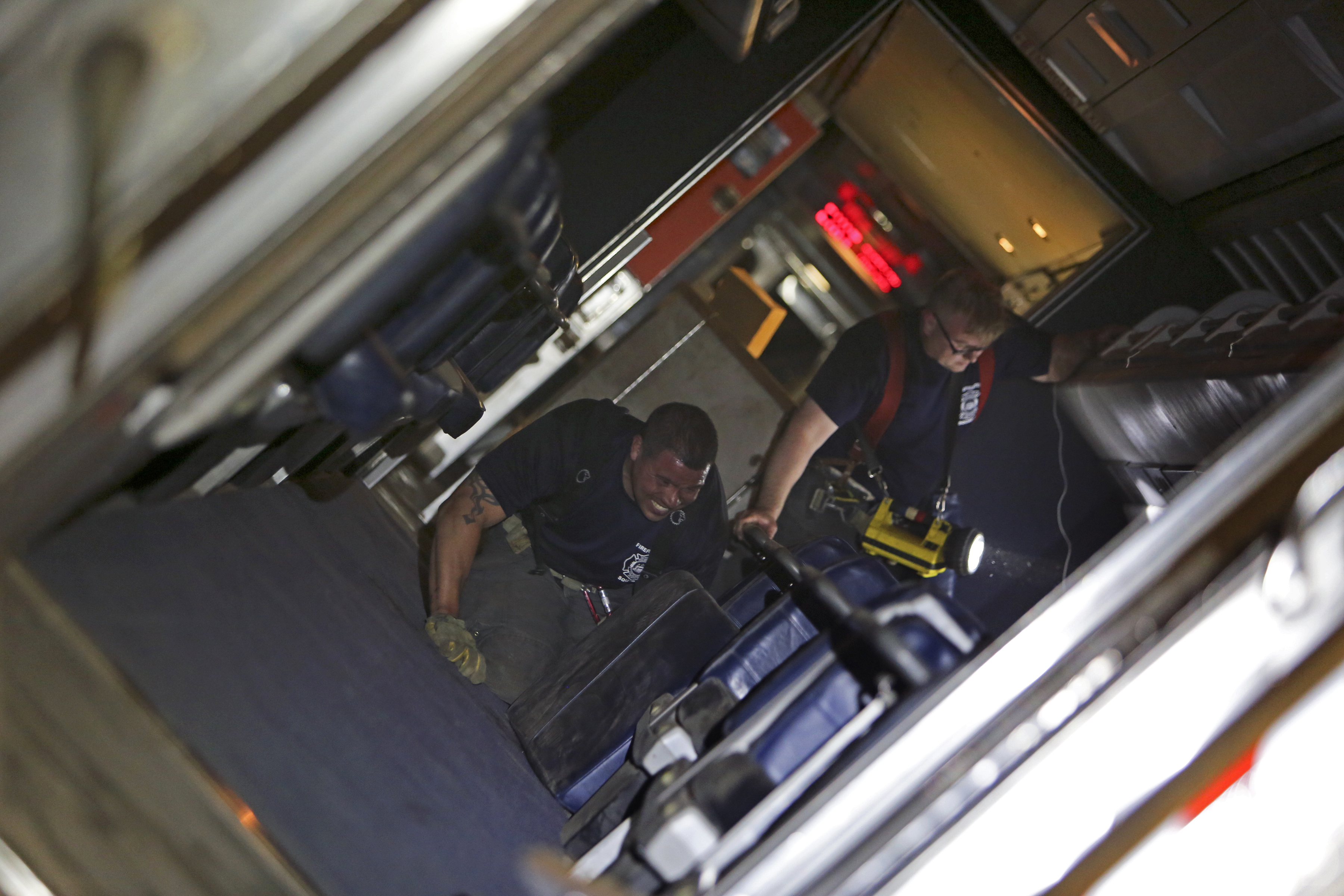 The derailment was in an area called Frankford Junction that has a large curve, according to the Associated Press. The AP reported that a 1943 derailment of the Congressional Limited, which killed 79, occurred nearby.
Left: Emergency personnel work to save passengers from the wreck. (AP Photo/Joseph Kaczmarek)
The National Transportation Safety Board is sending a team to investigate the accident, the agency said on Twitter. The team will arrive in the morning.
The Federal Railroad Administration sent a team of eight investigators and the agency's acting administrator, Sarah Feinberg, according to an agency statement.
The derailment was far from Amtrak's deadliest accident. In 1993, 47 people died and 103 were injured as rail cars careened off a bridge and into water near Mobile, Ala.
Tuesday's mishap occurred in Philadelphia's Frankford neighborhood in an area filled with industrial warehouses, auto mechanics and body shops.
'Big Flash'
Michelle Premaza, 33, who lives a quarter-mile away, said she was in her house when the crash occurred. She said she saw and heard the impact.
"I seen a big flash and heard rolling thunder," Premaza said. "It was crazy."
Another resident, Leslie Painter, 49, said she saw buses carrying victims away from the scene.
"This is scary," Painter said. "I've lived here my entire life and there's never been no accidents like this."
The AP reported that one of its managers, Paul Cheung, who was on the train, said it started to slow just before the derailment.
"Then suddenly you could see everything starting to shake," the AP quoted him saying. "You could see people's stuff flying over me."
Former Representative Patrick Murphy of Pennsylvania was aboard the train when it crashed and helped passengers out of the wreckage, according to messages and photos he posted on Twitter.
–With assistance from Romy Varghese in Philadelphia.