A CNN report earlier this year reported that some auto insurers had been coercing repair shops to use "cheap parts and sometimes dangerous practices" when repairing damaged vehicles. CNN gave examples of headlights held together by glue, dented rims and hoods that were allegedly falling apart and being used by some repair shops.
Since then, more than 500 garages in 36 states have filed a lawsuit against some well-known insurers, and the attorney general of Louisiana has filed a suit against State Farm saying its "low-cost repair program could be dangerous for customers" because their vehicles may not be roadworthy following the repairs.
Freedom of choice
The reality is that policyholders have the freedom to select any repair facility they choose. Since accidents happen infrequently, many policyholders are unsure of where to take their vehicles for service and will ask insurers to provide recommendations, but the final decision is always up to the insured.
State Farm does provide claimants with information about their Selective Service program and educates them on how to get the most out of their repair service. They explain how to find a reliable mechanic, a reputable shop and what to do before taking the vehicle in for repairs.
Carrie Bonney, director of media relations for Farmers Insurance Group, recommends that customers conduct online research of any repair facility being considered and check reviews from sites such as YELP, the Better Business Bureau, Angie's List and others. She also advised them to ask some questions up front such as:
Does your body shop meet specific quality, equipment, and performance requirements like I-CAR?
What is your commitment to outstanding customer service?"
Does your body shop offer a limited lifetime warranty?
Does it cover the parts and repairs for the time that I continue to own the vehicle?
How soon can I get my car in and will you work with my insurance company?
How will you keep me informed as to the progress of repairs?
Can you work with my insurance company to arrange a rental while my car is being repaired and will that car be there when I drop mine off?
"Today's repairer has many certifications it must meet to correctly repair the damaged vehicle," said Christopher Northup, CEO of Professional Parts Group. "A good first step is to make sure the repairer is I-CAR Gold Class approved." Only an estimated 10% of repair shops currently meet the rigorous Gold Class standards, but as more lightweight autos with high-tech safety systems enter the market, they will change the face of collision repairs and shops will need to be constantly updating their training and technology.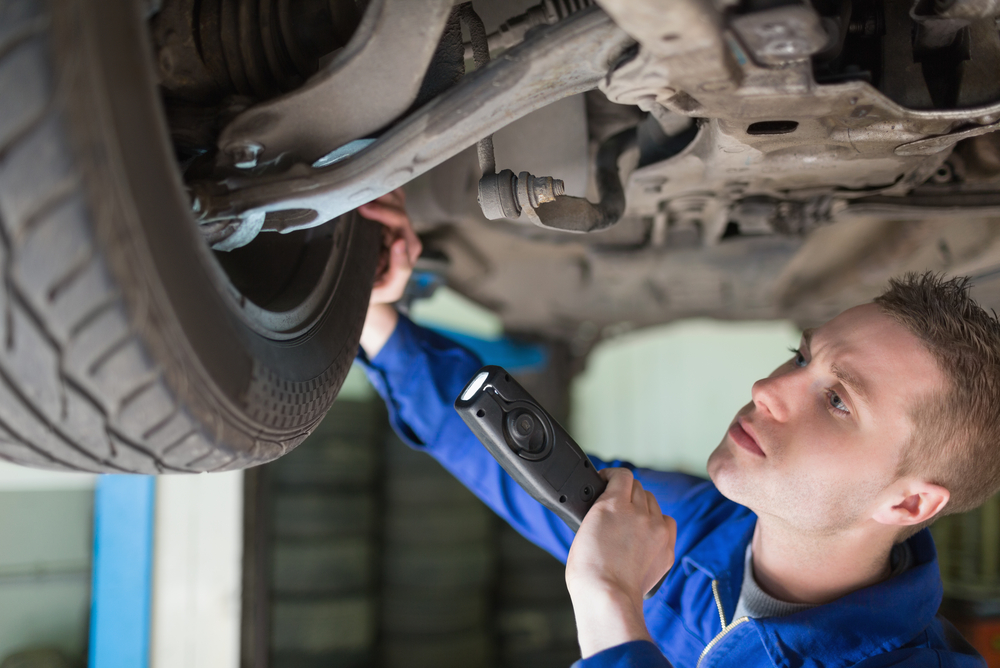 (Photo: Shutterstock)
Not all parts are created equal
While it's true that there are inferior parts on the market, there are also ways for consumers to ensure that the parts being used in their vehicles are the proper quality. The options usually involve Original Equipment Manufacturer (OEM) parts from recognized dealers like Ford, Mercedes or Honda, and aftermarket parts from a wide variety of suppliers. Edmunds.com weighs the pros and cons of using OEM vs. aftermarket parts and offers some considerations when selecting one type or the other for a repair.
Since quality replacement parts can't be identified by just looking at them, there are other signs consumers can look for to ensure the parts going in their vehicle are safe.
Jack Gillis, executive director of the Certified Automotive Parts Association (CAPA) says the organization's "rigorous quality certification program enables shops, insurers and parts distributors to identify high-quality, safe and good-fitting alternative parts." CAPA parts are easily identifiable by the yellow seal with a unique barcode and number, which allow for uncontested confirmation of CAPA Certification and makes the parts traceable through the CAPA Tracker for body shops and repair facilities.
Last year, CAPA saw a dramatic jump in the number of part applications for the first six months of 2014 over the same period in 2013. The program also certified 61% more part applications and put 30% more CAPA Certified parts into the marketplace.
Gillis expressed his disappointment with the "broad brush disparagement of collision repair shops" in the CNN report and said that "there are thousands of other American collision shops that do quality work and use CAPA quality parts – it's just too bad that they weren't part of the story."
Galen Chen, sales vice president for Maxzone Auto Parts Corp., recommends that claimants ask their facility if their car can be repaired to its previous condition with the replacement parts that will be used. He also says to ask if the parts were produced by a trusted manufacturer and if they come with a warranty.
Chen says that that Maxzone's DEPO products comply with Society of Automotive Engineers and Department of Transportation (SAE/DOT) regulations and safety standards. By law, all headlights and taillights must be DOT approved in order to be used on any roads or highways in the U.S. "We started incorporating a self-imposed Vehicle Test Fit (VTF) in the product development process more than 10 years ago," he explains. "Over 90% of DEPO lamps and mirrors go through the VTF process and our consumer will always get the quality product with original equipment-like form, fitment and function." The company also offers the largest selection of CAPA-certified lamps in the industry and was the first company to receive NSF certification on lamps. NSF is an independent certification and accrediting body that tests, audits and certifies a wide variety of consumer products.
Northrup recommends asking the company if they will not only stand behind the repair, but the parts as well.
He says there isn't a problem in the industry with shops being forced to use poor quality replacement parts because "alternative or aftermarket parts used in insurance-related repairs are certified by independent consumer organizations such as CAPA or NSF and held to strict manufacturing tolerances that are well accepted in the parts manufacturing community."