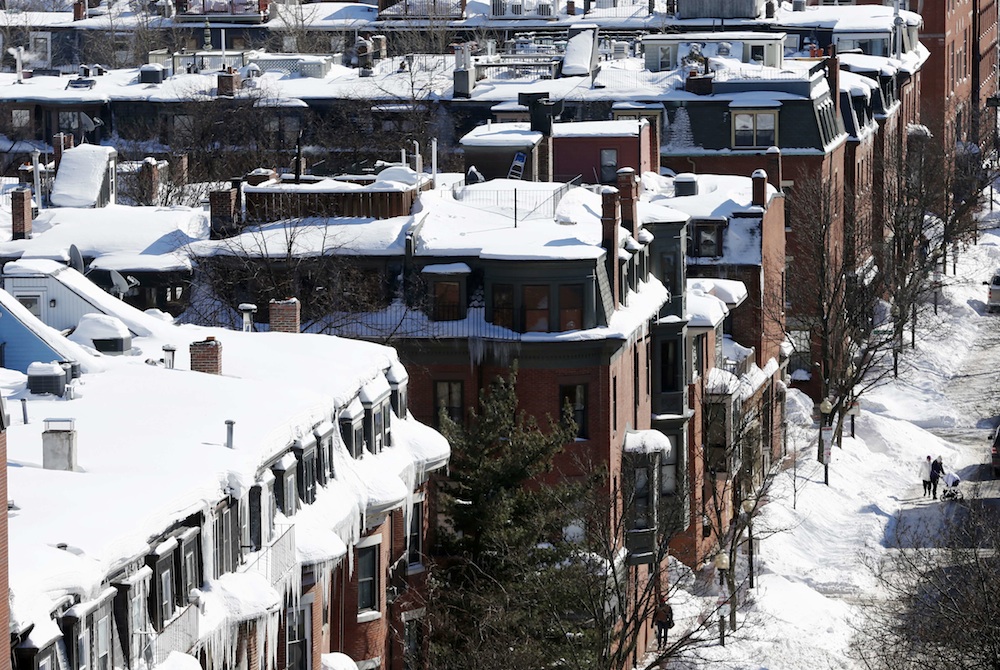 (Bloomberg) — After lingering at 99.9 inches for a day or so, Boston finally passed the 100-inch barrier for snowfall this season. And normal life, so hard for weeks now, just seems to get more and more difficult.
As of noon Wednesday, Boston's Logan International Airport had officially received 101.8 inches (259 centimeters) for the season, according to the National Weather Service in Taunton, Massachusetts. The city needs 5.9 inches to break the record for the most snow since 1872.
"I don't know if people will want to laugh or cry," said Alan Dunham, an agency meteorologist.
Most of the snow came in a span of just about four weeks, although it seems, at times, to have been an eternity.
This is the nature of snow.
Weather can produce some powerful systems that create instant destruction. Snow, for the most part, doesn't fit in that category.
Snow is corrosive.
People have only so much energy to spend in the course of a day. Clearing new snow and dealing with old snow gobbles it up.
Time that would have been used for the ordinary maintenance of life can just disappear because it has gone into clearing the ice off the steps, searching stores for rock salt, making repairs to snow blowers, replacing broken shovels or building other contraptions to get snow off a roof.
Worries Build
Life also gets eaten up by worry. Will the roof cave in? Will the walls buckle? What was that thump in the middle of the night? The television news is full of startling photos and testimonials of how snow has collapsed what seemed like the soundest of structures.
Then things just disappear. Keys, mobile phones, pens, what have you. Objects that would clang if they hit pavement can simply be swallowed by a snowbank without a sound.
When the snow finally melts, a treasure trove of soggy, broken bits of once-expensive items will emerge in the mud on lawns and sidewalks across the region.
The snow has slowed life down. Roads are narrower, and it's impossible to see around some corners because of how high it has piled up.
Backing out of the driveway has become a form of Russian roulette. Maybe a snow plow is coming down the street and will tear the rear end off the car. Maybe not.
It doesn't pay to be in a hurry anymore.
Travel Stinks
Getting into, out of and around Boston has become a chore as well.
Since the first of the big storms at the end of January, the Massachusetts Bay Transportation Authority has staggered under the increasing weight of the snow. Service has been canceled and delayed, and the commuter rail lines are running on a reduced schedule at least through the end of the month.
A trip to the train station can be the start of an hours-long adventure in sub-freezing temperatures. Toss in a polar bear or two and it would rival Arctic exploration.
The bar for snow removal itself has also gotten higher. In November, 4 inches would have required shoveling off the walk and driveway. It might even have meant dragging the snow blower out of the garage.
Now 4 inches can be stomped down with a good pair of boots and, if need be, swept off the stairs with a broom. You might even be able to just get by with a handful of rock salt.
The constant pounding of new storms has let up a bit. Dunham said the rest of this week looks clear. The next chance for precipitation probably won't be until Sunday into Monday, he said. Whether that falls as snow or rain remains to be seen.
So there is no certainty that even after such a snow blitz the city will break the record of 107.6 inches set in 1995-1996. It would cap a lousy season if Boston falls short.