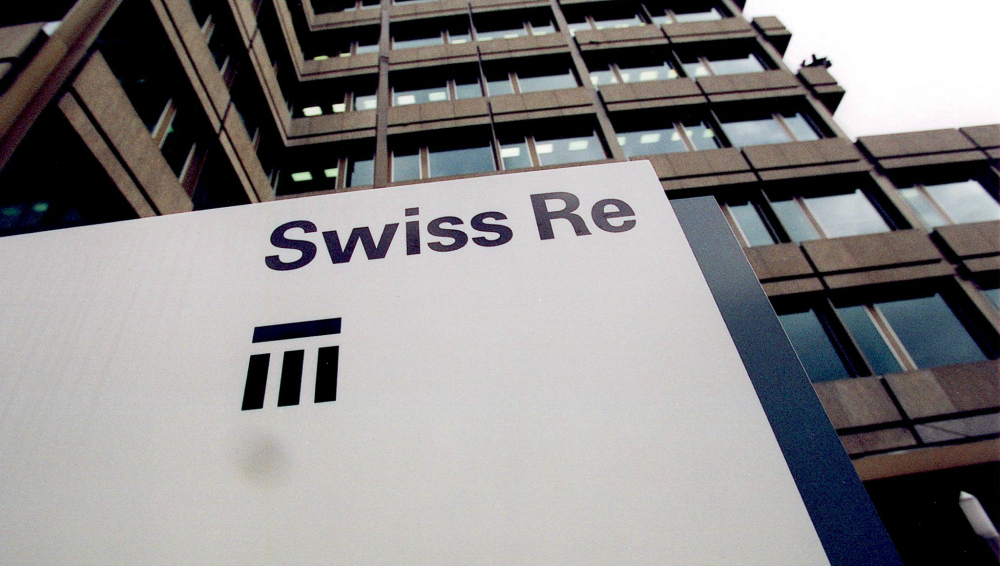 (Bloomberg) — Swiss Re AG, swimming in excess capital from lower-than-expected disaster claims, reverted to share buybacks to return cash to investors after three years of paying special dividends.
Following the example of Munich Re earlier this month, the world's second-biggest reinsurer announced plans Thursday to purchase as much as 1 billion Swiss francs ($1.1 billion) of its stock by its shareholder meeting next year. By then the company will have exhausted its tax-privileged reserves for special dividends, Swiss Re said in a statement.
Swiss Re will also raise its regular dividend to 4.25 francs a share from 3.85 francs for 2013, the Zurich-based company said in a statement. And it will top that off with a special dividend of 3 francs, down from 4.15 francs a year ago. The total payout amounts to 7.25 francs a share, compared with 8 francs a year ago. The surge in the newly liberated Swiss franc has not affected the company's ability to pay dividends, Chief Financial Officer David Cole said at a press conference.
"The capital situation remains strong with more than $10 billion of excess capital above the S&P AA rating and $3.5 billion of cash at group items," Stefan Schuermann, an analyst with Vontobel, said in a note to clients Thursday. He has a hold rating on the stock.
Swiss Re shares rose 1.1% in Zurich trading at 12:23 p.m. They gained 2.5% this year, valuing the company at about 32 billion francs. That compares with a 11% increase in the Bloomberg Europe 500 Insurance Index.
Profit Declines
Net income fell 80% to $245 million in the fourth quarter from $1.2 billion in the year-earlier period after U.S. restructuring costs dug into profit. That missed the $325 million average estimate of seven analysts surveyed by Bloomberg.
Reinsurers, which help primary insurers such as Allianz SE and Axa SA shoulder risks in exchange for a share of the premiums, are returning cash to investors as gains on fixed- income investments and lower-than-average disaster losses leave them with a surplus of funds. Capital available for reinsurance coverage reached a record $575 billion at the end of the third quarter, according to estimates by broker Aon Benfield.
Munich Re, the world's largest reinsurer, on Feb. 5 also confirmed a plan to buy back 1 billion euros of its stock by its annual shareholder meeting in April. The German-based company also plans to raise its dividend even after fourth-quarter profit declined 42% on investments and goodwill impairments.
Rate Pressure
Swiss Re said it will rely on buybacks to return cash to shareholders if the trend toward low disaster claims continues. The reinsurer set out in 2007 to purchase as much as 6 billion francs of its own shares within a three-year period. It raised the target to 7.75 billion francs in January 2008 only to suspend it later that year.
Risk-adjusted price quality declined by 3 percentage points during the January renewals of reinsurance treaties, the company said. Munich Re, the world's largest reinsurer, reported a 1.3% rate decline for January.
Chairman Walter Kielholz said low interest rates remain the biggest threat to the business, eroding investment income in an industry struggling with an extended decline in prices for coverage.
"Over the past few years the frequency and severity of large losses was below expectation," he said in a letter to shareholders. "It was and still is difficult to find attractive opportunities to reinvest all of this additionally available capital."
"It makes therefore a lot of sense for the company to invest in its own shares and benefit from the discount."
U.S. Losses
Swiss Re booked a pretax charge of $623 million from the restructuring of business written before 2004 at its U.S. life and health reinsurance unit. The reinsurer had said in November that it expects an impairment of $550 million.
The sale of U.S. life insurer Aurora National Life Assurance Co. resulted in a loss of $203 million in the quarter. Swiss Re said in November it expects a loss of less than $200 million as it focuses its Admin Re unit, which buys and manages closed books of life and health insurance, on the U.K. market. It also booked a $344 million charge from the unwinding of an asset funding structure in its life and health unit.
"We expect the overall re/insurance market environment to remain challenging over the next years, especially for the smaller and less differentiated players," Swiss Re Chief Executive Officer Michel Lies said in the statement. "With this, a clear focus on profitability and economic growth is essential."
–With assistance from Jeffrey Vögeli and Jan-Henrik Förster in Zurich.