Analytics, data, digital channels, modern applications and innovative business practices are driving advanced capabilities in the insurance industry, according to a survey of more than 60 P&C insurer members of the Novarica Insurance Technology Research Council about current and planned deployments.
The study also found that larger carriers are widening their lead in these advanced capabilities, with the most work being done in underwriting, analytics and the areas of billing and distribution with direct customer impact. Larger carriers are defined as those with premiums above $1 billion.
On the opposite side of the spectrum, advanced uses of mobile and analytics technology in the insurance industry are still rare. However, a handful of surveyed insurers have deployed capabilities in those areas.
Analytics-driven product design and products optimized for the buying/selling experience are positioned for the most dramatic increases in 2015, Novarica reports. About half of the carriers do this today, and another 25% are planning to launch these capabilities this year.
Here, Novarica details a list of 50 advanced capabilities that insurers are delivering "using leading-edge technology, but not bleeding-edge technology."
Product Development
As far as deployment, analytics-driven product design, retention modeling as part of rate design and products designed to optimize the buying/selling experience through pre-fill data or streamlined underwriting processes are most common, with about one-fifth of respondents indicating that they widely use each.
Less widely used are centralized product modeling systems that feeds all relevant downstream systems machine-learning to improve rating algorithms.
Marketing
Insurers are beginning to use CRM-driven campaign management that shares information across distribution, underwriting and service channels, and the use of these capabilities will expand in 2015 as 21% of respondents plan to integrate this technology. The same holds for responsive social media engagement with distributors and policyholders.
Larger insurers are significantly more likely than midsize carriers to have CRM-driven campaigns integrated across other systems, Novarica reports. However, midsize insurers do not fall behind larger companies in their deployment of analytic customer segmentation.
Distribution
Whether insurers distribute directly or through intermediaries, data and digital channels provide streamlined service. Half of insurers are using pre-fill data, which may assist with quick quote or appetite indication and support e-signatures for paperless transactions.
Other capabilities in this area include online social media marketing for distribution partners, analytics-driven distribution network optimization, and mobile apps or mobile-optimized websites.
Midsize carriers are more likely to provide online and social media marketing support to their agents.
Underwriting
Increased accessibility of data and improved capabilities of analytics are transforming underwriting, as less time is now spent on assembling information and making decisions, and more time working with larger volumes of data and interpreting results.
Novarica's research found that all large insurers in its sample have already deployed predictive scoring or are likely to within the next year.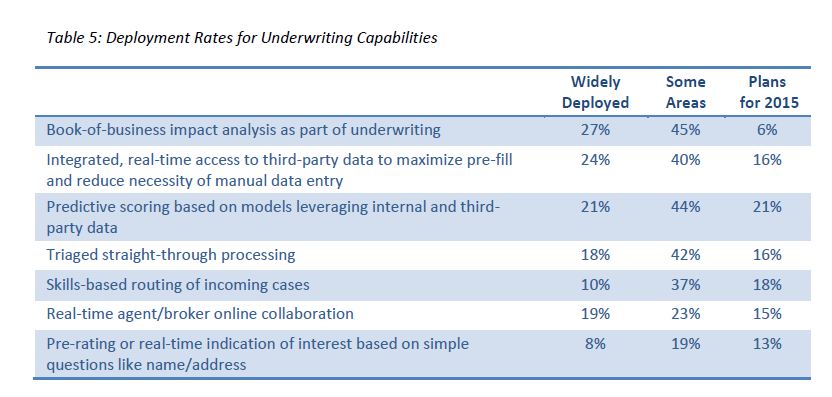 Customer Service
This area has been transformed as customers expect rich information, transactional capabilities and interaction with support services in real time. Current deployment rates of online recommendations and online chart are low across all carriers, but large insurers are more likely to deploy these in 2015.
Insurers also are using same-day e-mail response, 360-degree relationship views via portal, mobile apps to view relationship details, and analytics-driven engagement to improve retention.
Billing
Advanced capabilities in this category include consolidated billing across all product lines, e-payments, support for major electronic payment types, policyholder-customizable billing plans and analytics to prevent premium leakage.
Within its survey group, Novarica found that more than 70% of large and midsize insurers support e-payments, and that both groups have comparable rates of providing consolidated billing.
Midsize insurers are slightly more likely to provide customizable billing plans.
Claims
Similar to underwriting, carriers are deploying triaged straight-through processing and skills-based routing of incoming cases. They are using direct channels to create paperless processes for claimants and are providing video/GPS data capture and mobile field adjuster apps.
Within the surveyed group, Novarica reports that large insurers' deployment rates are significantly higher than those of midsize insurers in all claim areas.
Analytics
The use of big data tools to mine information is emerging, as insurers realize the challenges of consolidating and interpreting fragmented enterprise data.
Possibly related to this trend, more insurers are now staffing their analytics departments with employees who have earned Ph.Ds. in statistics, the report says.
Survey-wide, the use of analytics to drive decisions throughout company leadership and the use of user-friendly reports for business execs are among the capabilities most widely used in any category.
Collaboration and innovation
Capabilities in this area include: formal innovation programs, executive performance incentives, enterprise crowdsourcing for innovation ideas, internal social media, and enterprise collaboration.
A quarter of large insurers has executive compensation linked to innovation, more than double the rate of midsize insurers, Novarica states.